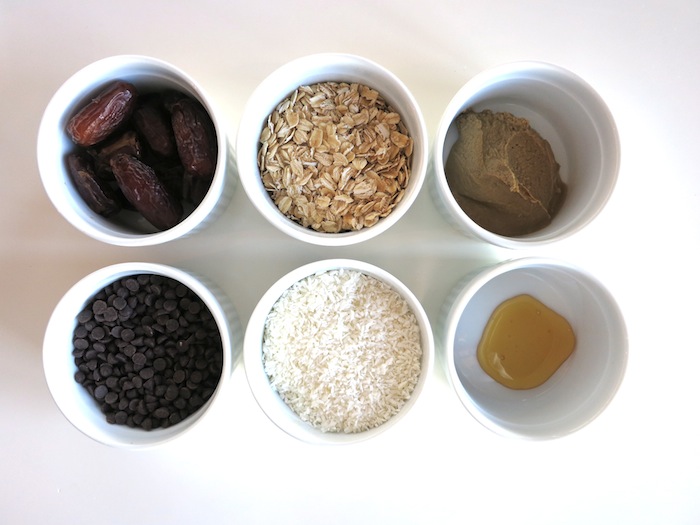 I recently had lunch with Maya Abitbol, the woman behind the nutritional food blog gourMaya. Now, aside from being stunningly gorgeous (why do I even need to mention that, I'm so shallow) Maya is a mother of two adorable kiddies (Oliver 4, and Amelie, 1), who also has a full time job in finance. While doing all that, Maya manages to feed her family non-processed, healthy and natural foods. She also insists on only making one dinner per night. No kids meal vs grown up meal. (I know a lot of us dumb down our food for the kids, or even make them completely different dinners. But I've  found that when we actually SIT with the kids for dinner and eat with them, which is hard because they eat at 5 pm, they will always eat the grown up food we eat.)  Maya's blog actually was born out of her Instagram account, and on it she shares everything from recipes to healthful living tips with kids, and you should DEFINITELY go check out her daughter's 1 year old birthday party. Amazeballs is right! 
Anyway, I have to say, I was really truly skeptical when Maya suggested a sugarless flourless raw oat ball. I actually said, Maya, that sounds kind of gross! But at lunch she brought me a small jar full (I've been getting so much free food, YAY!) and they were great. They kind of tasted like oatmeal cookie dough. Maya's son is allergic to many nuts, but when her pediatrician asked her to introduce sunflowers into his diet, she discovered Sun Butter and adapted her recipes. Enjoy!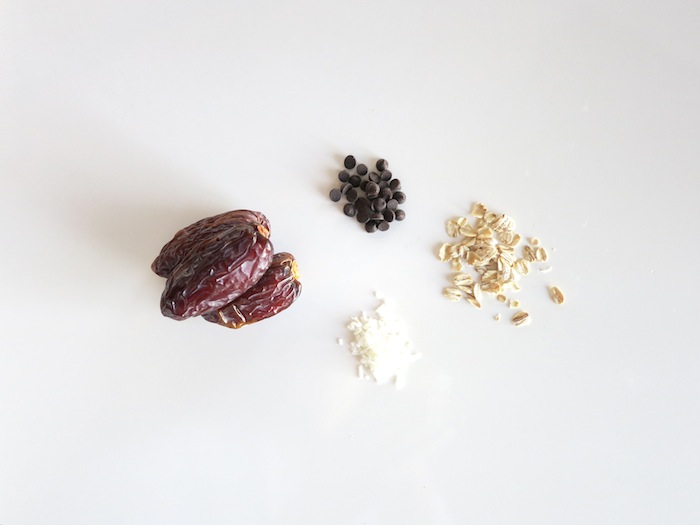 SOME Q&A WITH MAYA:
I secretly cheat with this highly processed food…  York Peppermint Patties. Sometimes when I'm at the pharmacy and they are just staring  me in the face at the cash register, I can't resist. That mint filling must be made with some kind of poison- but it's so refreshing! Definitely a soft spot of mine. 
Favorite secret ingredient… Quinoa Flakes. This is the quinoa grain pounded out and flattened into flakes. I mix these into breading, sprinkle them in muffins in lieu of oats and make hot quinoa cereal for my kids breakfast with cinnamon and apple sauce. It's gluten free and more nutritionally "complete" than other grains.
What I wish I knew about cooking 5 years ago… It's all about prep. If you cut out the prep time cooking can be an enjoyable and creative outlet rather than a rushed and stressful part of your day. If you have the ability to delegate the prep (cutting, peeling, cleaning fruits and veggies) that is ideal, otherwise manage your time by organizing yourself well and being efficient (ie: dice several Vidalia onions and  refrigerate in an air tight container early in the week and use as needed).
It took me a long time to acquire a taste for… Kale. It's kind of bitter and I can't really get behind the while kale chip
craze because they always taste burnt to me (even the ones you pay $24 a bowl for) but I do like certain Kale salads now as long as it's paired with right ingredients and dressing. It's also great for juicing.
My favorite tool in the kitchen is… Kitchen shears. They come in many shapes and sizes and can be way more efficient than cutting. I prefer them to a knife when working with raw fish and chicken cutlets, it's easier to get them into the desired shape. Shears are also great for lettuce or snipping fresh herbs directly into a dish.
Favorite dish in the city…Brazil-nut croquettes from the vegan restaurant PURE food and wine in Union Square. Everything there is so healthy and the garden is one of my favorite spots in the city.
If food trends were stocks, I'd invest in… Chia. This fabulous super food is packed with Omega-3 and actually has the same nutritional content as flax but is way sexier in my opinion. It can be used as a gelling agent in many recipes- ie: can replace eggs and help modify the amount of oil needed.  I think chia is the next chocolate chip- you can sprinkle it on anything!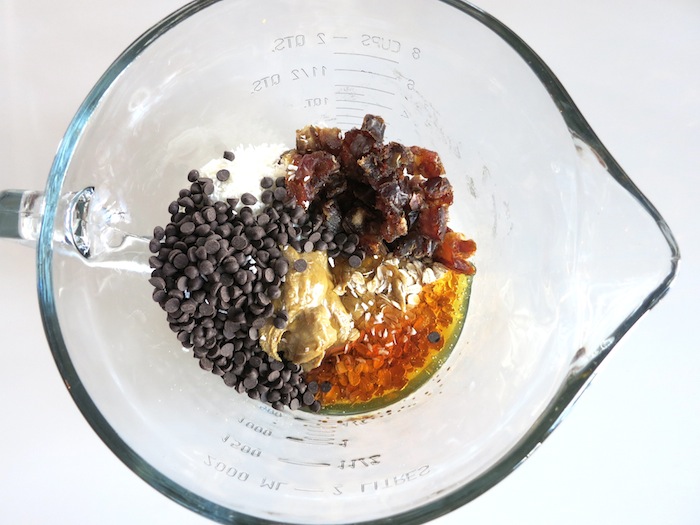 Ingredients:
1 cup of old fashioned oats
1/2 cup natural sun butter*
1/2 cup pitted and diced medjool dates**
1/2 cup unsweetened shredded coconut flakes 
1/2 cup mini chocolate chips***
1/3 cup honey 
1/2 cup ground flax seed****
1 TSP vanilla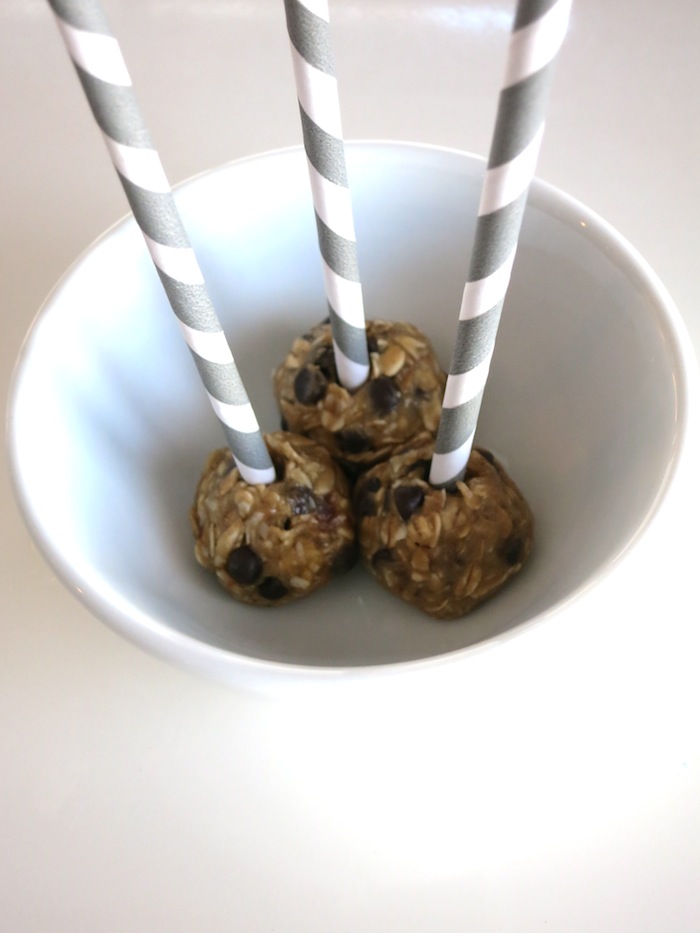 Method:
Add all ingredients to a large mixing bowl in no particular order. Wear latex gloves and knead the mixture like dough until fully combined. Pick up dime sized portions with your thumb and index finger and roll into a ball. Once balls are formed, refrigerate for at least one hour and serve.
If serving these as "cake-pops," as pictured, puncture each ball with a paper straw. Make sure entire area around straw is covered with the mixture. This will only begin to stick once refrigeration is complete.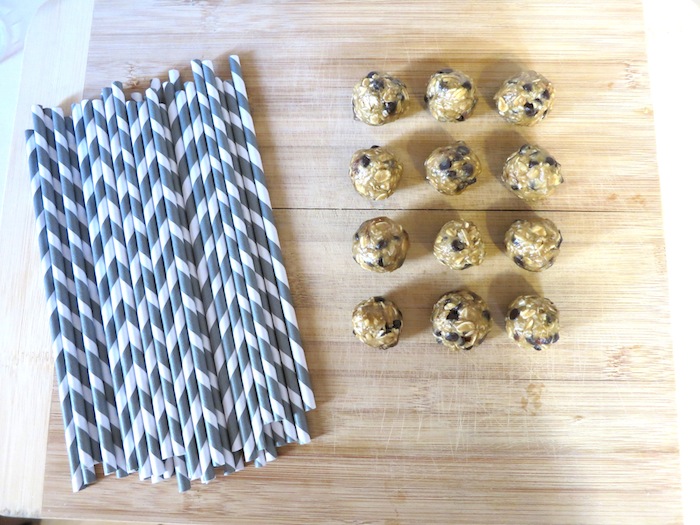 Maya's Notes:
* "Natural" Sun Butter is the version I like to buy since it has no added sugar. There are many other sunflower seed butter brands, but Sun Butter is the only one I've seen that has no traces of tree nuts or peanuts so if allergies are a concern this is a great option. It is processed in a sunflower only facility. If allergies are not a concern, feel free to sub in peanut butter, almond butter, or cashew butter. 
** Generally, any date that comes pre-pitted isn't juicy or meaty enough for this recipe. I find that the Turkish or Medjool dates are of the soft and moist variety that work best since they act as a binding agent together with the honey and Sun Butter. These usually do not come pitted, but that really only takes a second!
*** I like "Enjoy Life" mini chocolate chips since they are made with real chocolate, do not have added sugar and are soy and dairy free. 
**** Make sure your flax seed is ground. You can either buy flax seed and grind it yourself in a coffee grinder or food processor or buy flax meal which is pre-ground. Flax is the  omega-rich super food that will give this healthy snack the extra boost, but if you do not have it the recipe will not be altered. 
***** If you want to give these balls some extra crunch, brown rice crispies are a great addition, but fair warning- they are a rare find!
I know a dessert item with no flour, sugar, eggs, or oil is hard to come by and hard to take seriously, but these are SERIOUSLY divine. 
Try them. YOLO. 
xx, gourMaya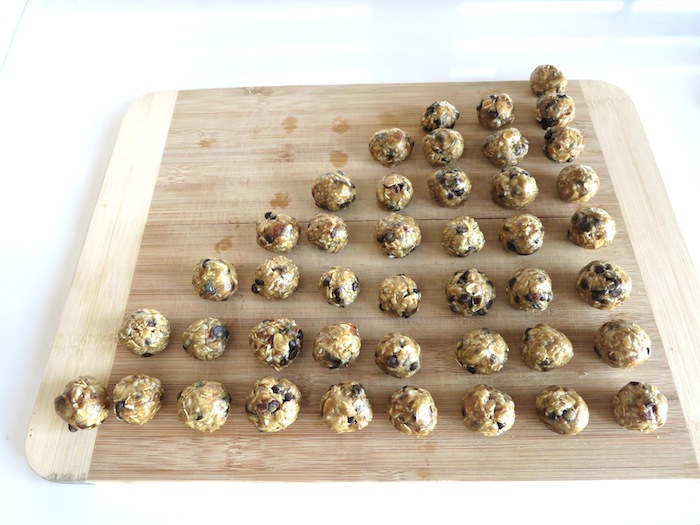 Hope you enjoy them! I love that so many people have been using the Foodie Friday recipes! AWESOME! Go check out gourMaya HERE!