Archive for the 'TV & POP CULTURE' Category
My friend and former Sketch42 Real Housewives recapper Sarina came out of retirement to discuss Monday's season premiere of the RHONJ. Which she watched live. From The Brownstone. In Franklin Lakes. On second inspection, The Brownstone seems to be in Patterson… which explains a lot.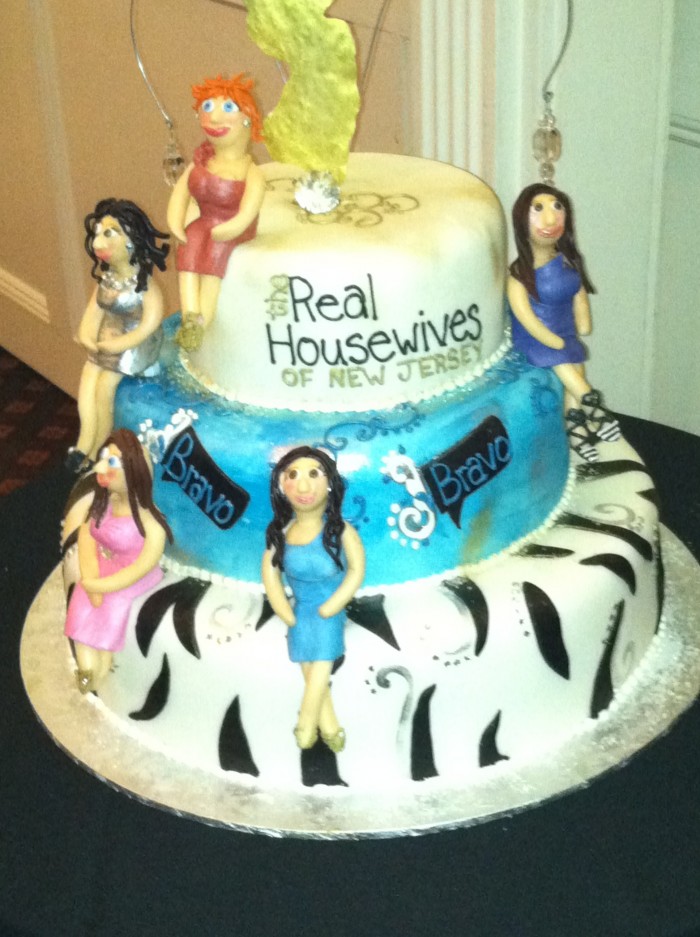 (The cake at The Brownstone)
Sarina's Report:
Friend: "Sarina, Albie Manzo tweeted about a Real Housewives Of New Jersey premier party that will be held at The Brownstone."
Me: "YES."
Friend: "But I didn't even ask you anything."
ME: "Doesn't matter. My answer is YES. HELL YES."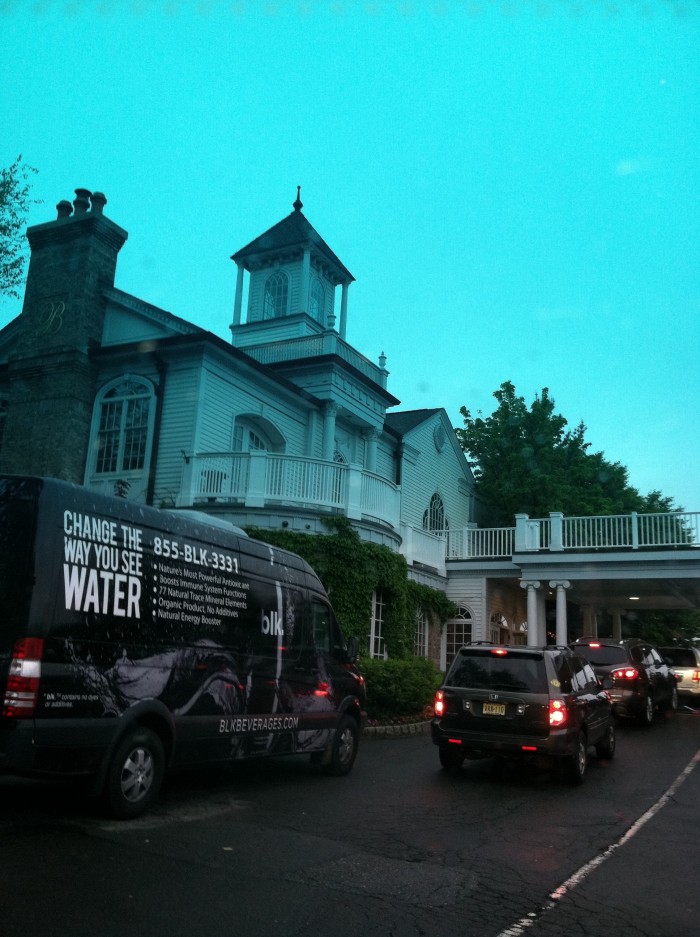 (Pulling into The Brownstone)
And soon, history was made. Tickets were purchased and my friends and I were ready for the night of a lifetime.
Fifty minutes from the city and a couple of wrong turns later, and we had entered the promised land otherwise known as Franklin Lakes. Now. Although most infomercials will tell you so, this is NOT "as seen on TV" and the term 'ghetto' would be a complete understatement. The town is in shambles. The stores are run down and their main attraction is a Skechers® megastore. I didn't spot any mansions and I didn't get a chance to pass by The Chateau but had I been given the opportunity, I'd have gotten my hair did. There's always next time I guess.
We finally pulled up to The Brownstone. My eyes lit up as I pulled in to the parking lot and though I had hoped Christopher would valet my car, turns out that the guy who did park it, wasn't a Manzo. I asked. Obviously. I was dressed in jeans and flats. I didn't even consider wearing anything but that. Well. I stood out like a sore thumb. PEOPLE WERE IN COCKTAIL DRESSES AND HEELS. Did they not know we were simply watching a television show? That's Jersey I guess.
We got our necklaces (Not VIP. There was only so much I was willing to pay for this shindig.) and headed upstairs to the grand ballroom. The place was empty at first. But it filled up soon after. We were all seated and and emcee began to host the event. For some reason Simon and Alex were the first people introduced to the crowd. I don't know about you, but I'm really get sick of their fame whoring. Next up, all the NEW JERSEY housewives minus Teresa were introduced. I was so upset when I found out she wasn't going to be there because it meant there'd be no table flipping. Big. Fat. Boo. At first glance, when Melissa was introduced I thought Snooki was up on stage. Tan. Small. Tight clothes. False alarm though. It was Teresa's sister-in-law who proved to be just as crazy as Snooki. And Teresa's cousin Kathy, looks just like Teresa with a bit more age in her face.
(Sarina- is the person on the far right- ASHLEY? As in Jaqueline's daughter? It cant be! This is like when Steph Pratt transformered herself from coked out she-pratt to pretty tall blond chick!)
And finally, the episode. This season looks like it is going to be INSANE. As much as I enjoy a good Guido fight, last night's episode was tough to watch. I felt terrible for Teresa and her brother. And most of all for their Dad. Viewing as a non-relative was painful, I can only imagine how sad it was for him to watch. I think the most confusing part of the episode was seeing Teresa getting her hair and makeup done. Isn't she trying to live a more low-key lifestyle? JOE WAS ROLLING OUT PIZZAS FOR GOD'S SAKE!
All I know is, these bitches are crazy. I cannot wait for next week's episode.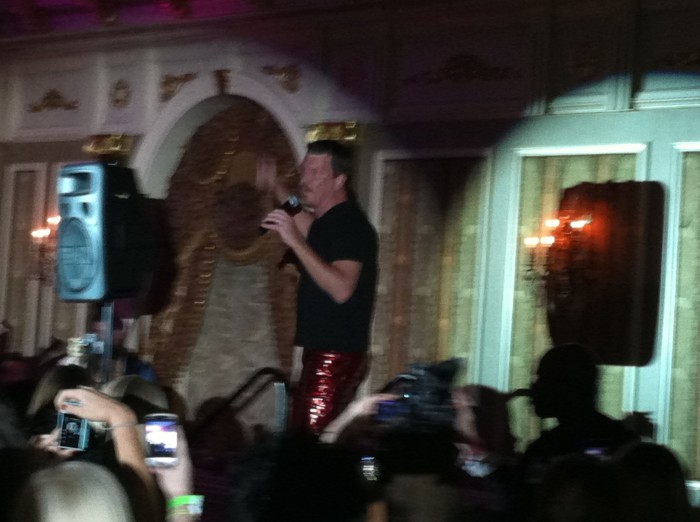 The night ended with a performance by Simon Van Kempen. His new single "I Am Real" was performed live on stage for the entire audience. Listening to him sing was actually BRUTAL. So much so, that we left mid song. The auto tune, the red pants, the hideous dance moves. I'd rather be glued to a chair and have to listen to Rebecca Black's 'Friday' for the rest of my life. Seriously. Don't quit your day job Simon.
Oh yeah and one more thing, Jacqueline's daughter Ashley is tall, skinny, and blonde. Yeah, the one that works for Lizzie Grubman PR.
- Sarina
MY TAKE:
What do I think? Well, I cant comment on the neighborhood of Franklin Lakes… It may be shabby, but it may not. I know of well-off towns in NJ that dont really have nice shopping areas… So I'm not so alarmed by that.
Also not at all surprised that people were in cocktail dresses. Why? Well, I saw the Sex and the City movie the week it came out, so I am aware that there are chicks that will dress up to sit in the dark and watch TV together.
I'm not even going to discuss the rest of the episode (Although Ashley isnt making herself more likable by seeming MORE SPOILED and useless by  A.Not showing up to her internship and B. Thinking her parents should pay for her to live close to said internship- that she doesnt show up to. Any normal kid would have just applied to college in NYC and had their parents foot the bill, and be proud of them too! Dumbass…. On that note- Lizzy Grubman didnt do herself any favors either. "I was exactly like you at your age!" Yikes.)
Anyway- back to the real DRAMA. That crazytown christening… Ive been to many a bris in my lifetime, and wow the jews can snark and gossip with the best of them, but the italians really bring out Hollywood levels of drama! The fists, the sweat, the wailing in italian! HOLY CRAPBALLS! You could have subbed out Joe's " YOUR MY FATHER" sobbing for any scene in the godfather or soprano's and it could have held its own- except for one thing: no one knows what the eff is happening or why these people hate each other… In a nutshell, Teresa and Joe have slighted Melissa and Joe in multiple times and multiple ways… and basically they are just competitive with each other. Thats it. And also, Melissa is what would happen if Teresa had a baby with Alexis from RHOC.
Now many people dont get along with their family members and especially their in laws, but it takes a new level of low to call your SISTER garbage at your son's christening.
On the other hand- I'm THRILLED that Danielle is no longer on this show. Watching her was uncomfortable for me. She gave me the creeps. And I think that her plotline went from amusing to actually dangerous for the other cast members so Im really glad she is gone.
And in regards to Simon's performance: I caught some of that on WWHL. You know, just when I think Alex is a sensible and intelligent woman, she goes and allows her husband to do something like THAT. I dont care what it takes, I would have chained myself to my hubs leg rather than let him perform like that on purpose.
WOW.
Thoughts everyone?
This wallpaper could be about to happen in my friend's foyer: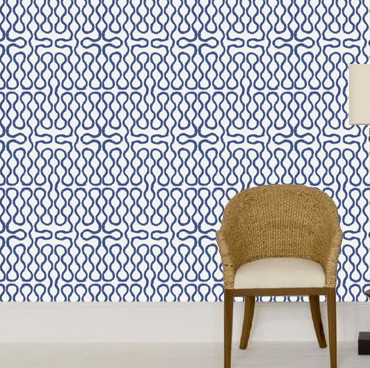 And maybe this one in her kitchen: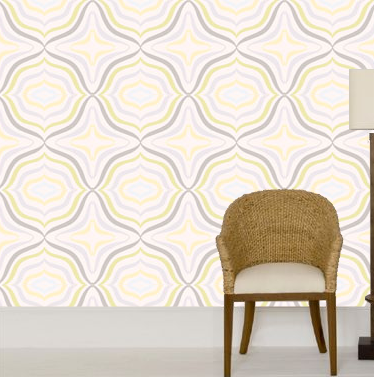 I fully support both decisions. (Both Cole & Son)
Another thing… On the pop culture front, I totally couldnt give less of a crap about the royal wedding, but IM OBSESSED with Dustin Zito from The Real World getting out as former gay porn fratboy "Spencer". Go figure.
Speaking of completely guilty pleasures, what did you think of last week's RHONY? I loved how Alex stood up for herself but backed away with decorum and maturity! (For the record, it's not that I thought Silex was wrong at the Marriage Equality march, I just though their DELIVERY was wrong and that made them wrong.)
And Gossip Girl? Can you believe the level of incredulous crap this show has been reduced to? I dont even want to get into how over it I am.
Last: You have no idea how many people google "Rosie Pope lisp" every day and find my blog.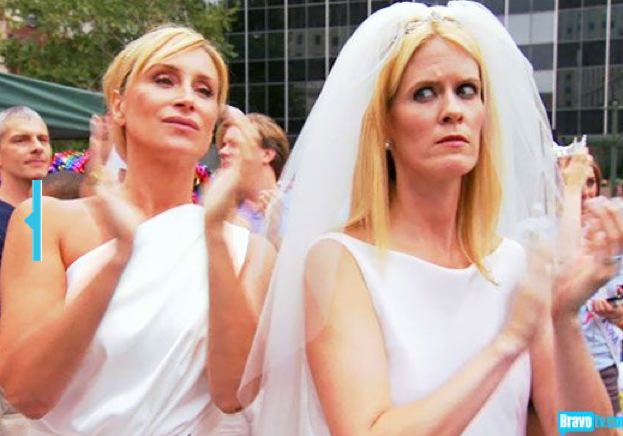 Lets get right to the point here: Who was right "It's my day" Gay Icon Sonja Morgan? Or Bride of Frankenstein, Rainbow Bollero "I married an ALEX" Simon?
The winner is KELLY BENSIMON! I cannot even believe that Kelly was the voice of reason this episode, but its true. She had a few sage like comments this episode and they all made perfect sense: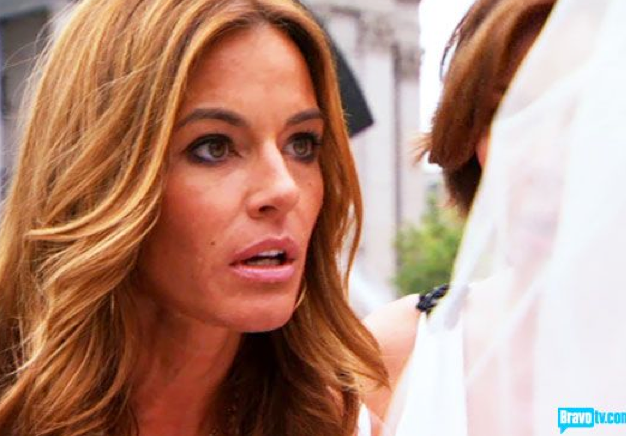 1. Alex is a little too earnestly describing the "marching in gowns" over the bridge and Kelly says "Oh, come on, its campy and fun!" YES!
2. Alex shows up at Sonja's house and Sonja says "Thanks for supporting me on MY DAY" and Alex says "OH, I am on the commitee." They are clearly jockying for possition: WHO is more committed to the cause? Sonja or Alex? Kelly chimes in with the " Is it Alex's day or Sonja's day? I was there for Marriage Equality!"
3. And then at the moment of truth before Sonja was going to speak and Silex were making a scene Kelly wisely said " GUYS we are embarrassing ourselves!" Kelly Bensimon is on fire people!
Now… back to Alex and Simon vs Sonja. Sonja was really acting like a diva. It's not "her day". Just because you are putting on a wedding gown, doesnt mean you are a bride! I understand that she is speaking and wants support but the "my day" shtick was a little much. Any other choice of words would have been less bridezilla-y.
Alex + Simon, I get that they are very commited to the cause and that it is very dear to their hearts. But as usual, they go about things the completely wrong way.
I dont blame Sonja for not wanting to speak on the same podium as them. They are embarrassing people (and not because they live in brooklyn). She wanted to be presenting as herself, not as part of the cast of the Real Housewives. Had Simon or Alex taken the stage it would have made her seem like she was just one of the cast who was asked to speak, not that SHE alone was important enough. (Speaking of: what the hell makes her a gay icon? Being a fabulous older woman who has her fun and eats it too?)
Also, after hearing Simon's bizarre would be speech, I think Alex and Simon were COMPLETELY out of control at the event. What was so earth shattering about his "I married an Alex, and had I married an alexander instead of an "a"  I would have been deported… Alex/Alex: Get it? Get it"? that he felt he NEEDED to say that to a crowd of people? It just wasn't even a good speech.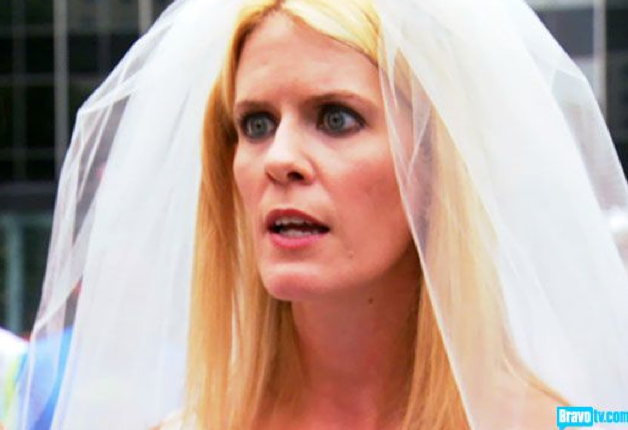 Now another thing that must be addressed: Alex looked awful. So bad. That dark eye makeup made her eyes look so close together. Combined with her sour puss face, she just looked so pinched and pained. It was really bad.
Another thing, I liked that Jill called Alex out on "picking on her." Thats exactly what Alex was doing.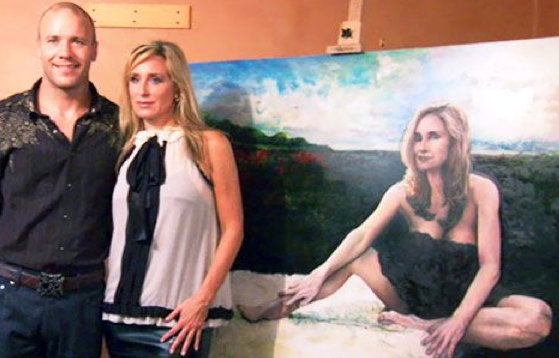 The next part of the episode: Sonja's boyfriend is debuting a portrait of her at an art party that she is throwing for him. The painting is less than flattering.(Who cares about his talent, HE'S HOT! Funny how he painted some other young chick beautifully but this portrait was not so good…) But more importantly, or less importantly, depending on how you want to look at it, Alex shows up at the party wearing a studded dress. They all hated it. I didnt think it was THAT bad! She is in her 30′s and slim, she can  *potentially* get away with risky fashion. Sonja approaches Alex, says it was water off a ducks back but that "whats your husbands name again, oh yes SIMON" better not jabber in her ear like that again. Bad timing on Sonja's part, but she is right, its scary to have a man be that aggressive to a small woman.
Then Alex starts defending herself and all hell breaks loose, Sonja says that Alex has the worst manners and kicks her out of the house and Alex wont leave screaming "CHECK THE WEBSITE, CHECK THE WEBSITE! I WAS SLATED TO SPEAK!" Oh boy… Alex, the women are right about you being out of your league: You are just so bad at arguing!
Both Jill and Luann referred to Alex being "out of her league" or "socializing at a party that is above her level" which is awful. Thats just a terrible thing to say out loud.
Next. Cindy has a little chat with her brother and then I realized that last episode that woman who heard Ramona talking about the dead guy Jeff's cigars at the wedding WASNT CINDY! It was Carol! Which means that her brother is dating a woman that looks exactly like her! I get that they are close, but wow! 
Cindy, our new housewife.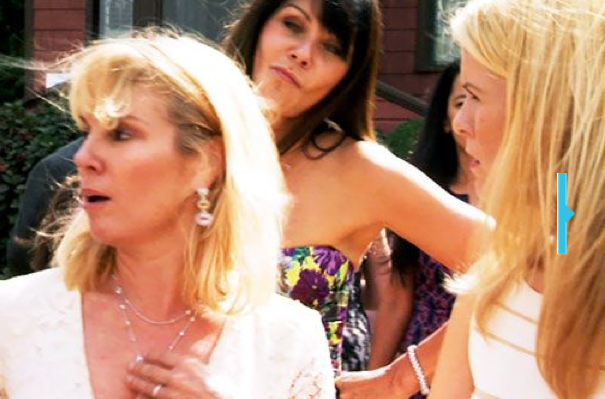 Carol, Cindy's brother's girlfriend.
They look like twins!!!!
What did you guys think of this episode? I miss Bethany.
First let me say that Bravo should not feel compelled to have a housewives show(or 2!) on at all times of the year. I think I speak for everyone when I say, I would much prefer if they cut the crap and just gave us the good stuff. Also, this is really my first year watching Atlanta and Orange County (I came late to the housewives game, folks) and what I really like about watching all the different cities is seeing how different (and yet the same) women all over the country are. Each city has its own distinct vibe… the OC women behave how normal people behave during summer/vacation time. Plus they are heavy on the boobs and lip fillers, not to mention the blond. The Beverly Hills women seemed SO DIFFERENT from the OC women even though they live, what- an hour away from each other? (I guess the same holds true for NY and NJ) The Bev Hills women make the OC chicks look like country bumpkins in comparison….  anyway, on to NY.
They season starts with everyone returning home after the summer… Jill is all "Happy New Year" to everyone at social events, even Simon and Alex, who I assume arent of the tribe? Right. Anyway, its that perfect outdoor NYC fall weather… I love that. I miss that.
Jill starts off by saying that she is turning over a new leaf this year. After the backlash from last season, Jill has to make a concentrated effort to be nice to people. Like that moment when Alex invited all the girls to walk across the Bridge in wedding gowns from "Manhatttan to Brooklyn"  and Jill almost burst into explosive laughter and had to control herself by what looked like biting her lip at the sound of the word "Brooklyn"? Yea, that was her actively trying not to be a bitch, but as we see, the instinct is still there. Later in the episode she tells Kelly that she really IS NICE and I say the lady doth protest too much, methinks.
Im not sure exactly what happened with that whole Ramona/Alex/Jill situation. And it only got more confusing after WWHL… not that I even give a crap. What was ridiculous however is how Alex is trying to make her "be accountable" for it. Alex says: Im not going to let Jill get away with anything this season, and from the get go she is on Jill's tail. First about the Brooklyn Bridge gay march (which, to be fair to Jill: If she doesnt want to go, she DOESNT HAVE TO! She should want to participate, not feel obligated, and if she has plans to be in the Hamptons- SO WHAT?), then Alex starts in on the "you knew I was coming, but you said you didnt" nonsense…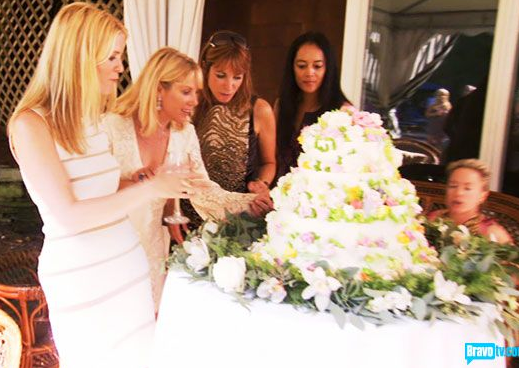 (Ramona sticks her finger in someone else's wedding cake.Also, I hate when the non-cast member friends try to be bitchy to get airtime. Also, Amalita was back! AND is it that BAD to wear ivory to a wedding during the day in the summer? I dont think so!)
Other things to note about  Alex: She is now a model. I know many of you dont find her attractive, but I get how she could be a model. Have you seen the Prada campaign this year? Some of the girls are very "interesting" looking… which is something. And as Kelly says: You dont have to be pretty to be a model, you just have to be photogenic. True dat.  But Alex is just a wee bit too cocky with her "genetically blessed/attractive parents" crap. Last season she was all defensive over the other women thinking she was ugly, now she is talking about how happy she is when she looks in the mirror.
Also, Simon quit his job and is now founding a social media company. Great. They both work in what looks like the basement of a club.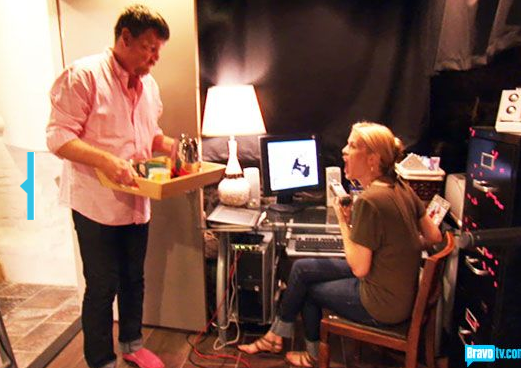 Luann has a new boyfriend and he is ADORABLE. (Why he was sitting on the side of the table with Sonja in the first place I dont know! That was weird.) and Sonja is dating or boning some beefcake-y dude.
Other than that, there is a new housewife! I think I am going to like her. She is the founder of the company "Completely Bare" and as Cindy explains: I had a bikini problem, so I fixed it. How hairy do you have to be to FOUND a waxing and laser hair removal company?!? Ha. Cut to her crystalizing some woman's nether region. (Also, dont you think that other would-be housewife Jen or something from last season feels bad that she wasnt chosen to replace Bethany?) Anyway, Cindy is a single mom of twins… she is apparently a "mature" woman and had her children via IVF in her mid-40s. Jill feels the need to ask her about that 5 minutes after she meets her at a party. She explains "When you see kids its normal to ask about their father." IS IT? I dont know… Ive never seen a mom with a baby and said: so did you use a sperm donor? Who is the dad?
Cindy is co-hosting a party for the artist Peter Tunney who reminds me of Phillip Seymour Hoffman and also does a "performance" type art show at the event. Is that normal?
Ramoner finally created her own brand of pinot. Who in heck would buy RAMONA wine? WHO? Would you? She is shilling it with a life size cut out of herself holding a bottle. (I LOVED when the prize for winning Andy's game was 10 uninterrupted minutes of product-plugging time! He sure knows the way to  a housewives heart! Did you guys catch when Jill told Bobby- I need a pair of Spanx with lace on it- it doesnt exist, I have to CREATE IT. Now she is slipping product shills into the content of the show as if we wouldnt notice!) What took the cake as the worst moment of the show was when Ramona berated the poor girls she was interviewing. Did she ever consider that maybe being filmed for a reality TV show on your first interview out of college would be hard enough without someone telling you that you have shitty skin and are dressed like crap? That was awful Ramona. You know it, own it.
Hmmm… what else? I LOVED when Ramona said that jill gets "jillousy" of anyone who starts to get more attention than she does. Genius. And duh- you know thats true. Did Jill get dumped by Bethany just a little, maybe. But is Jill definitely Jillous of anyone who doesnt need her? Yes. I also loved Andy's clip of Tina Fey's analysis of the women. Jill is a TOTAL queen bee and why she couldnt just own that was annoying too. Knowing Jill must be really, really exhausting. Imagine someone remembering everything you say and then banking it away to use against you at a later date? I know Tina said that was Ramona, but its definitely Jill too. I know people like this in real life, and they scare me.
What did you think about the episode? Did I miss anything? Are you excited by the previews?