Archive for the 'MY APT' Category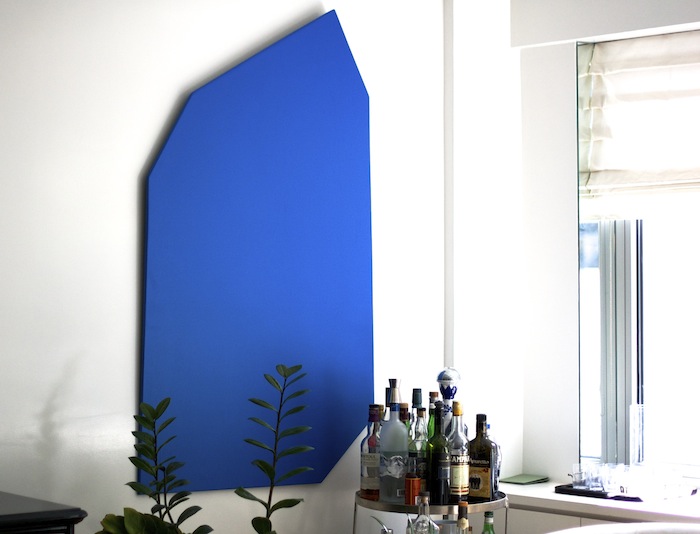 I'm always so torn. Sneak peaks or big reveals? Keep you appraised on what's happening here? Or shock you all at once…. On one hand, once you post something, people copy it, pin it and it's old news within a few weeks (at least within the design blogging world). On the other hand, this was at one point a design blog and what am I doing here if not sharing ideas? So I decided to show you my new piece. You may recall that I've wanted to do this for a while. A monochromatic canvas that is. I was all geared up to do one myself, when I met Tom from Crow Philosophy who makes these trapezoidal wood things.  Obviously, they were exactly what I was envisioning. And so I commissioned one. It's still not hung correctly (it's on the old hooks, and I need to put up new ones.) But you get the picture. Color blocks are literally the only things I want to make. Needless to say, my mom was like, why and what is that?!?
7 House by Crow Philosophy HERE.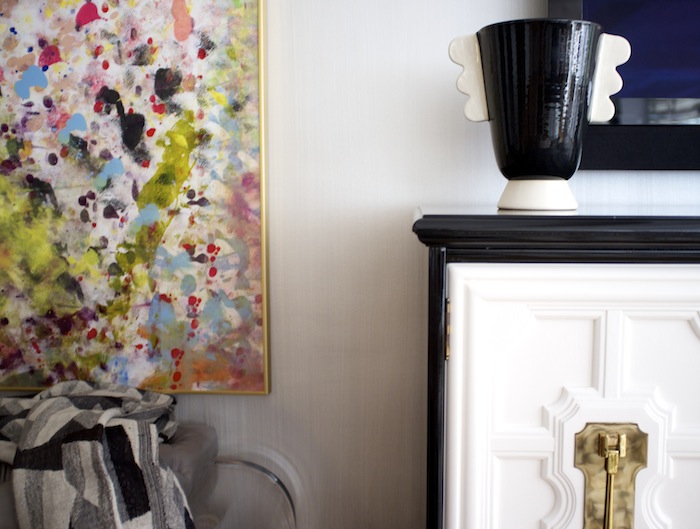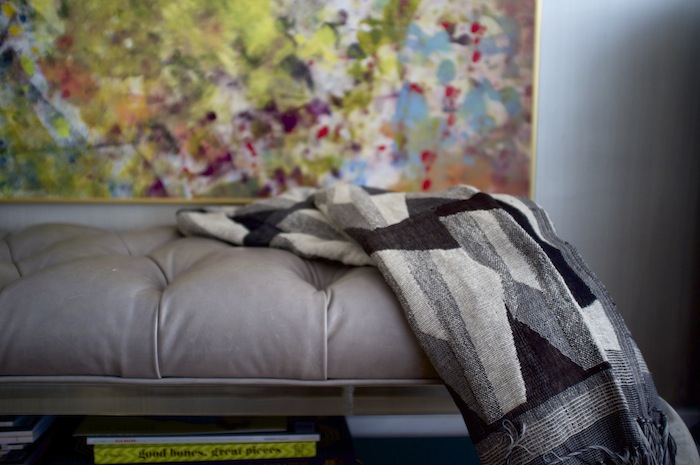 I'm so loving my new winged Rometti Vase HERE. Its just the right amount of weird and pretty. Ugly pretty is the new pretty. I think. Im also very happy with this throw I scored on sale at Barney's. The throws are on sale for great great prices…also other stuff like linen napkins, trays etc can be scooped up for a fraction of their original (outlandish) prices. These home sales are awesome because really, does tabletop stuff change that much that a white linen napkin with gold threading will ever be out of style?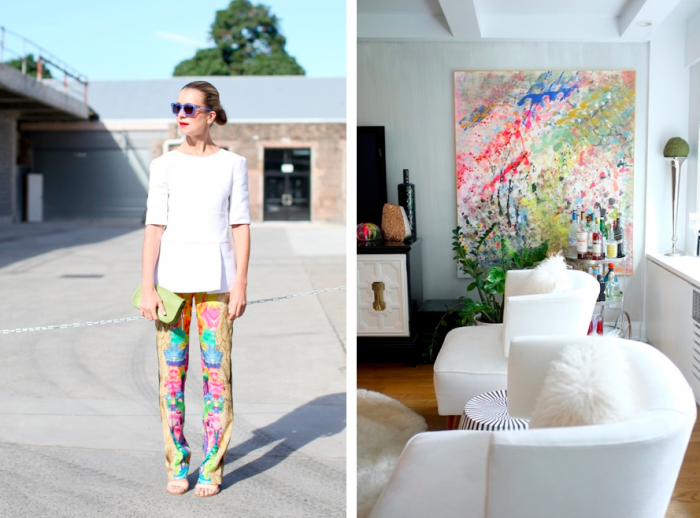 I'm sorry but it was just too good of a match up! They are twins! It scares me a little bit that my painting looks so much like those pants and the way she paired it with a heavy dose of a white top: YES, well those match the chairs. The sunglasses in the deep purple even correspond to the darker blue paint at the top of the canvas. She should have worn an Edie Parker black and white clutch with that though, then she would have picked up the striped stool.
The outfit pic is via Refinery 29′s Australia Fashion Week coverage HERE, the painting and room is obviously my own.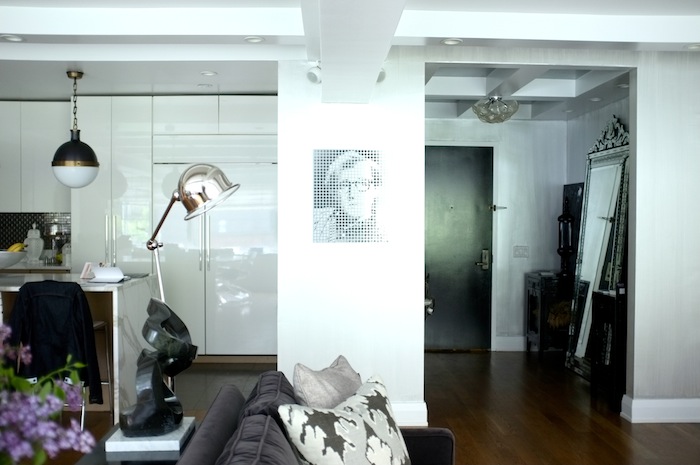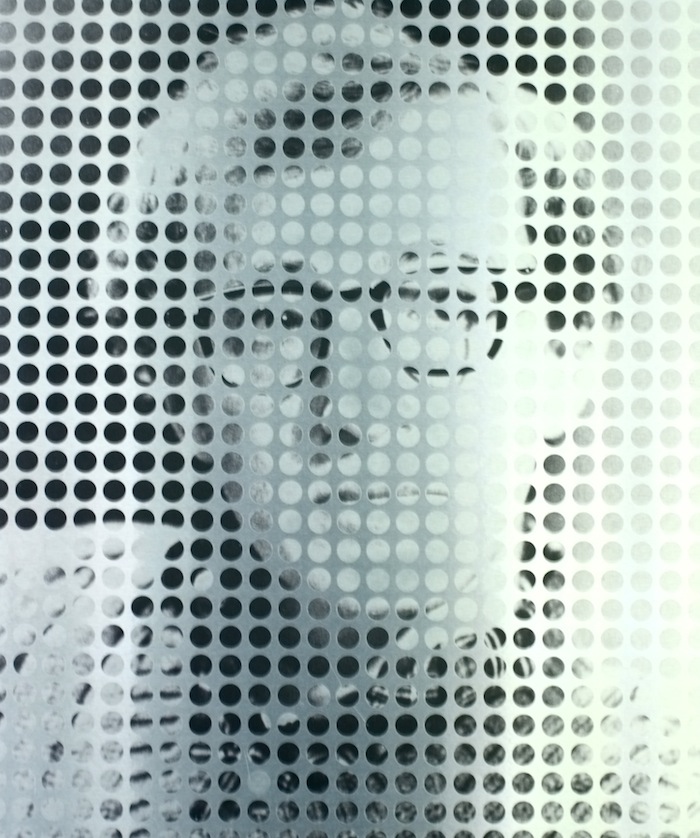 More new art in my apartment, this one via my nephew photographer Eddie Cohen.  It's printed on aluminum and its fabulous. He's a huge Woody Allen fan, so this is a very personal piece to him. And I'm SO happy to have it. It's too cool for school… and I LOVE how it looks on the silver walls. I generally have enough paintings in my apartment (although I was totally the cobbler with no shoes for the past few months!) so I look for work I love in other fields.  Learn more about Eddie HERE. 
My apartment feels like a whole new place to me. Between the round painting over the high chair, Cookie's pieces, this Woody and the new paintings, it's a new world. I also moved the polka dot chairs to the den and left the area in my living room open with just the chair that I rescued from the garbage, and the lucite bench under the big painting. It feels so much more spacious and open now. (Yes Erica, you were right.)
It feels good to be back, baby! And thank the lord I have photoshoots and house tours, cause otherwise I would NEVER finish anything.
Im heading to Frieze today, I'm so excited and Ill report back!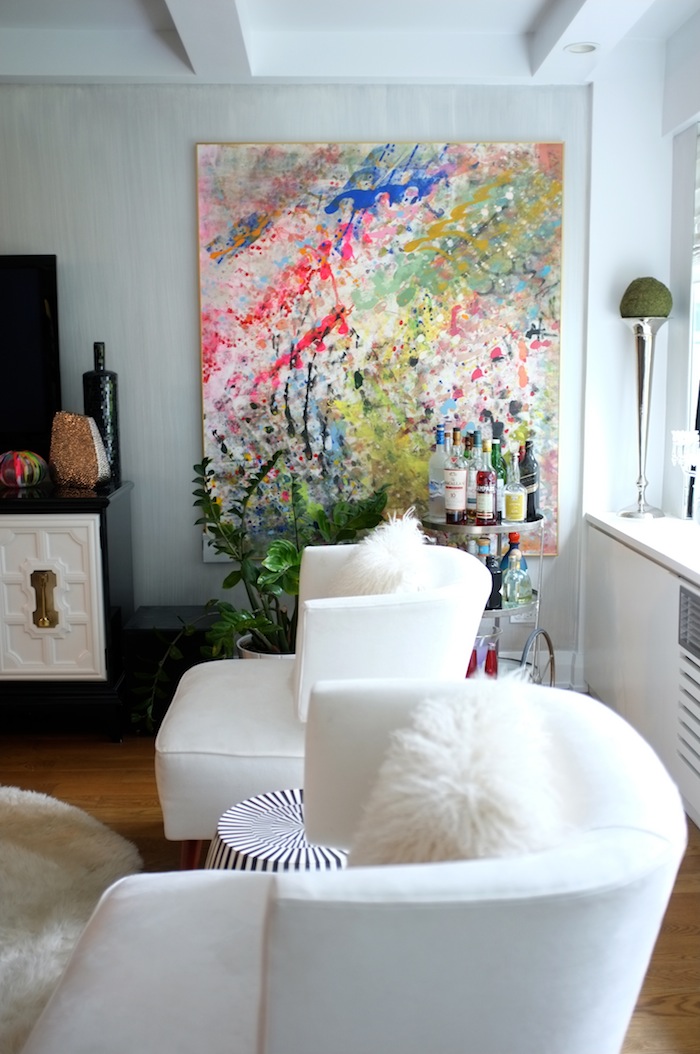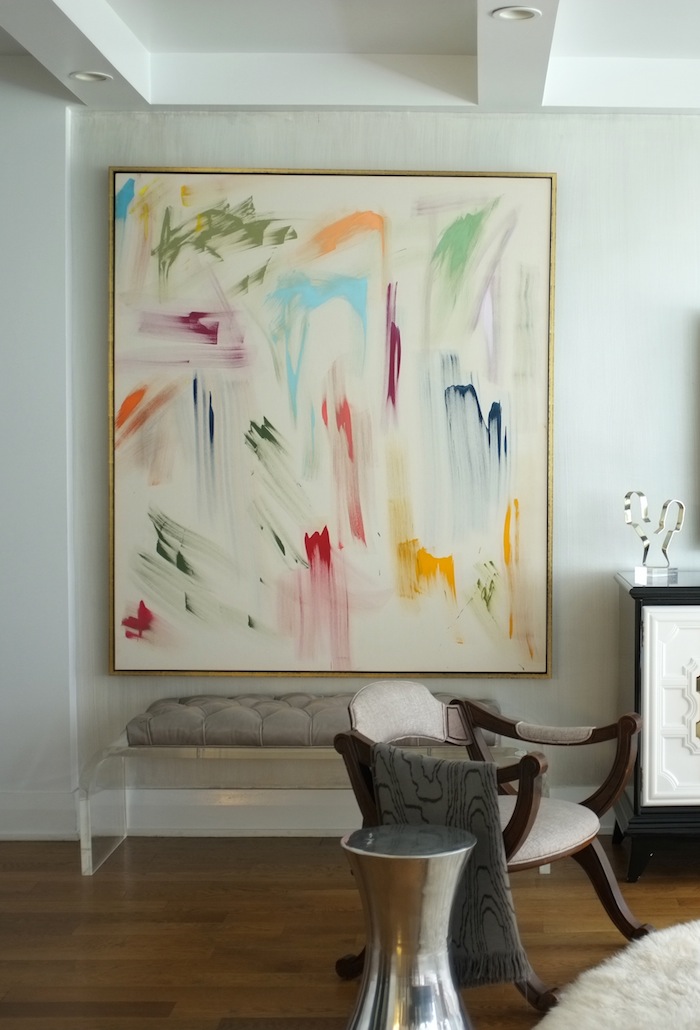 Now that I've gone the route of massive, I don't think I can ever have small paintings there again! I picked these up from the framer on Friday at 4 pm! Talk about crunch time. I'm sitting and drinking my coffee and looking at these babies right now, and smiling because I love them so much. (You can click HERE , HERE  and HERE to see what the apartment looked like with the previous paintings that sold, there are also before and afters and sources listed on those posts.)
Anyway, the Junior League House Tour was so much fun yesterday! Honestly, it was kind of bizarre having so many strangers in my house, but like I told some people yesterday- because of the blog, I'm used to people seeing my stuff, so that part isn't so strange… Just you know, the in person contact in my house was strange. And even though I'm so out there and exposed, the fear of judgment doesn't go away.
Above all else, the hardest part was getting everything NEAT and uncluttered and organized for this! I swear to you, I don't think this house will ever be this neat again, so I took a ton of photos! You have to see the magic that Liz worked in my playroom. Master organizer and stylist! A lot of people wonder how I have kids in this apartment. Two answers: 1, I have a playroom that usually looks like a bomb exploded in it, and 2, nothing in here is actually that precious. Lucite and glass wipe clean, and everything else is actually not that delicate. The only difference between my staged living room and my not staged living room is that on a normal day, I don't put anything on the coffee table where JoJo can reach it. Thats it. Oh yea, and on a normal day there is cereal crumbs on every surface.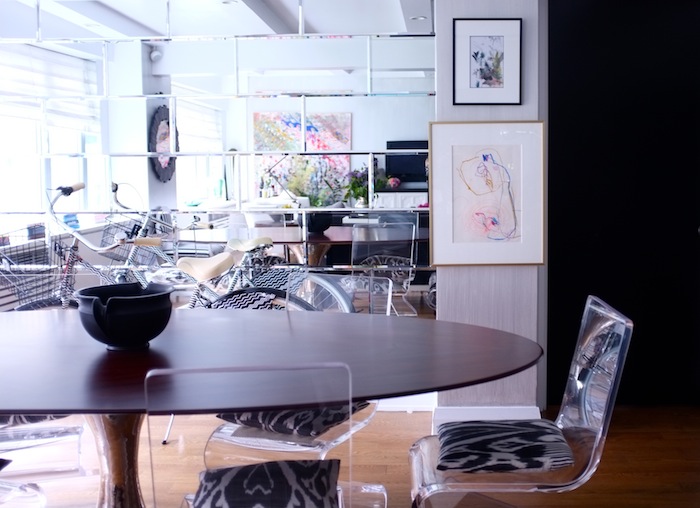 In addition to my own two massive paintings, I also hung work by other artists that I know and love… one of whom is COOKIE! I swear to you, people were instantly drawn to her pieces, and she even had a few offers on her work! People- you don't need to buy my kids artwork, you have your own amazing artist at home! All kids have some level of artist talent because their strokes are so uninhibited! Like I told some people yesterday- all you have to do is limit them in some ways: don't give them that many paint colors at once, and take away the paper before they mess it up! Then frame it like a serious piece of art, and trust me, it will look fabulous!
Stay tuned for more photos, and if you are new here, feel free to peruse and ask any questions about sourcing, or whatever else you feel like asking! We are very casual and friendly on this blog! Welcome and enjoy!