Archive for the 'MISC' Category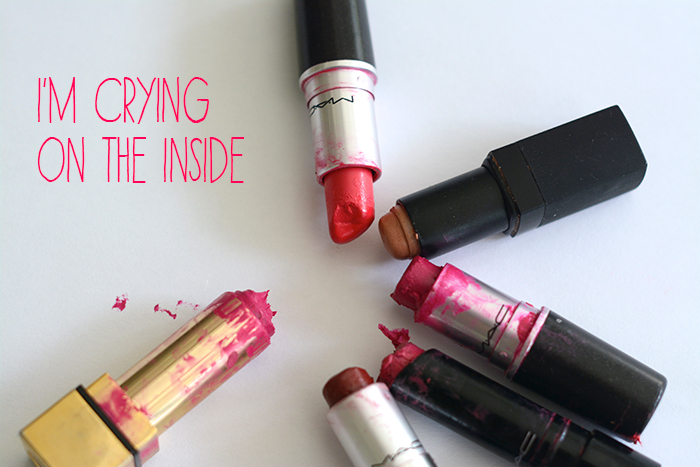 I'm not a beauty product fiend. Not by a long shot, but I like a strong lip color because I dont tend to wear too much eye makeup (I hate how my eyelids look with eyeshadow. Anyone else feel this, or is it just me?) so when I want to look like I actually tried, I put on a red, hot pink or even coral or orange lip. I would say I normally buy 1 or 2 lipsticks A YEAR, and its usually after I get my makeup done and they use a new color on me and then I want to go buy it. That's easy for me, because I already know it will look good! It's not that I'm so snobby that I never bought a drug store lipstick, its just that I never thought about it, because I'm not a product person, and just went with recommendations. Above you see a few of my favorite lipsticks (pretty much all of them) and the absolute decimation they endured at the hands of my children. Keep them UP HIGH! You'll say. Yea, I do. Thanks for the tip. The monkeys CLIMB.( I instagrammed a picture way back when of what they did with it. Oh god. And no, I wasnt home.) This was a few months ago and I was still using them anyway. Wrapping the base in a tissue so I wouldnt get lipstick on my hand by accident and then all over my face later on, and then just trying to get a nice smear out of it. ENOUGH! Yesterday I went to Duane Reed and bought 6 new lipsticks. (One I forgot to put in the picture). First I was like, lemme try this… Then I noticed they were having a sale, so I went crazy. At the drug store, you cant smear the lipstick on your hand as a tester and there's obviously no salesperson to help you choose so its more of a guessing game. I tried to cover all my color bases: Good reds, orange, nude, dark 90′s style berry and a fuchsia. The reds were easy enough, but I could find no good match for my YSL fuchsia which is really magical. That's the one of the left in case you are wondering. Destroyed.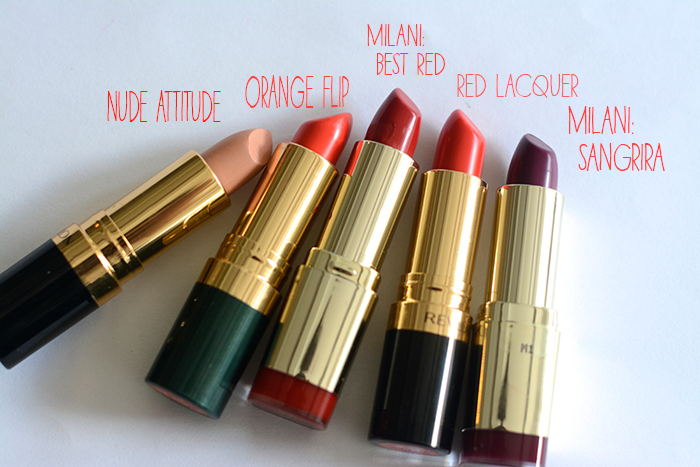 Now, are the  $25- $40 lipsticks really better than the $5- $8 lipsticks? It depends. I bought two brands, Revlon and Milani. The Milani aren't great. The color doesnt match the color in the stick, which is the biggest problem with it. The red is too dark and the sangria is too purple and I think it may even have a shimmer to it. Which is bad. I surely do not want purple sparkly lips. It also has a taste. However, the Revlon stuff is AWESOME. That Orange Flip color is part of their "Moon Drop Lipstick" in a cream finish, and its pretty great. It goes on really smooth and thin. Ever put on a Mac lipstick or any high end lipstick? It goes on like paint and then you have to de-apply some so you dont look like a clown. The Revlons are the opposite. They go on really thin and then you can add another layer to make it darker. Maybe that's the real difference in quality? The thickness? And the way they last? Aside from packaging, that is. Also not pictured is a Revlon Super Lustrous Plumalicious. I love that one too. It's kind of like that 90′s berry brown color that Kim K was wearing at the Met Ball. It's pretty fab. It goes on thin, like I said, so you could even wear these bold colors during the day and not look semi-nuts. The nude was not as good as my old Nars. But it'll do.
I get that a lot of women like to see a nice label in their makeup drawer. It does feel good to pull out a sexily packaged lipstick when you are trying to get yourself out of your sweatpants and semi presentable. It helps. The barrier for entry is not THAT high, so many people could afford to spend a little more one or two times a year to get a better product, or a product that makes them feel better, so why not? I get it, but are they really better? My conclusion: for really nuanced color, I would say the high ends are better. I could not find a decent pink. For thicker, more long lasting color: the high ends. But for a good red or bright orange, I think the cheapies are great. And  the Orange Flip, HERE and the Plumalicious HERE are really good colors, by all standards. Those I really recommend. Go get em. Also really recommend YSL Rouge Pur Couture 7, Le Fuschia, HERE and Nars, Belle De Jour HERE. Oh, and I dont wear lip gloss. Period.
What are some of your favorite colors? Do you go for the brand name stuff or drug store stuff, or both? Any recommendations for us?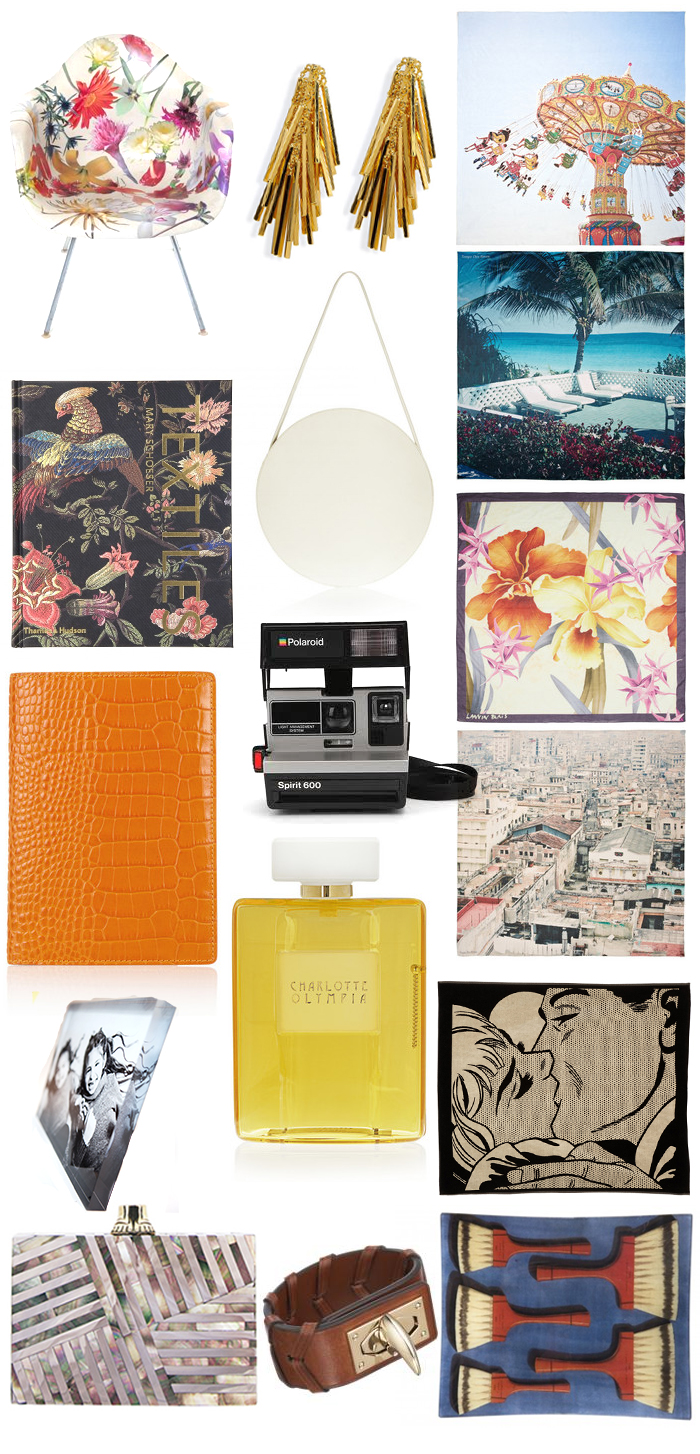 Now, do I really think I know what your mom is going to like? No, I have no clue. I don't even know what MY mom would like. I do know what I like, and what you might like, so we can start with that. I came up with an arty type of theme for this one. And we can start on the left hand column because that's the gift I'm most confident in. The first four pictures are actually SCARVES! Beautiful, beautiful scarves. Moms love scarves. These are a little hip, but not too hip because once you twist it around your neck its not crazy looking, its just a soft beautiful pattern. OR, your mom could frame these. Cause they are so so pretty. Thats my #1 choice for mom.
Temps De Revese scarves: HERE, HERE, HERE, HERE. The havana print is probably my favorite, its $295.
Next we have a huge beach towel from the Lichtenstein collab with Barney's. Its only available in the store, but I think its awesome.
Paint Brush Tray
Givenchy bracelet. Is your mom a badass? Get her this. HERE.
Kelly Wearstler Mother of pearl clutch: (comes in black and white too), every mom can rock a beautiful clutch. HERE.
1″ lucite portraits- Photographer Shirley Serure now offers photos already printed into 1″ lucite blocks. Every grandma wants pictures of their grandchildren! HERE.
Orange leather passport holder, yea, its pretty so why not. Throw in 2 tickets to Paris and you'd be the ultimate daughter or son. HERE.
Charlotte Olymia's lucite clutches are all the rage, but this one is a little bit funny actually, and Im in full support of it. All women can wear crazy accessories. That's a fact. HERE.
A vintage polaroid Camera. These things were rescued from the dumpster by the Impossible Project when polaroid film went out of production. Its back in production now, but these vintage polaroids are the COOLEST. I know your mom probably complains about how you never print her any pictures. Just email them to her. WELL, now she can have instant gratification and print em on the spot. Also, she probably already knows how to work this thing. I got one one year for Mother's Day from the hub, and it was really an awesome gift. HERE.
This white circle clutch – the handle is removable- by Maison Martin Margiela is radness incarnate. Simple and bold. I might buy it for myself. HERE.
Gorgeous book, Textiles:The Art of Mankind by Mary Shoeser HERE
These Eddie Borgo tinsel earrings are really fun. I want. HERE.
And last, a floral chair by  artist Phillip Estlund for Gray Area, expensive, but on theme and awesome. HERE. 
Did I just put together a list of things your mom might hate? Yes? Ok, go with the scarf!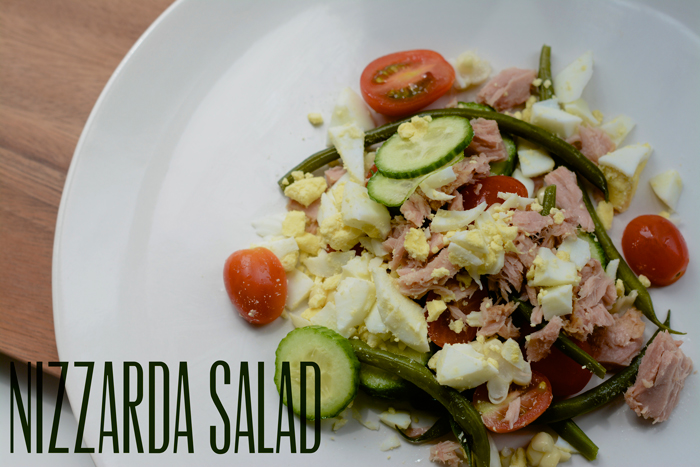 A few weeks ago, I had lunch at Sant Ambroeus on the Upper East Side. I had the delicious Nizzarda Salad, so yum I had to recreate it at home for a Saturday lunch. Now, if you're looking at this and thinking, well, that's a Nicoise salad, yes you would be correct. They are pretty much the same thing. The version I ate had no lettuces, potatoes or anchovies and was stacked in a tower with baby tomatoes and layers of paper thin layers of crisps. I recreated it at home with some slight variations.
3 hard boiled eggs, chopped
A nice amount of grape tomatoes
Haricot Vert, blanched
Isreali Cucumbers, sliced
2 cans Italian Tuna
I added corn on the cob, boiled and shucked.
I layered the ingredients one by one in single serving stacks, for dressing I mixed:
White wine vinegar
Extra Virgin Olive Oil
A dollop of mustard
Sea Salt
Pepper
If you are thinking : Boy, she sure likes making salads. Well, yes that is true. But I encourage you to try this version, the chopped egg makes all the difference! Enjoy.
In honor of the upcoming Passover, I sat down with Victoria Dwek and Leah Sschapira, co-authors of the cook book Passover Made Easy to get their take on a simple, easy and beautiful Passover meal. The way I approach Passover is- it's an opportunity to eat natural foods that dont come out of plastic bags, to use fresh ingredients and since dining out is impossible, it's a time to have some fun in the kitchen. (I'm actually making the great Exodus to Florida this year!) For those of you who arent familiar with Passover- for something to be Kosher for passover it essentially just has to be gluten free. Anyway….  a little bit about Leah and Victoria.
Leah Schapira is the co-founder of CookKosher.com, a popular online kosher recipe exchange, and the author of the bestselling Fresh & Easy Kosher Cooking. A self-taught cook, Leah expresses her love of cooking through her polished food articles, her busy website, and her exciting cooking demos and classes. Passover Made Easy is Leah's second release with ArtScroll/Shaar Press. Leah resides in New Jersey with her husband and family.
Victoria Dwek is the managing editor of Whisk, a popular kosher food magazine published weekly by Ami Magazine. Her feature articles take readers behind the scenes to learn from chefs and other professionals in the kosher food world. An experienced journalist and avid hostess, Victoria's work combines her passions for good food and good writing. She lives in Deal, New Jersey with her husband and children.
They wrote Passover Made Easy because we wanted a book that would be fun to cook from, while still using ingredients that are already in your Passover pantry.  Beyond the traditional staples, everyone gets stumped while creating Passover menus. Passover Made Easy includes 60 easy-to-make, creative, and modern recipes that mostly rely on fresh ingredients. Each has a beautiful full color photo, and  it's also an affordable price. We wanted everyone to be able to buy and enjoy it.
Q&A With Victoria and Leah
Q: What's your first food memory?
Victoria: This is a tough one for me. I grew up on Syrian food and it's all a blur. I was never allowed to help in the kitchen. I remember we once had a Jamaican housekeeper who would grate and fry coconut, until it was golden and caramelized. My mother did not like us eating fried coconut very much!
Leah: When I lived in Israel, my grandmother used to come and visit. In her suitcase would be packs of frozen pastrami. I was a very picky eater. They said I cried and cried that I was constantly hungry and I wouldn't touch any food. Pastrami and pizza were two of the few things I ate. But every food item needed its own plate. If the sandwich had pastrami, I would never have the bread touch the pastrami.
Q: If you could cook with only 5 ingredients which would you pick?
Victoria: Salt, pepper, and oil are free, right? If I'm the one that's eating, then it has to be rice, coleslaw, a green veggie like zucchini or broccoli, and a lot of cheese. The fifth would have to be onions. If I'm cooking for men, then I'll swap the cheese for steaks.
Leah: Flour, yeast. I'm a real carbs person and need my bread. Then it would be chicken, tomatoes, and cheese. With that combo I could have pizza, pasta, chicken sandwiches, bread and cheese… I'll borrow some veggies from Victoria. Wait, I need a sixth. I can't live without Romaine lettuce for my salad.
Q: If you could meet and cook with a food guru who would it be?
Victoria: My latest obsession is perfecting my skill at making royal icing cookies. So I'd like to ice cookies with someone like Eleni and learn the tricks. I'll have a new obsession in a few months.
Leah: I would cook with my grandmother. She was the most amazing cook. I was really young when I started cooking with her, and by the time I got older and got around to asking her for recipes, her memory wasn't always the best. She passed away two years ago, and if I could, I would go back two decades and spend the day cooking and baking with her.
Q: What's the best thing you've eaten in recent memory?
Leah: Whenever I'm in Brooklyn, I get the pastrami sizzlers from a store on 13th Avenue. They won't give me the recipe. I've been trying to figure it out…oh, wait…pastrami again. I have to pick another one. One of my best recent food memories happened the last time I was in Israel. The day after we arrived my children were still jetlag and couldn't fall asleep. I took them out of bed at 11 p.m. and we went down to Rechov Rabbi Akiva, a main road in Bnei Brak, and ate some falafel. The falafel was fresh and the street was bustling as if it was middle of the day. My kids couldn't believe that people were allowed to be up at 11 p.m and they talk about that night as the highlight of their trip.
Q: What's your best advice for new cooks?
Victoria: I first learned to cook simply by following new recipes. Don't be scared to try new things. Not everything will turn out the way you want, but you'll still learn something in the process. Choose recipes that seem fun to make…cooking should be fun, not a chore. And forget the double boiler…melt chocolate in the microwave.
Leah: Don't be afraid to season your food well. If something is bland, all you need is some salt and other spices to bring out all the flavors.
Eggplant-Wrapped Chicken
4-6 servings
INGREDIENTS
EGGPLANT:
1 tall eggplant
½ cup oil
¼ tsp salt
Pinch coarse black pepper
MEAT MIXTURE:
3 tbsp oil
1 onion, diced
2 garlic cloves, minced
½ lb ground meat
½ tsp salt
½ tsp garlic powder
CHICKEN:
6 boneless skinless chicken thighs
¼ tsp salt
Pinch course black pepper
Instructions
1. Preheat oven to broil. Grease a baking sheet. Cut eggplant lengthwise, .-inch thick, to get 6 or 7 slices. Reserve remaining eggplant scraps. Place eggplant slices on prepared baking sheet. Brush slices with oil and season with salt and pepper. Broil 5 minutes per side, until second side is beginning to brown. The slices should appear as if they were fried. Remove and set aside.
2. Preheat oven to 350°F.
3. Peel and finely dice remaining eggplant to obtain ½  cup diced eggplant. Heat oil in a sauté pan over medium
heat. Add onion, garlic, and diced eggplant and sauté until soft, about 5-7 minutes.
4. In a small bowl, combine onion mixture with ground meat. Season with salt and garlic powder.
5. Season chicken thighs with salt and pepper. Place a tablespoon of the meat mixture into each thigh and roll up to close. Roll a eggplant slice around each stuffed chicken thigh. Place, seam side down and close together, in a baking pan. Cover and bake for 2 hours.
Enjoy!!! And have a happy happy holiday everyone!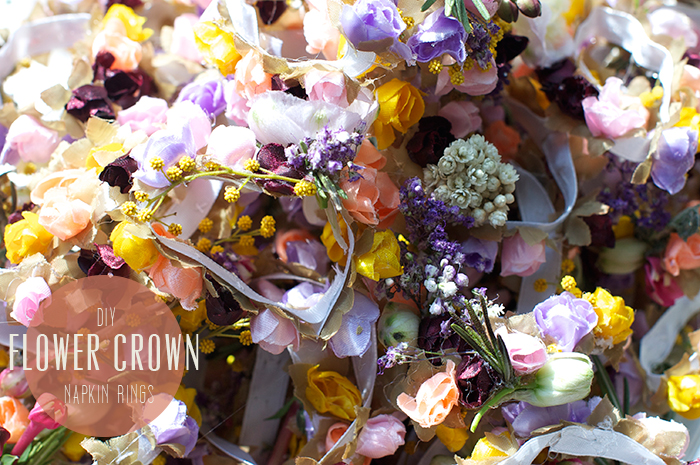 Hola Folks… Flower crown napkin rings? What is this chick talking about? WELL, I was asked if I would DIY napkin rings for my friend Kim Kushner's charity cooking event to celebrate her new book The Modern Menu (expect a recipe on Foodie Friday!)… I said yes. Normally, I go for simple. Simplicity, unfussiness, and ease are my requirements for most DIYs. But since I was listed as having made "custom napkin rings" on all the paperwork for the event, I felt I had to actually perform. (Dance blogger girl! Dance!) I couldnt just tie a beautiful ribbon and call it a day? Well, maybe. In my head, and at M&J, I went through at least 10-15 options. I actually made 30 faux malachite clay rings(I'll show them to you later, but they werent enough of a stand alone item.) and then decided against them. Then I came up with the "flower crown" idea, also known as a wreath. I really wanted to do all fresh flowers and herbs, but since I was making 80 of them and I'm no florist, that really wasnt an option…. so I took home some rosettes by the yard from M&J, got some filler flowers from the bodega, as well as some lavender, lilac and fresh herbs. And away we go….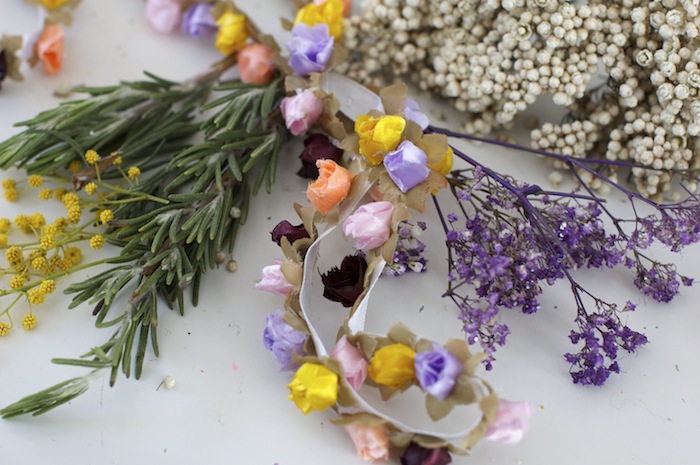 You need about 5-6″ of ribbon each. You can use a paper towel holder as a guide when making them. Then I used a basic glue gun and got to it. You can ask your florist which flowers will stay together the longest without wilting, but generally just go for things that dry rather than wilt.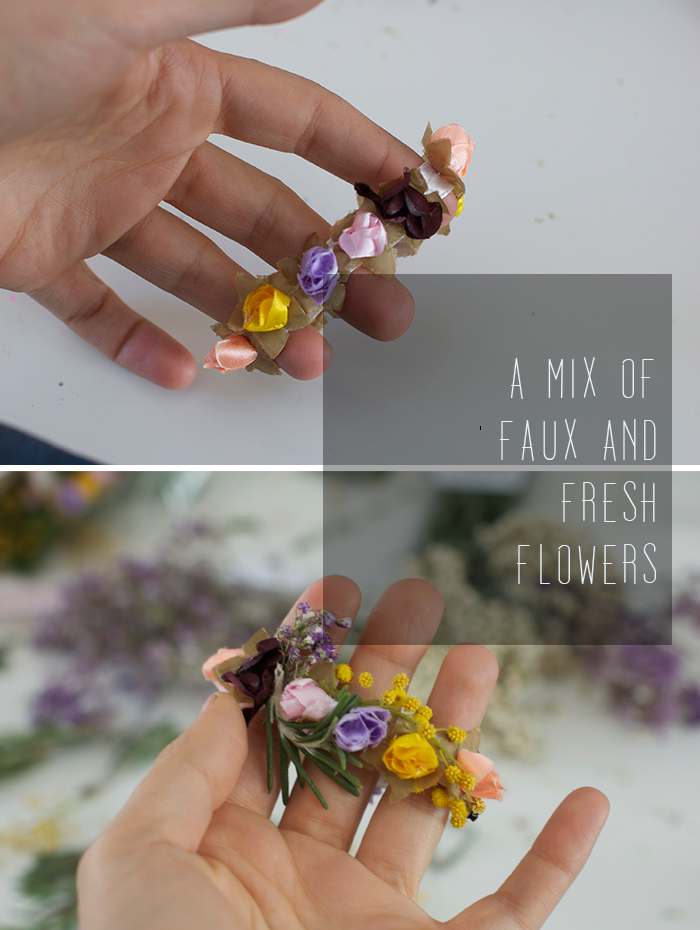 I added little snippets of flowers here and there, the branchy qualities gave it an ethereal look.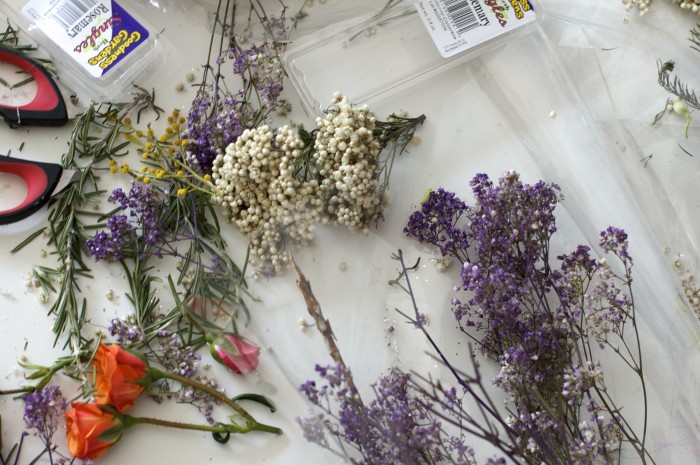 Of course, because I was using fresh flowers, I had to wait until as late as possible to glue on the last of the flowers. Obviously, I was making 80 of them, but if you are only making a few for a party, you can get as creative as you want, and add as much of the fresh stuff as you could possibly want. OR make them totally fake so that you can use them again and again. Here's a tester shot in my apartment:
I knew the tablecloths would be burlap, and that it was a cooking event, so I wanted to give the table a fresh springy vibe. Plus it was an all women's event so I could go as feminine as I wanted (not typical for me, but fun!) I think this could be done so beautifully for a holiday meal: Passover, Easter, even Mother's day. Let's be honest here: I'm a 30 year old New Yorker with two kids. The opportunities for me to wear flower crowns are few and far between! But I can still make use of the technology

Uh-huh.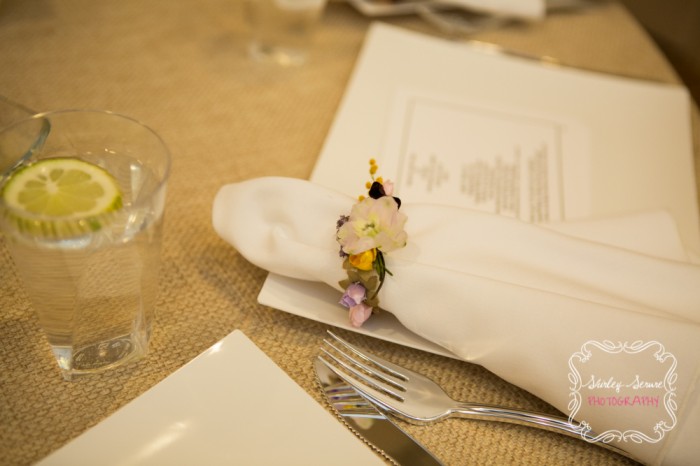 Take the idea, make it your own, put it through the blender that is your own creativity. That's how things happen! Here are some photos taken at the actual event, provided by my friend Shirley Serure. You can see they are each a bit different, but that's part of the charm.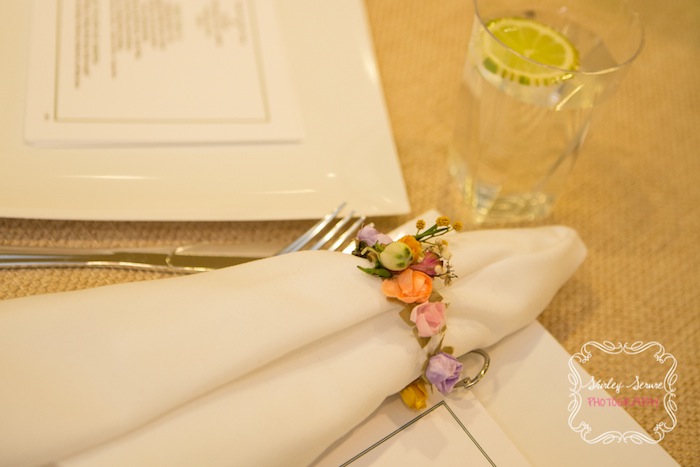 I hope you enjoy! Thanks to Kim  and the committee for having me, even in this small way!