Archive for the 'SOURCES' Category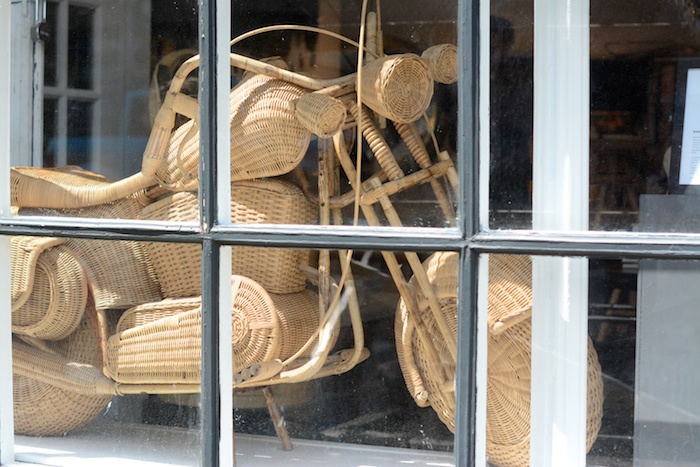 This week I had the priveldge of meeting Ari Heckman and Will Cooper, (introduced by our mutual friend Sara Cooper) founders of the design and development group ASH New York City. I also toured their ASH pop up shop. You may recognize their clean but edgy work from Lonny and other publications. The two have an interesting NYC story. Ari worked in real estate development, and having grown up with a decorator mom began staging developments with his quirky and clean eye. The apartments he staged were quick to sell. Now creative director, Will had been working for Ralph Lauren doing his in store design when they met through friends  and founded ASH in 2007. They are currently working on design and development on a number of projects, one of which is the former Abingdon Guest House on Eighth Avenue, in which they are housing their month long pop up shop.
Some of their past work: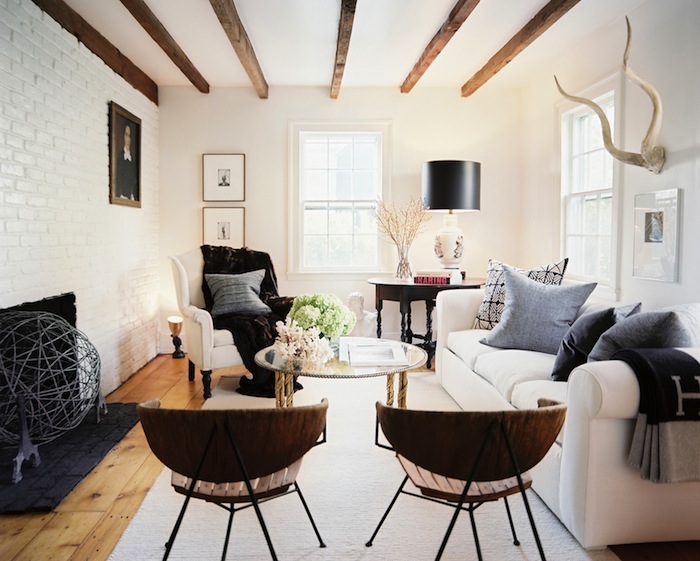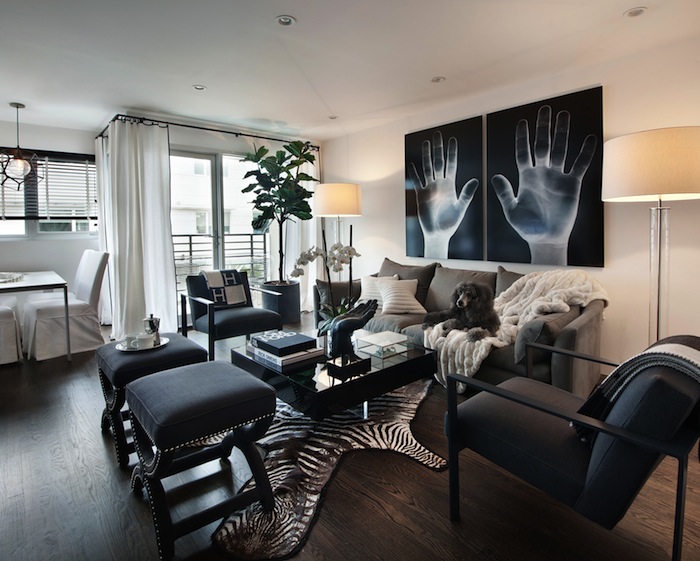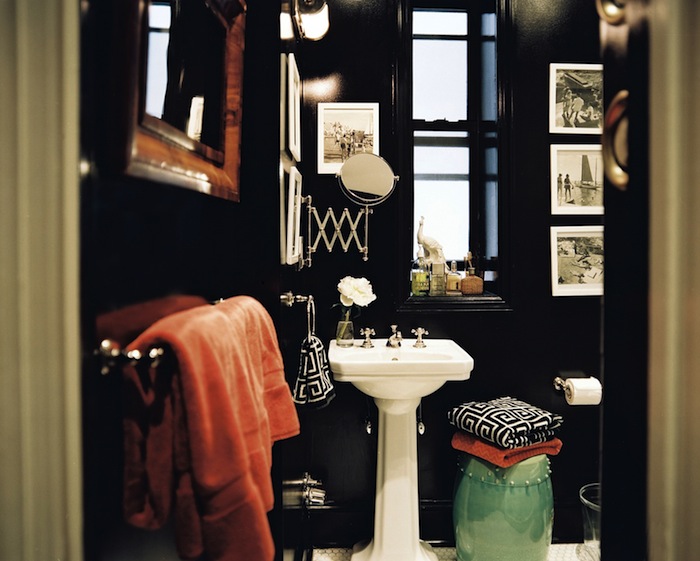 The pop up shop features a rotating collection of their favorite vintage furniture (which they have been collecting in a huge warehouse in Brooklyn for the past 6 years) as well as chic little accessories, an amazing collection of art including limited edition prints by  Adrian Mesko, a gorgeous painting by Antonio Bokel and the debut furniture collection of Anna Karlin.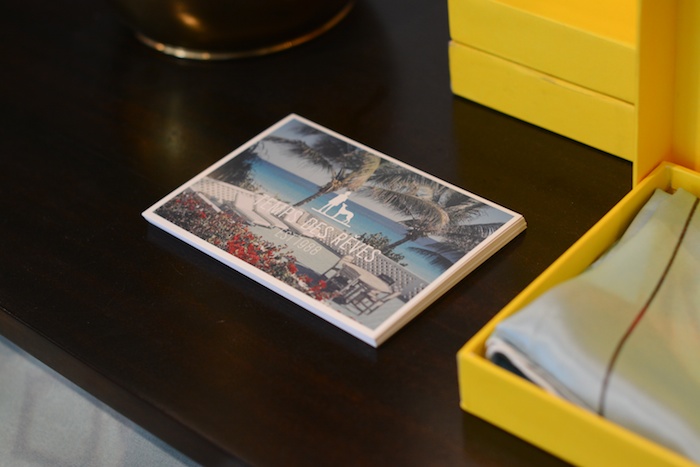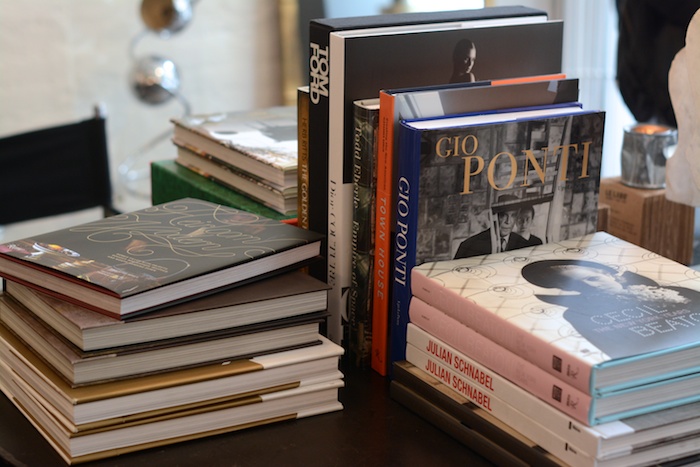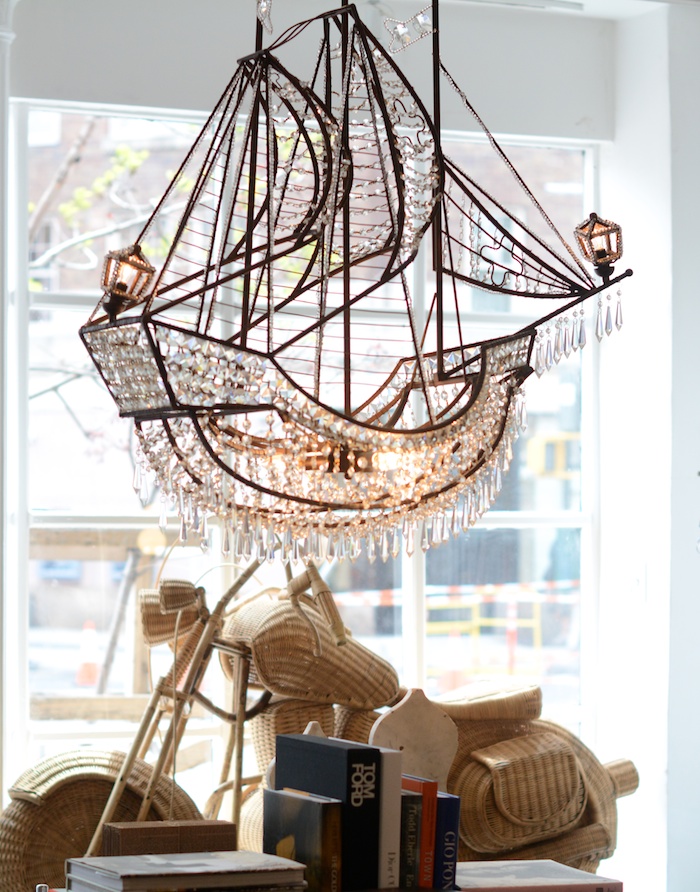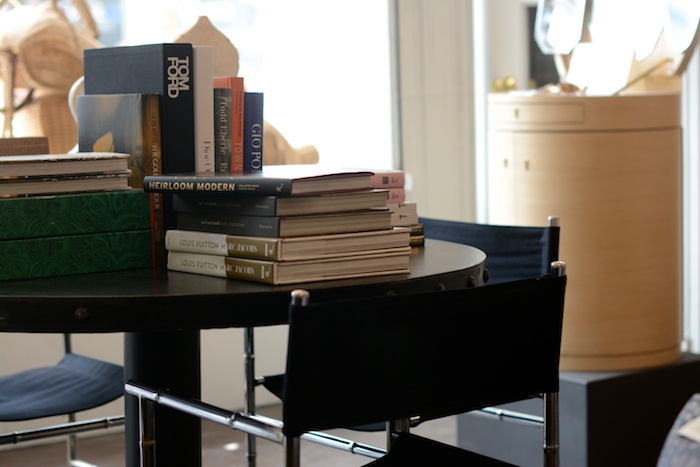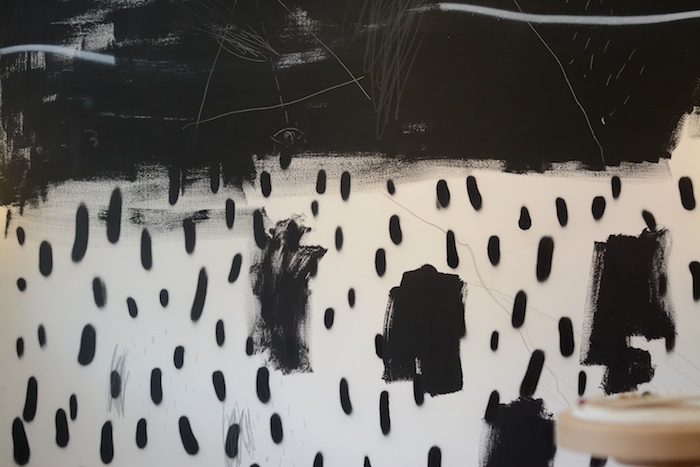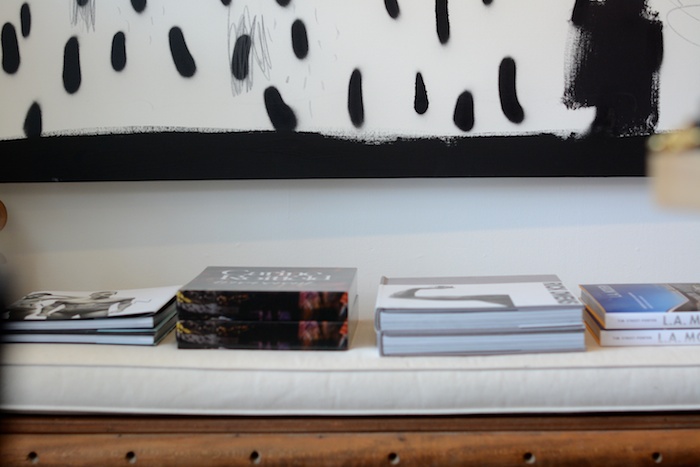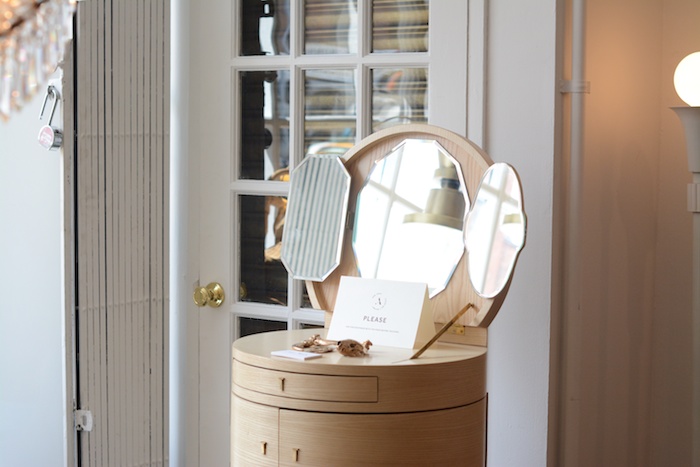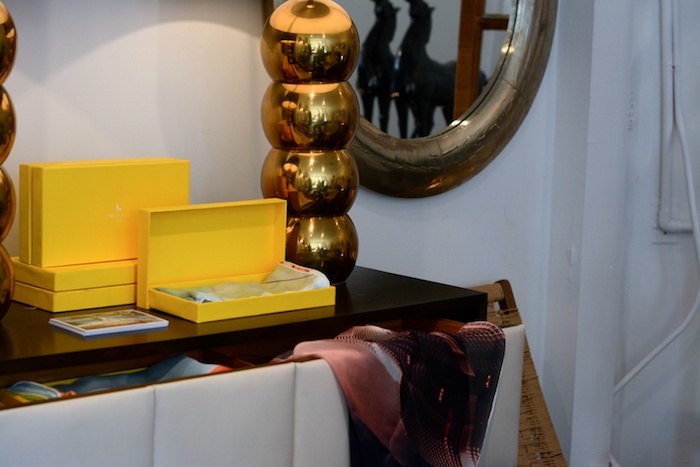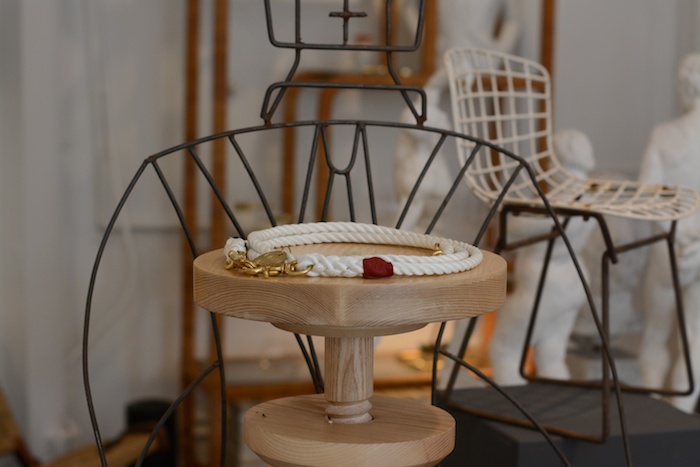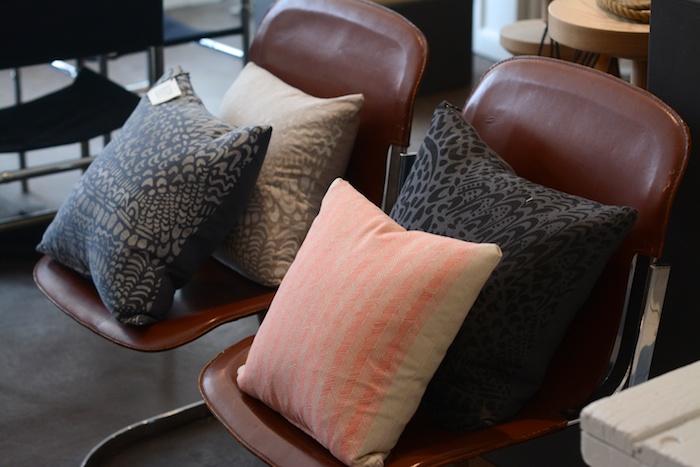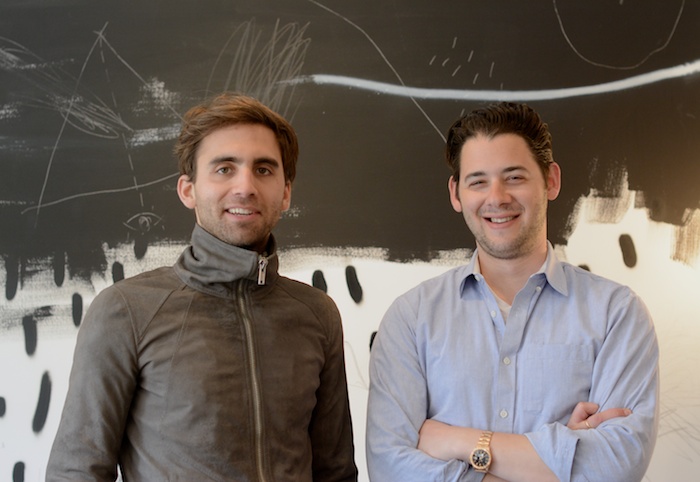 Will & Ari
Ash NYC
Open through April 28 at
13 Eighth Avenue
Hours are Monday to Friday by appointment
Saturday and Sunday from 12 to 7 P.M. ashnyc.com;
347-422-0078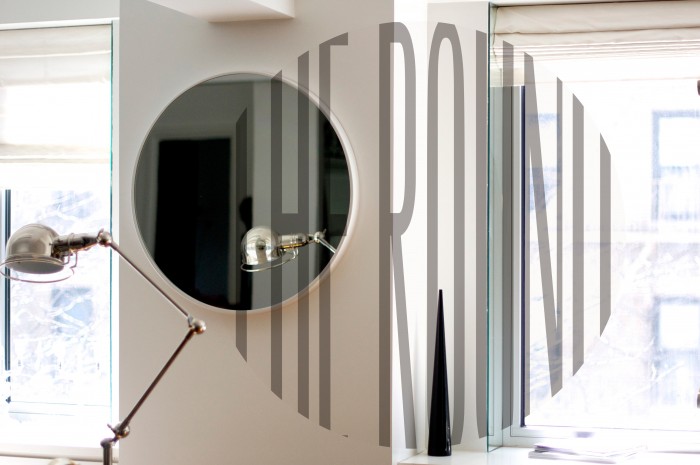 It's come to my attention that you folks like when I blog about interior design. I know most of you signed on for a design blog, but I gotta go where the inspiration takes me. Life is a journey, not a destination? When you aren't actively involved in a design project, your head doesn't always go there. Last week I wrote about how I – and a lot of other people- are trying to meld downsize our look and meld the minimalist aesthetic with our love of stuff. Well, I've been making small and very effective changes. One of which was changing up the shagreen starburst mirror for this clean as can be infinity mirror. I just freakin love looking at it. No bullshit. Just a mirror. From this angle the house looks WAY more bare than it actually is. I'm only showing snippets because I'm building up to a big cheesy reveal… if I ever get to reveal levels of change. I'm calling it a make-under. Here are some of my favorite examples of the simple infinity mirror. (Except for the black and white one by Kelly Wearstler that is decorative.)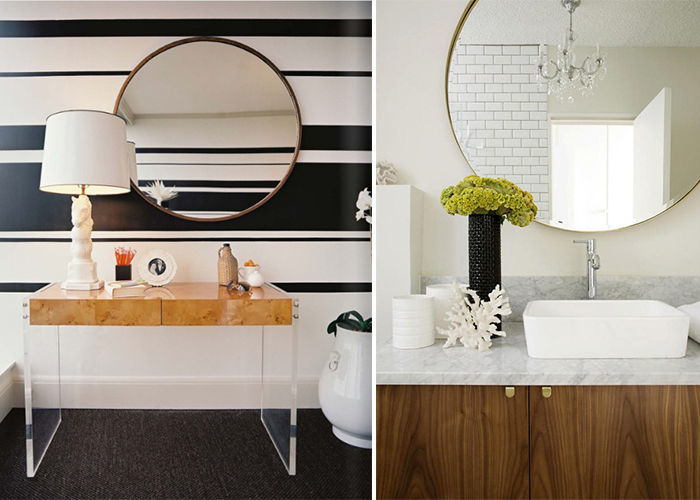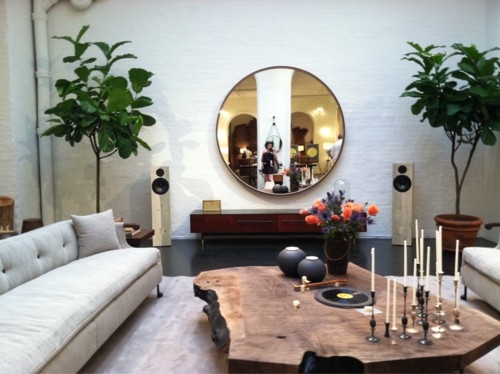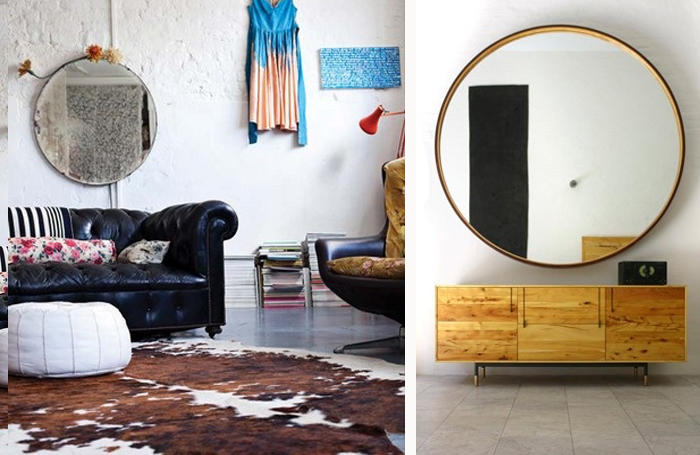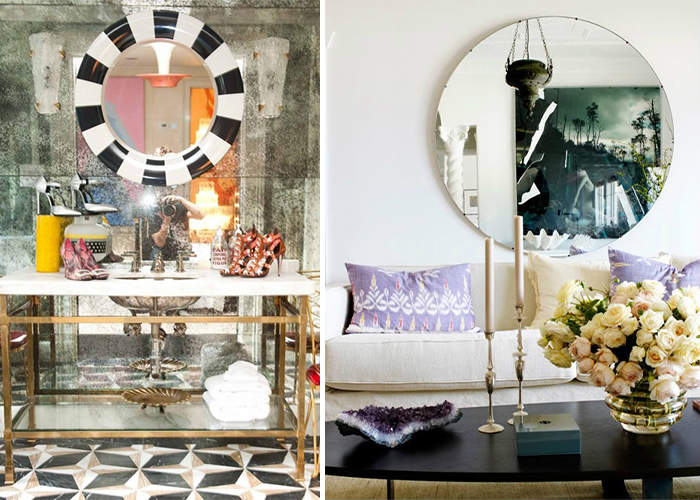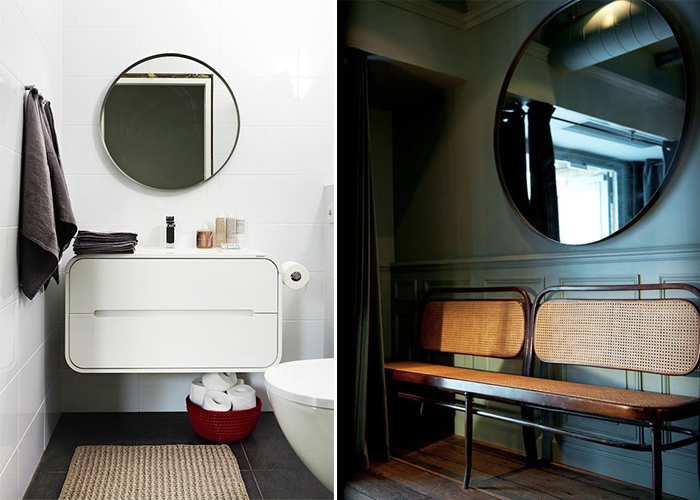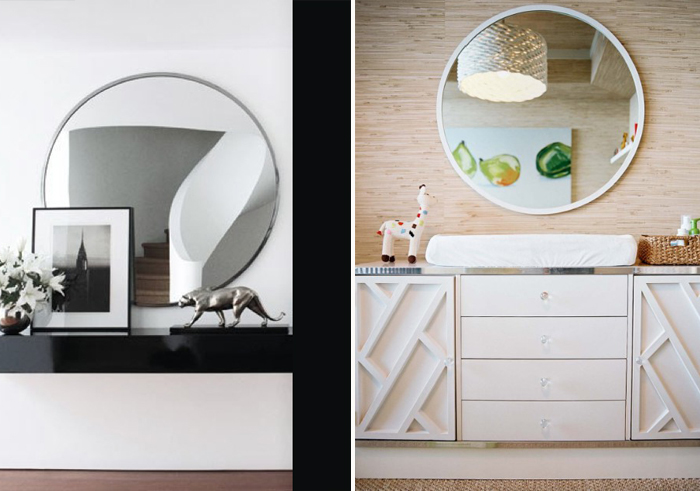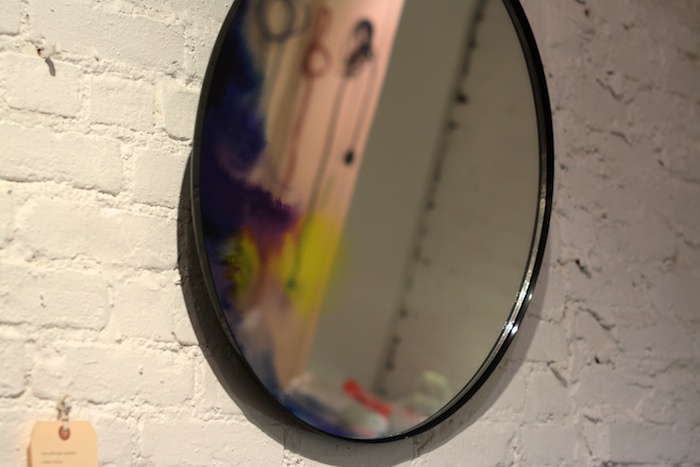 The mirror I bought is from Cb2 HERE. I really feel good about it. It was on a cork wall in the store and it looked SO MUCH WORSE there than it does by me. It was only $99, so yea, pretty, pretty preettttty good (Cue Larry David voice). They also have a brass one, which Im sure you will all go nuts for HERE. One day I just woke up and thought, TODAY IM GOING TO CHANGE THE MIRROR. It was like, the first thing I ran to do that morning. I took home both of those and just loved the white one. But yea, the gold was hot too. And that last picture you're seeing? Two days ago I was with Emily Johnston walking around on the lower east side and we spotted this round oxidized mirror. LOVE it. I need to retrace my steps to find it because I have no idea what the store was called. Or recreate it, eh? Oh and I'm willing to sell my shagreen starburst. Check out the "Before" HERE.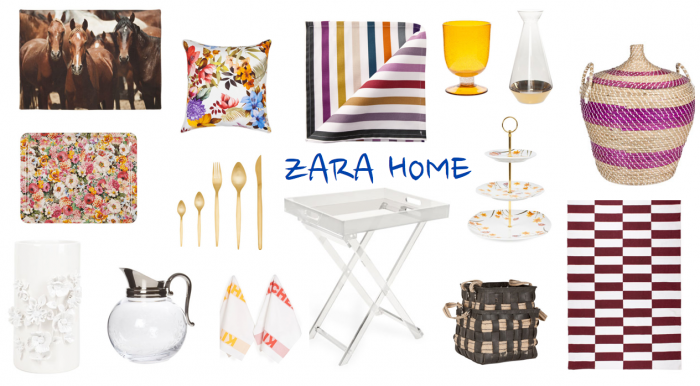 A much anticipated Zara Home launched this week… As with all things Zara(except for the kids clothes), I'm hesitant. First, we dont know the quality… although I'm sure it will be comparable to other things in its price range. Second, its mostly accessories and tchotckes and lord knows I dont need anymore tchotchkes.  As in regular Zara, its seems like a place you could easily drop hundreds of dollars only to be faced with tchotcke buyer's remorse 2 months later.  And third, will it be a knock offs-ville? That said, if shopped sparingly, it could be an awesome way to score something really fabulous. 
Have you checked it out yet? Thoughts?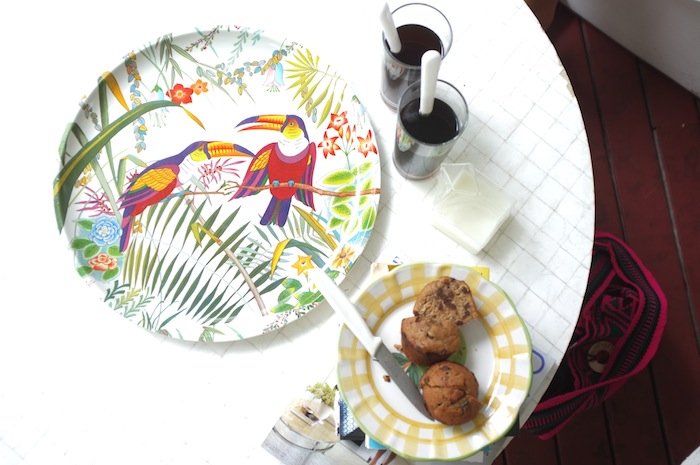 Good Morning! Yesterday I went over to my friends house for a cup of coffee and was greeted with this! Delightful! Iced coffee, home made muffins and a super chic parrot tray? YES! So I snapped a few pictures and promptly informed her that she would be on the blog tomorrow.  Later that day, I hit up the antiquated, quaint and kitschy town of Ocean Grove for lunch (Yes, it is all three of those things.) And it got me thinking about New Jersey style. I think New Jersey has been getting a bad rap – It's not all gilded mansions, and marble mausoleums (Echem, Teresa…) it's mostly all of the things I grew up around and now associate with Grandma… wicker, white painted furniture with curved legs, antiques, retro signage from a better time, cabana stripes and 70s chic poolsides… Maybe its because I'm so used to it, and the look is so heavily steeped in nostalgia for me, but I really like the "Jersey Shore" style… Seaside country time, meets faded glamour. And so I bring you: Palm Springs by Way of New Jersey: The shop the look edition. Enjoy!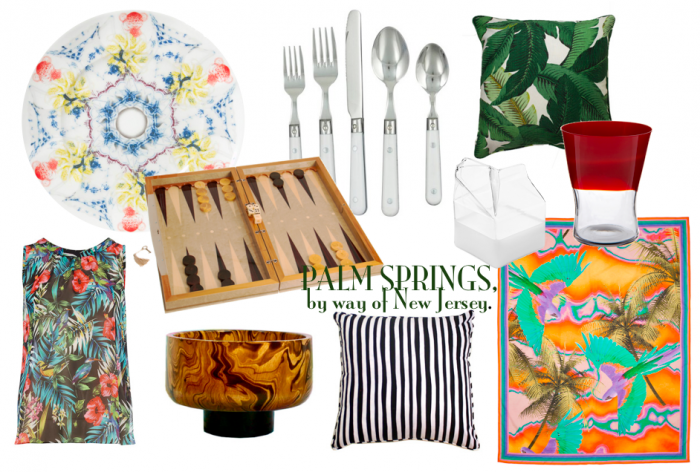 Backgammon Set: On Sale for $397 at Barney's from $795 (Actually a great deal for one of these fancy backgammon sets!)
White Handle Flatware: $59/Set of 20
Matthew Williamson Scarf: $287
So what do you think? Have I convinced you? Can nostalgia be a viable decorating style?
Have a great day everyone!
I feel like I am master of the obvious today, but DUH, the Kelly Wearstler sales on One Kings Lane today are ridiculous. RI-DIC-U-LOUS. Its basically a mix of amazing vintage finds with her own designs and stuff… And its organized by her various styles and books: Hollywood regency, midcentury, coastal, etc.
If you have a couple a grand to throw around and you want a showstopper for your room, go buy a set of amazing sculptural chairs. Thats what I would do, if I needed anything. Or a ridiculous pair of side tables. Or her fine china for Pickard on sale. Or a four poster driftwood bed. But my favorites are the chairs. For sure. What I like about her stuff is that every single piece of furniture is a work of art. The woman sure  knows how to choose things with sexy lines and unbelievable texture.  It's really awesome.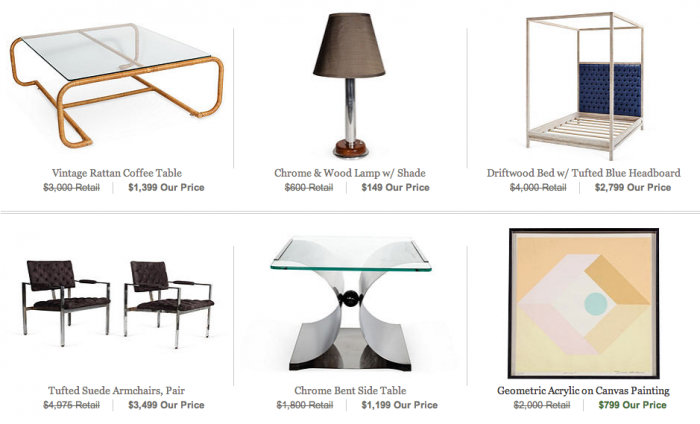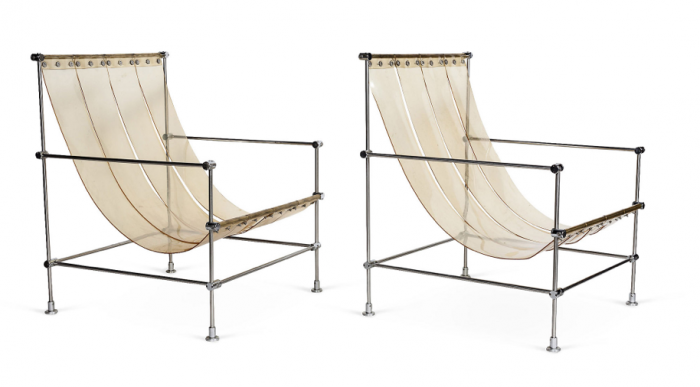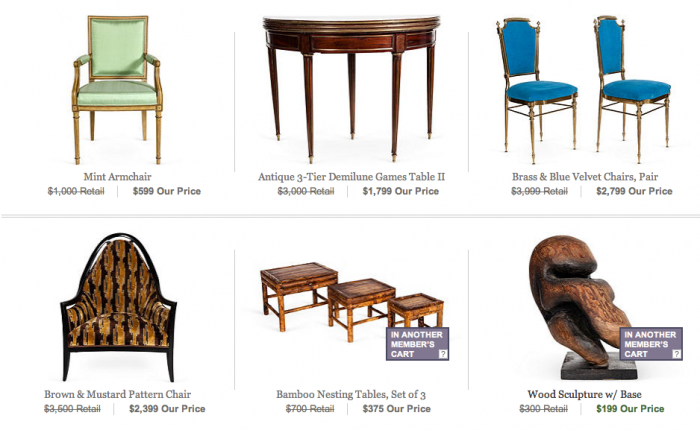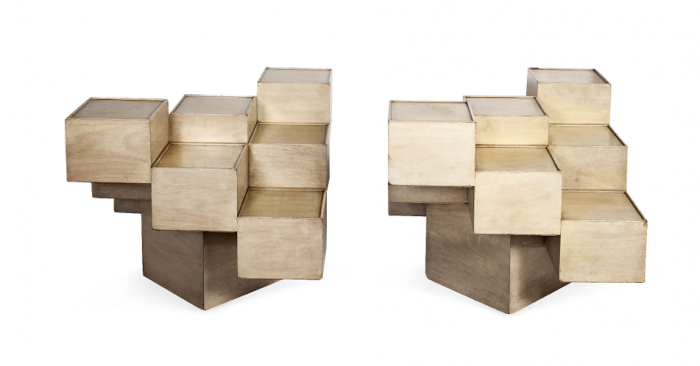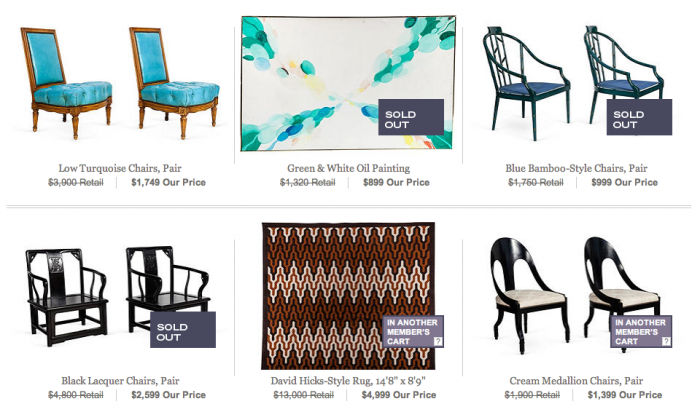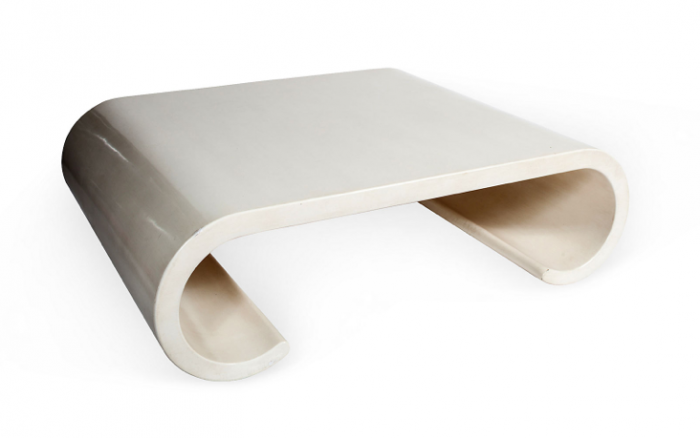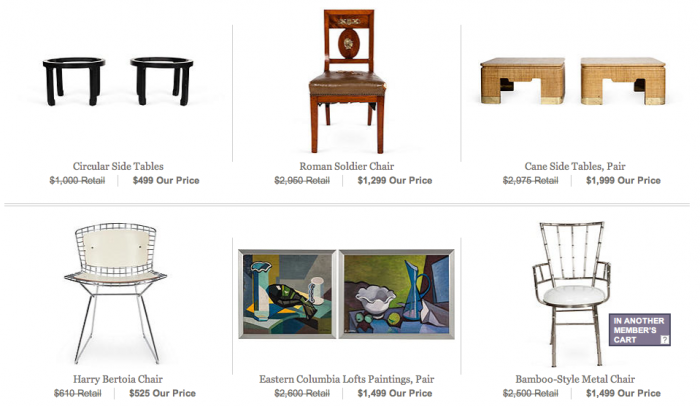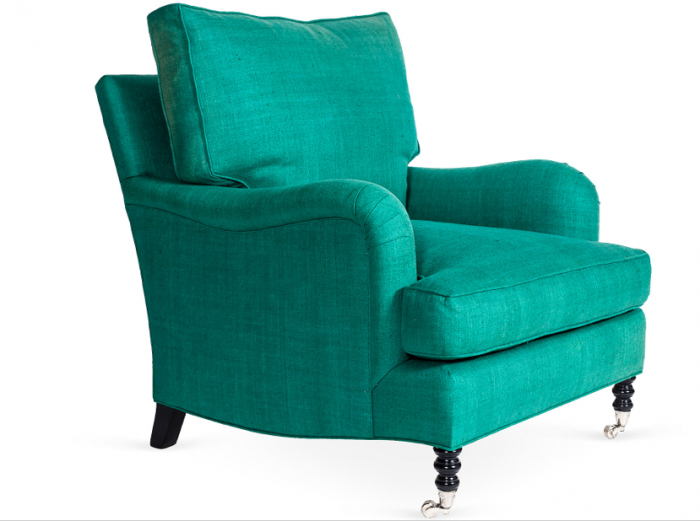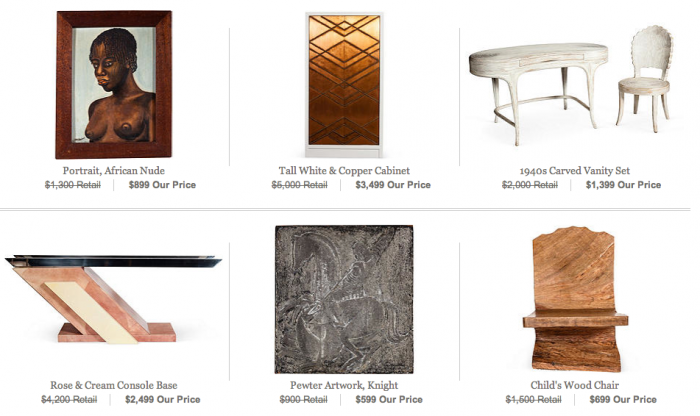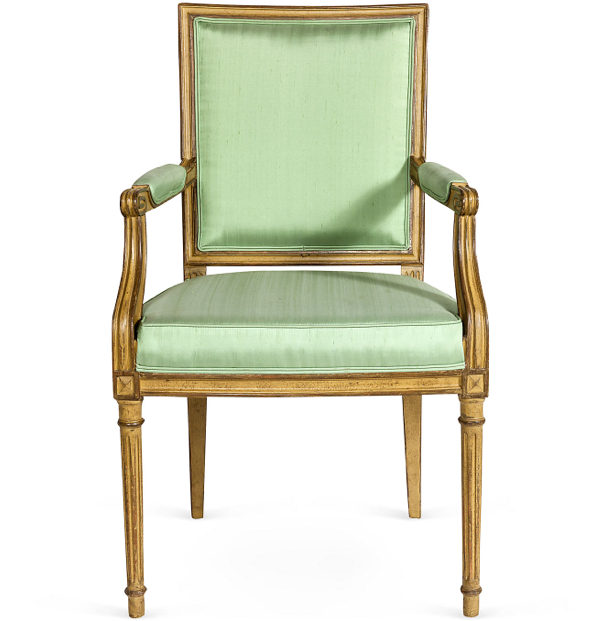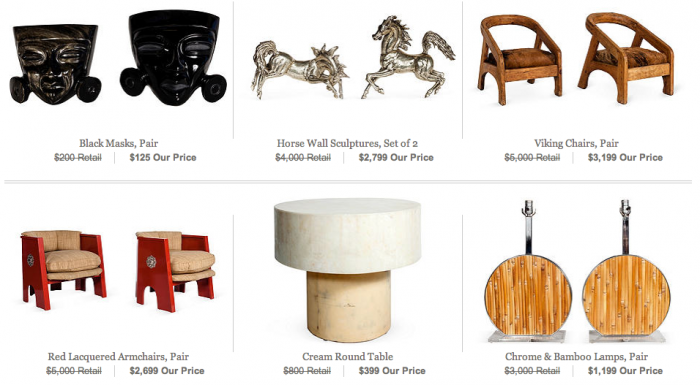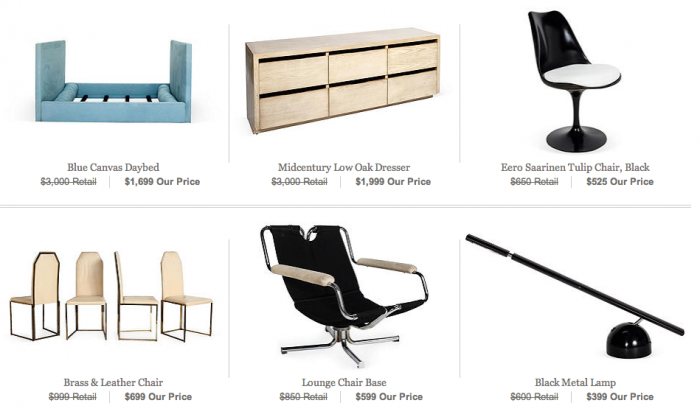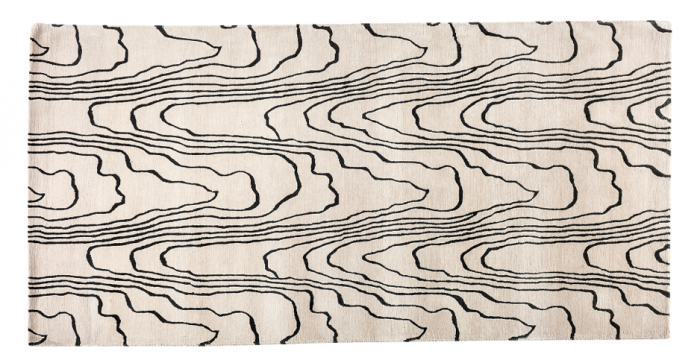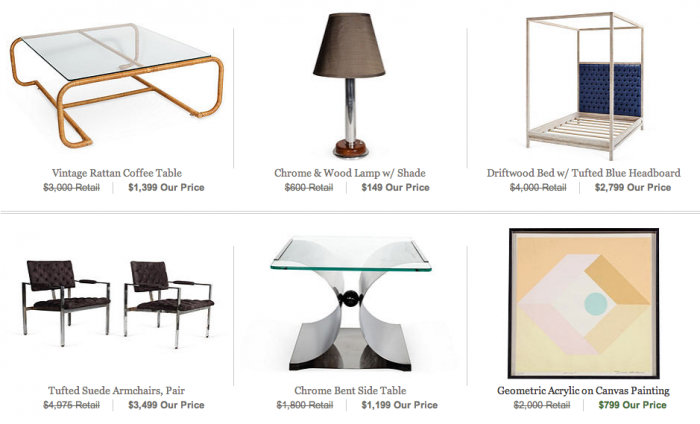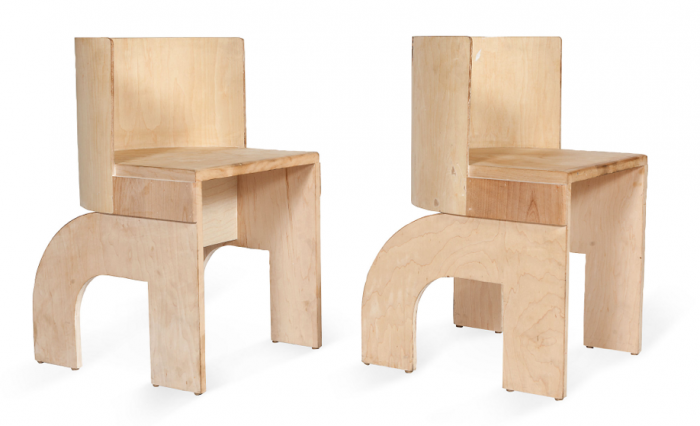 Unfortunatly, I'm so at and over capacity at my house… so I am not buying anything. But for those of you who need stuff, go pick out one crazy thing, and build a room around it!