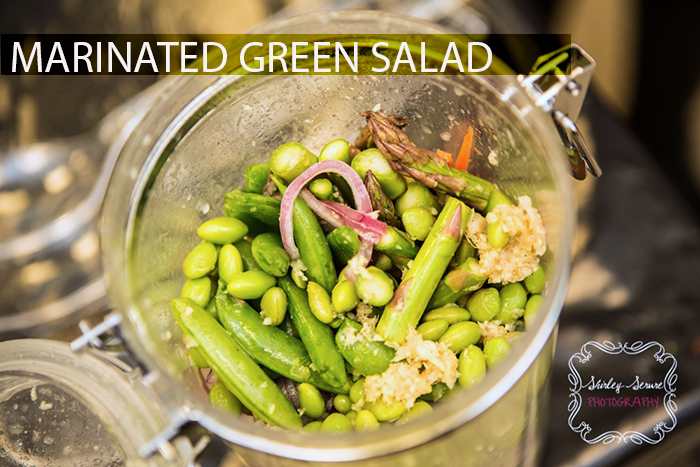 Last week I made those napkin rings for Kim Kushner's cooking event, and planned on posting this recipe from her demonstration last friday. But I had no wifi over the weekend, and so here it is. When I saw her making this salad  and then serving it, I just couldn't believe how genius it was. Its such a simple, yet clever idea, and I knew upon seeing it that it would be a pinnable feast! Basically you just put fresh veggies, the kind you might or might not cook (not cucumbers or lettuce that would wilt sitting in a dressing) and the ginger dressing kind of cooks it for you, and it lasts up to a week! It also happens to be an awesome presentation that is so perfect for summer. Going to a BBQ? You could just pull this baby out of the fridge and your host could serve it right out of the jar. (See also pool parties and picnics.)  Amazing. So many of you tell me that you use the Foodie Friday recipes, and I'm so glad! I know this one is something you will trot out time and time again. At the event I was actually hovered over the jar like Gollum, eating bowl after bowl of it cause it was so delish.I bought two of cook books The Modern Menu (one for me and one for my momma) and I cant wait to try all the recipes! Kim makes me excited about cooking and that aint easy.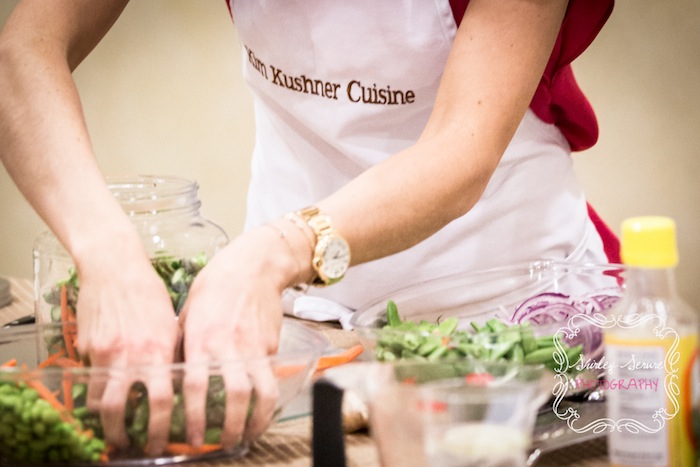 Q&A with Kim Kushner
Whats for dinner tonight? I made mini chicken and veggie burgers for the boys. They devour them! A nice salad, chummus and olives (dinner staples), spaghetti with fresh roasted tomato sauce (made from any tomatoes I had left in my fridge)..for dessert, leftover homemade almond granita.
What's the best thing you ever ate? I love authentic Italian food- so eating in Italy at some local, no frills restaurant. When I travel, I never take the hotel recommendations for where to eat, I ask the locals where they eat with their families and friends, and that's where I go!
Three tricks for any home cook: be organized, keep your menu simple, pour yourself a glass of something and enjoy the cooking
The first thing that I always teach my students is that cooking isn't brain surgery- if you really want to cook well, you will cook well. if something goes wrong there's always a way to fix it – that's what I love about cooking.
Who is your dream dinner guest? Nigella Lawson. I'd love to bite into a big piece of chocolate cake with her- she embodies lushness and appetite. Though the truth is my dream dinner guests are my closest friends who sit around the table eating and drinking and never once glancing at their watches.
Tell us about your kitchen nightmare: Whenever I try to bake 3 or more things at once, a disaster occurs. I once had 2 cakes leak( the batter) all over the inside of my oven- it took weeks to scrape it out.
What are your go-to recipes for dinner parties? All of the recipes in The modern menu  are my go-tos. That's how the book and to be.
Who and what influences your cooking? I am most influenced by middle eastern cuisine and my mom.
What was your inspiration for The Modern Menu? I own hundreds of cookbooks and each one I can maybe pick one or two recipes that I love out of.  I wanted a book that I could  totally cook from. That every recipe was a good one- no page filler but real recipes that work and don't require a hundred ingredients or 100 steps. I wanted a cookbook that was about the food not the celebrity who wrote it. I wanted a cookbook that had pictures that took my breath away. I couldn't find one. So I made one!
And last- HOW GOOD DOES IT FEEL TO HAVE SUCH A BEAUTIFUL BOOK!!!  It feels great to have this cookbook, it's like my recipe drawer has been replaced by a gorgeous, real book.  I love it.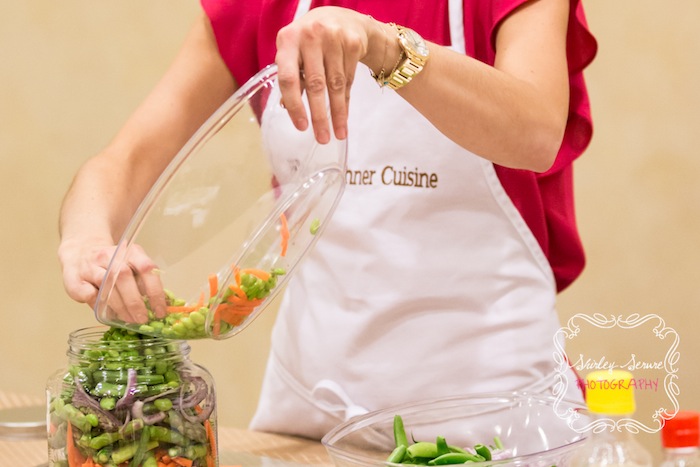 Marinated Green Salad
Serves 8-10
1 pound haricots verts, trimmed
4 carrots, peeled and julienned
½ small red onion, sliced very thinly
2 cups sugar snap peas, trimmed
1 cup edamame, shelled and thawed
1 bunch asparagus, trimmed and cut into 2inch pieces
3 tablespoons minced ginger
2 tablespoons toasted sesame oil
½ cup rice vinegar
1 teaspoon salt
½ teaspoon black pepper
Combine all ingredients, and toss well. Marinate in a large Ziploc bag or in a large Tupperware for 30 minutes and up to one week in the refrigerator. The longer this salad marinates, the stronger the flavors get. I make it on Sunday night and eat it throughout the week!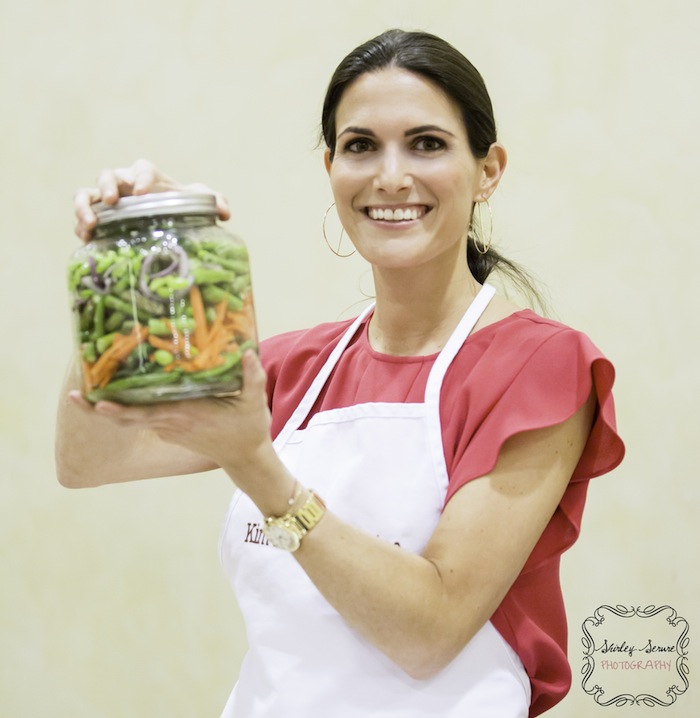 Enjoy!!! And have a great weekend!
Recipe via Kim Kushner 
Many thanks to Shirley Serure for her photos!