Archive for the 'FOOD' Category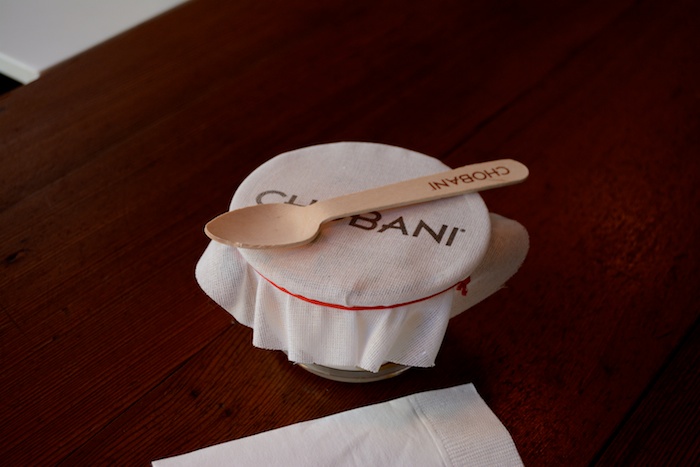 I know its Saturday, I'm late with the post. Too bad.
I've previously been something of a bah humbug about the Chobani store. I'm more of a Fage girl myself, and why would I need or want to go to a Chobani store? I think I kind of disapproved of Chobani's popularity when I KNOW that Fage is the better yogurt. Like I was offended on the part of Fage. And anyway, what the heck could they possibly have there? Well, a few weeks ago I was in Soho with  my friend Caroline of The Nine Month Project and she wanted to go check it out. We ended up leaving with 6 yogurts between us and about ten recipe cards each.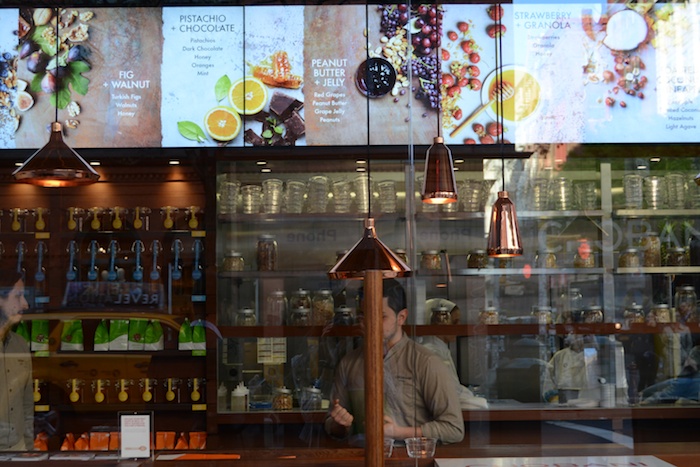 So whats going on a Chobani Soho? Its basically just some brilliant packaging mixed with a bit of ingenuity. Freshly made greek yogurt concoctions in a beautiful corner store, in a take home glass bowl and cheesecloth packaging. The yogurts cost about $4 each, which is more than the plastic grocery store version, but also a billion times better.  I had one with grapefruit, mint and honey. Amazing. I also had one with olive oil and cucumbers (basically like a take on a tsadziki) which was great. Another one I wanted to bring home for my husband was a smoked salmon version. I decided not to bring it home because I didn't think it would travel well. Your yogurt is made for you in a little lab like environment at the back of the store. You can eat it at the store, or take home the glass bowls. Why does TAKING HOME THE GLASS BOWLS delight the mind so? I dont know. But it does. It really really does.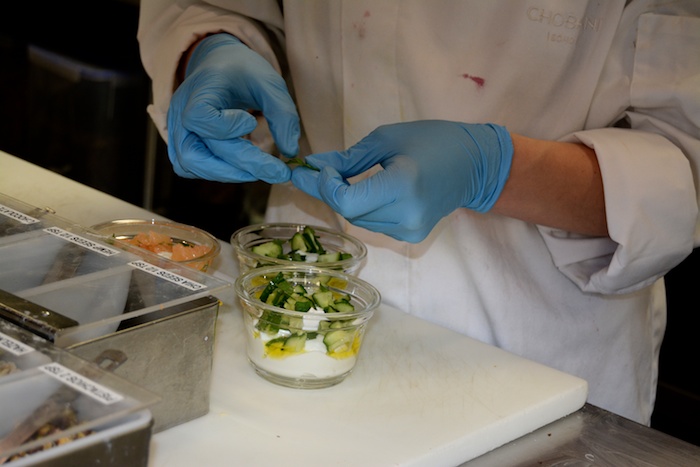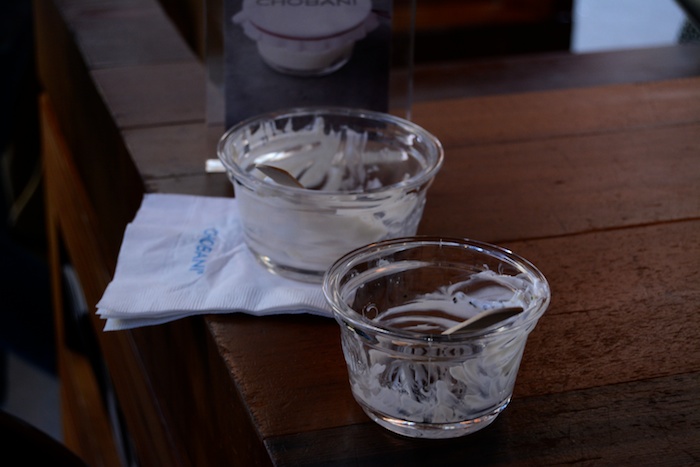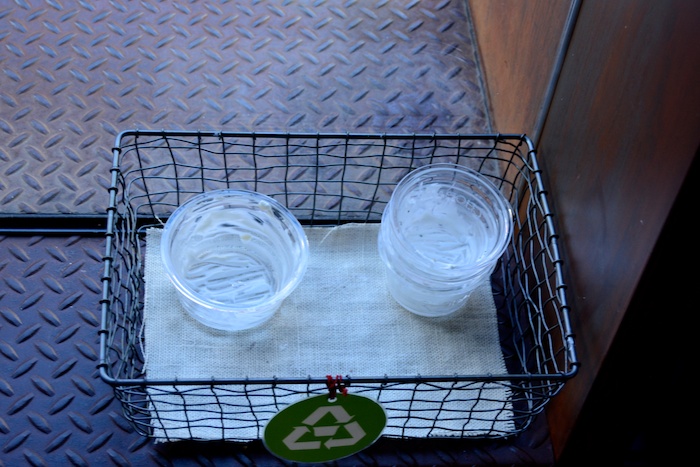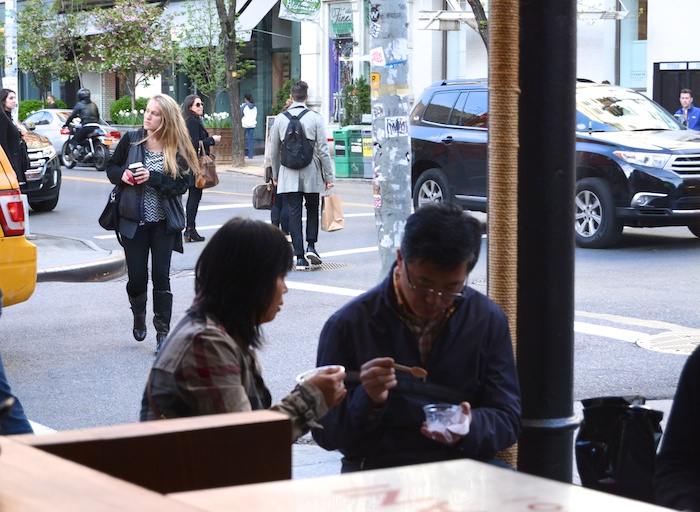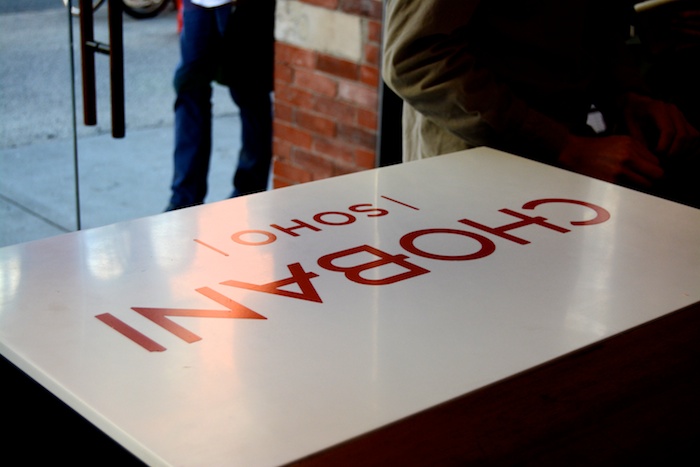 So do I detract previous statements that Fage is the better yogurt? Not 100 percent revoked, but the Chobani store is definitely worth a visit! They also have a great website with a million recipes. Not just plain old fashioned greek yogurt++ recipes, but how to use it in food, dressings etc… HERE.
CHOBANI
150 Prince Street, NYC 10012
Open Sun – Thu 8AM – 9PM & Fri – Sat 8AM – 10PM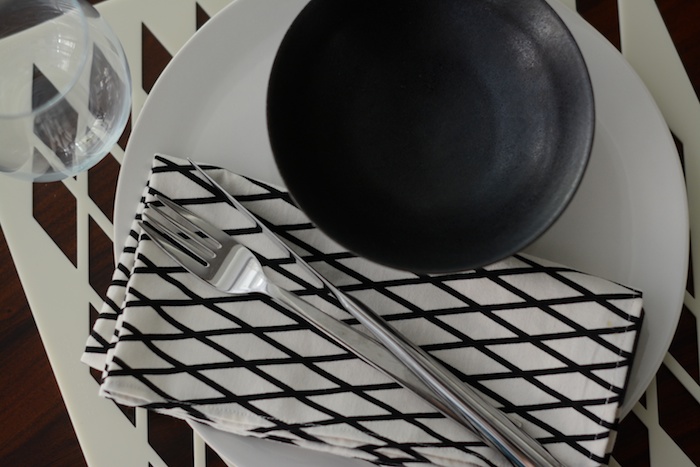 My friend Elizabeth over at Stone Textile (remember when I used her pillows in Chez Bachelor? I still want those pillows for my house!) was kind enough to send me over some goodies from her table top collection- beautiful acrylic diamond cut plate mats, and some diamond patterned napkins, see them HERE- and asked me to put together a little place setting for Mother's Day. Of course, I'm thrilled to get gifts of the tabletop variety. I've been doing this blog for 4 years now, do you know how hard it is to keep reinventing the same dishes over and over again? It's hard! Every year I want to buy all new stuff, but I dont cook or have people over for dinner nearly enough to justify that!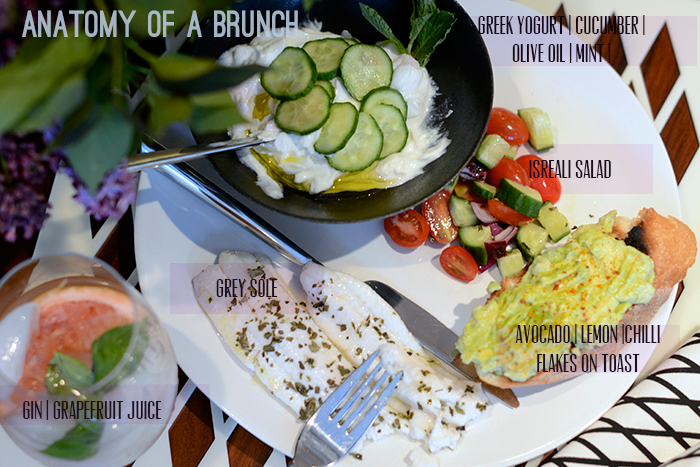 Anyway, I was graciously complying with Elizabeth's table top command, but then I thought, HUH. This stupid white plate looks kind of boring. It would look better with that yummy avocado toast thing they serve at Cafe Gitane. Then I thought, OH YEA, and that greek yogurt with cucumbers and olive oil that I had at the Chobani store (stay tuned for a whole post just on the store!) would be perfect. Then I thought, you know what, my favorite drink Gin and Grapefruit Juice (Or Patron Grapefruit, or Vodka Grapefruit – anything as long as its fresh juice), would look awfully pretty here. And then I felt like I needed a main course, might as well start cooking the fish I bought for dinner… well, and then lets throw in the little Israeli salad while we are at it, WHY NOT! And then of course, David ate the whole Mediterranean Diet lunch plate for dinner. Perfect. We are big fans of this type of clean simple cooking over at my house. (Always remember the immortal words of Michael Pollan: Eat food. Mostly plants. Not too much. Words to live by- the only diet you'll ever need.)He and I always discuss whether or not I should plate food at home for the family or if I should serve family style. I think we would all end up eating less, plus its pretty? Does anyone ever do that? David is kind of a fancy loving dude (we use cloth napkins even at the most casual dinners) so he's into it.
Check out Stone Textile HERE and Happy Mother's Day!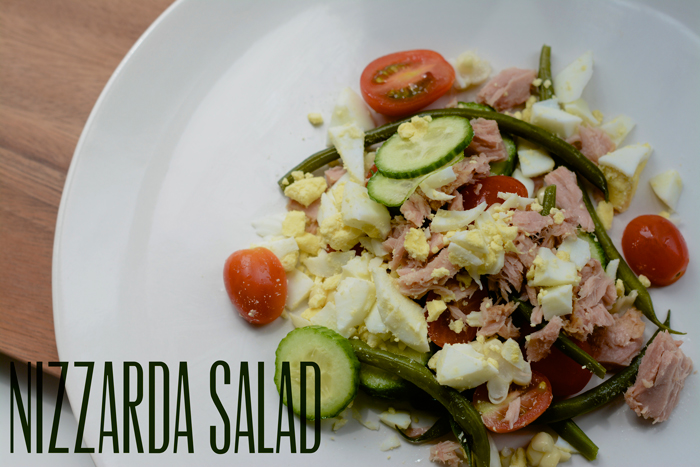 A few weeks ago, I had lunch at Sant Ambroeus on the Upper East Side. I had the delicious Nizzarda Salad, so yum I had to recreate it at home for a Saturday lunch. Now, if you're looking at this and thinking, well, that's a Nicoise salad, yes you would be correct. They are pretty much the same thing. The version I ate had no lettuces, potatoes or anchovies and was stacked in a tower with baby tomatoes and layers of paper thin layers of crisps. I recreated it at home with some slight variations.
3 hard boiled eggs, chopped
A nice amount of grape tomatoes
Haricot Vert, blanched
Isreali Cucumbers, sliced
2 cans Italian Tuna
I added corn on the cob, boiled and shucked.
I layered the ingredients one by one in single serving stacks, for dressing I mixed:
White wine vinegar
Extra Virgin Olive Oil
A dollop of mustard
Sea Salt
Pepper
If you are thinking : Boy, she sure likes making salads. Well, yes that is true. But I encourage you to try this version, the chopped egg makes all the difference! Enjoy.
Every friday, my daughter comes home with the most delicious challah from her school. So good, that I eat it even though I kind of know that 12 pairs of little boogery hands were in it and I don't really care that much. I still eat it. Cookie's teacher was kind enough to send me the recipe. I know I'm intimidate by making challah for some reason, but I figure if Cookie's class can figure it out, we could too. This week happens to be a special week for challah making. The first weekend after Passover is special, and its customary to place a key inside your challah dough, or even shape the challah like a key. It's a custom that is supposed to represent having a successful upcoming year, specifically in the livelihood department. I'm not superstitious, but I'm all for preserving beautiful (and harmless) traditions throughout the years. We can do away with all the ones that marginalize groups of people though, please. You know, specifically women. Anyway, I'm going to a friends challah baking party later, and I thought this would be nice to share. Even if you aren't Jewish, Challah is super duper delicious and I encourage you to try making some! Enjoy!
Step 1:
In a small bowl mix 5 and a half packets of dry yeast
1/2 cup warm water
1 tablespoon sugar
Mix the yeast mixture and wait until it bubbles.  When it bubbles- after about 10 min-add it to the well.
Step 2:
5 pound bag of flour plus one extra cup
2 cups sugar
3 tablespoons of kosher salt
Mix dry ingredients.
Make a well in a large bowl with these ingredients.
Step 3:
Add yeast mixture to the well as well as
6 eggs
1 1/2 cups of oil
4 1/2 cups warm water
Step 4:
Mix and kneed all ingredients together.
Step 5:
Cover with saran wrap and let it rise 2 hours.
Step 6:
Braid and bake at 350 for 1/2 hour
Food trends always mistify, surprise and delight me. For some reason, it seems so strange that FOOD should go in and out of style… Like remember when smoothies had their heyday? How bout wraps? Cupcakes are still trending, although now every trendy person ever has at least one Macaron photo on their instagram feed. Which is obviously just because they are pretty. Because while they are tasty, they arent THAT tasty. You know? I mean, I  like them. But their trendiness is just not proportional to their yumminess. Anyway, Macaroons and Macarons are two different things with one thing in common: both kosher for Passover. So here they go: a maracroon vs Macaron recipes that I gleaned from the internet for a showdown.

Recipe via Martha Stewart Living
Ingredients
1 1/4 cups plus 1 teaspoon confectioners' sugar
1 cup (4 ounces) finely ground sliced, blanched almonds
6 tablespoons fresh egg whites (from about 3 extra-large eggs)
Pinch of salt
1/4 cup granulated sugar
Directions
To make the macarons: Preheat the oven to 350 degrees. In a medium bowl, whisk together confectioners' sugar and ground almonds. In the bowl of an electric mixer fitted with the whisk attachment, whip egg whites with salt on medium speed until foamy. Increase speed to high and gradually add granulated sugar. Continue to whip until stiff glossy peaks form. With a rubber spatula, gently fold in the confectioners' sugar mixture until completely incorporated.
Line baking sheets with parchment paper; set aside. Fit a pastry bag with a 3/8-inch #4 round tip, and fill with batter. Pipe 1-inch disks onto prepared baking sheets, leaving 2 inches between cookies. The batter will spread a little. Let stand at room temperature until dry, and a soft skin forms on the tops of the macarons and the shiny surface turns dull, about 15 minutes.
Bake, with the door of the oven slightly ajar, until the surface of the macarons is completely dry, about 15 minutes. Remove baking sheet to a wire rack and let the macarons cool completely on the baking sheet. Gently peel off the parchment. Their tops are easily crushed, so take care when removing the macarons from the parchment. Use immediately or store in an airtight container, refrigerated for up to 2 days or frozen for up to 1 month.
To fill the macarons: Fill a pastry bag with the filling. Turn macarons so their flat bottoms face up. On half of them, pipe about 1 teaspoon filling. Sandwich these with the remaining macarons, flat-side down, pressing slightly to spread the filling to the edges. Refrigerate until firm, about 1 hour.
Variations:
To make coffee-flavored macarons: In step 1, add 2 drops brown food coloring to the egg whites after they are whipped. In step 4, blend 1/2 cup macaron filling with 1 1/2 teaspoons espresso powder dissolved in 1/2 teaspoon warm water for the filling.
To make cassis-flavored macarons: In step 1, add 2 drops purple food coloring to the egg whites after they are whipped. In step 4, use 1/3 cup good-quality cassis jam for the filling.
To make pistachio-flavored macarons: In step 1, add 2 drops green food coloring to the egg whites after they are whipped. In step 4, combine 1/2 cup macaron filling with 1 tablespoon pistachio paste for the filling.
FILLING:
Ingredients
3 large egg whites
1 cup sugar
1 cup (2 sticks) unsalted butter, at room temperature, cut into pieces
Directions
In the bowl of an electric mixer, whisk egg whites and sugar. Set mixer bowl over a saucepan of simmering water and heat mixture, whisking often, until it feels warm to the touch and sugar is dissolved, 3 to 5 minutes.
Transfer bowl to the mixer, and fit with the whisk attachment. Whip on high speed until mixture is stiff and shiny, 3 to 5 minutes. Add butter, one piece at a time, and continue mixing until butter is thoroughly incorporated. The filling can be kept, covered and refrigerated, up to 1 week. Bring to room temperature before stirring.
Variations:
To make hazelnut-honey filling: In a small bowl, combine 1/2 cup of macaron filling with 1/3 cup finely ground hazelnuts and 2 tablespoons good-quality honey.
Recipe and photo via Simply Sifted
Passover Macaroons
Butter a baking sheet covered in foil
2 large egg whites
2 tablespoons sugar
1 tablespoons matzah meal
1/2 teaspoon vanilla
1/4 teaspoon almond extract
1 1/2 cup sweetened flaked coconut
zest from 1 orange
¼ cup dark chocolate pieces (for drizzling)
Preheat oven to 300°F. Line baking sheet with foil and butter.
Stir together egg whites, sugar, vanilla, almond extract, matzah meal, zest from one orange until combined, then stir in coconut. Using your hand pick up handfuls of coconut mixture and form into mounds (about 2 inches in diameter) then drop onto baking sheet. I made about 9-10 with this recipe.
Bake until coconut tips start to brown, 20-25 minutes then move foil to cooking rack until completely cooled, about 25 minutes. Peel macaroons from foil or use metal spatula. And put on wax paper or plate for drizzling.
I melted the chocolate in the microwave in 30 sec increments, stirring in between and making sure it did not burn.
Melt dark chocolate pieces until liquid and drizzle across the macaroons with a spoon. When chocolate has hardened, serve and enjoy!
Happy Passover!