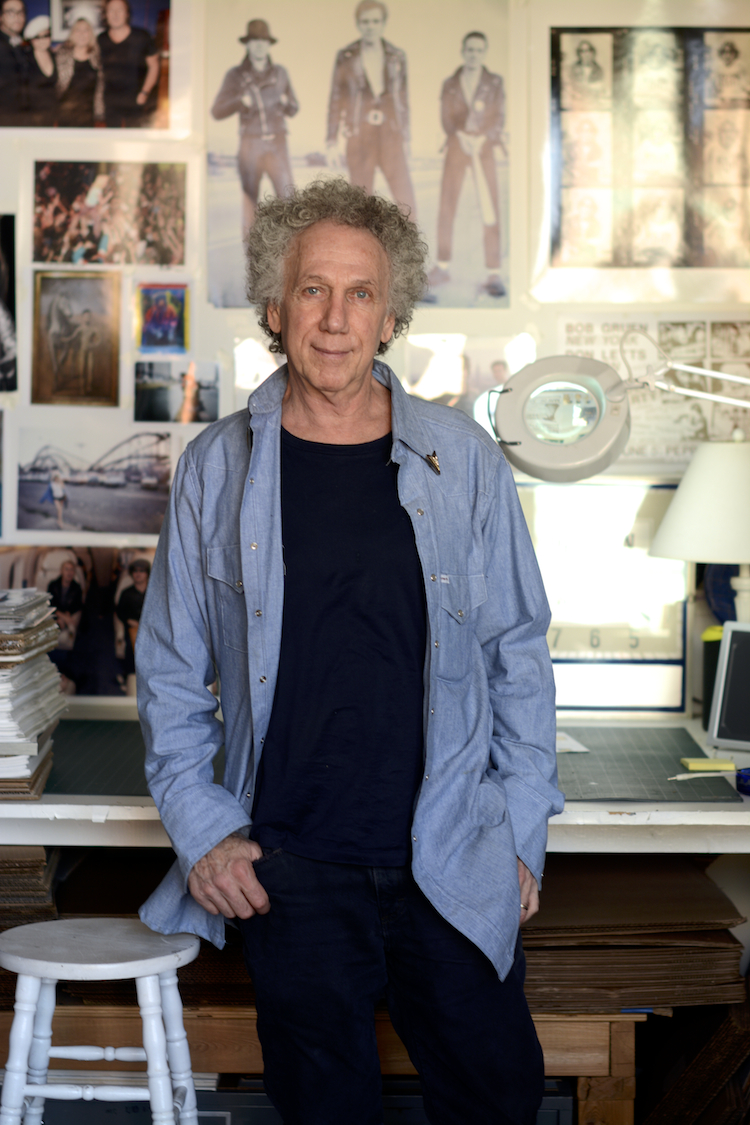 When I told a friend that I had just come from interviewing legendary rock and roll photographer Bob Gruen she said. "Oh man, you're screwed." Why? I asked. "Well, where do you go from here?!? Now you can never post anything shitty again." Um, GOOD QUESTION.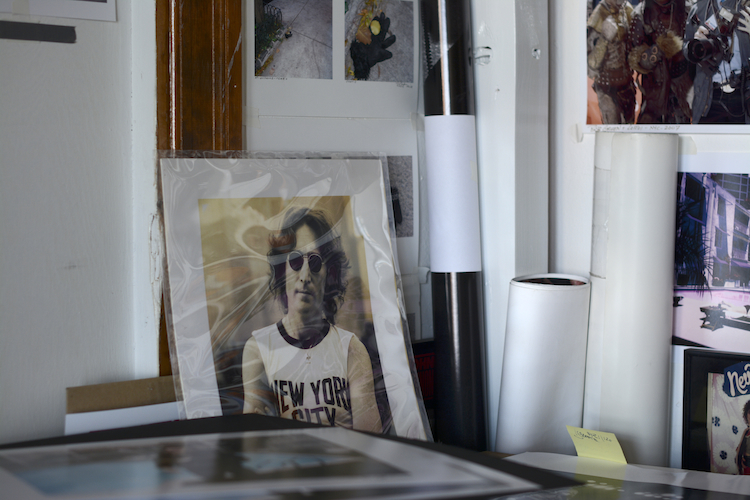 Last week I had the privilege of visit Bob Gruen's studio and interviewing him about his life. He also let me take some photos around his studio, which was awesome. (Kind of embarrassing to even hold a camera in his presence -And I told him that!) Bob is widely renowned as one of the greatest rock and roll photographers of our time, and while you may not know his name (if you're not into the history of rock, or if you're under 20) you definitely know his photos. He was John and Yoko's personal photographer for years, and is the man who took the photo of him in his New York City T-shirt. You know, the one that the artists draw in Central Park?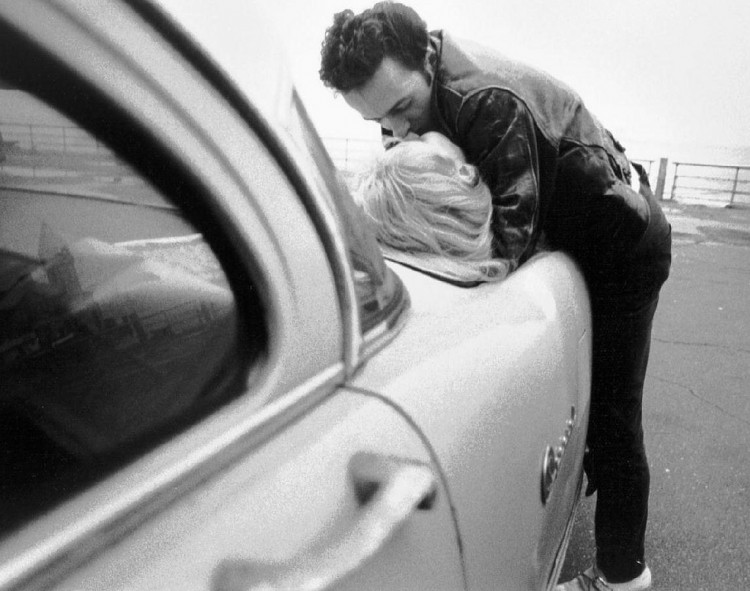 Joe Strummer & Gaby, NYC, 1981
 As a 19 year old kid, Bob wrangled a press pass and got into the front row of what happened to be the Dylan Goes Electric show, which he says was chaos. And the rest is kind of the stuff of Rock and Roll history. Bob made his career as a rock and roll photographer by being a guy that people wanted to be around, being insanely talented,  and as he says – putting himself in the right place at the right time.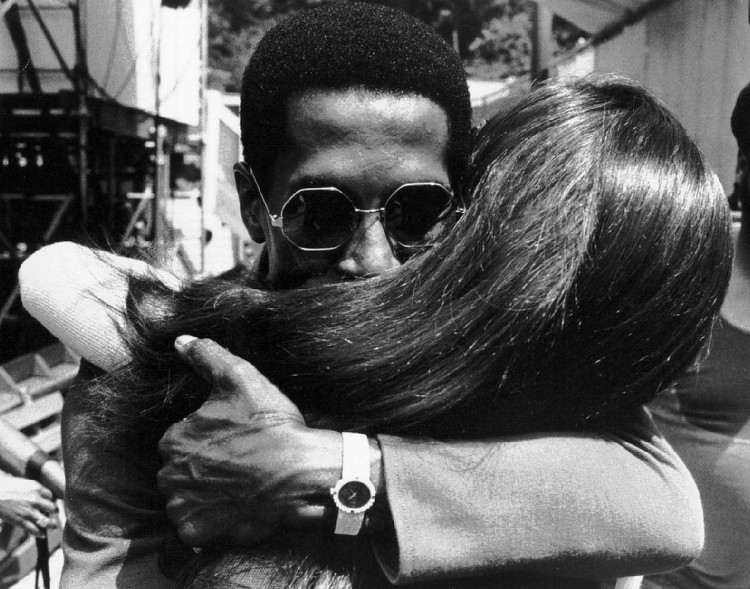 Ike & Tina Turner, NYC, 1971
In the sixties, there was this idea of "Turn on, tune in, and drop out," which he did. "I wasn't really looking for a career, so I was living with a Rock & Roll band instead."  He learned from his mom how to shoot photos when he was four or five years old, which was her hobby. He got his first camera when he was eight. (Start them young and expose them to everything! Right?) He began taking pictures of the band he was living with, and when they got an album deal, they used his pictures.  He lived in the village with a rock band for most of the 60s and spent his time with his camera shooting the little local bands that would play at clubs. "You weren't in a band to get famous back then. You were in a band because you couldn't get a real job, and so you figured, might as well be in a band, get a girl, get a drink." When I asked him about how he feels about the gentrification of NYC these days he said, "It's easy to romanticize those days of gritty old New York," he says, "but no one was that strung out because they were happy. Things change. I'm not nostalgic for the past. I remember the past, live in the present and look to the future."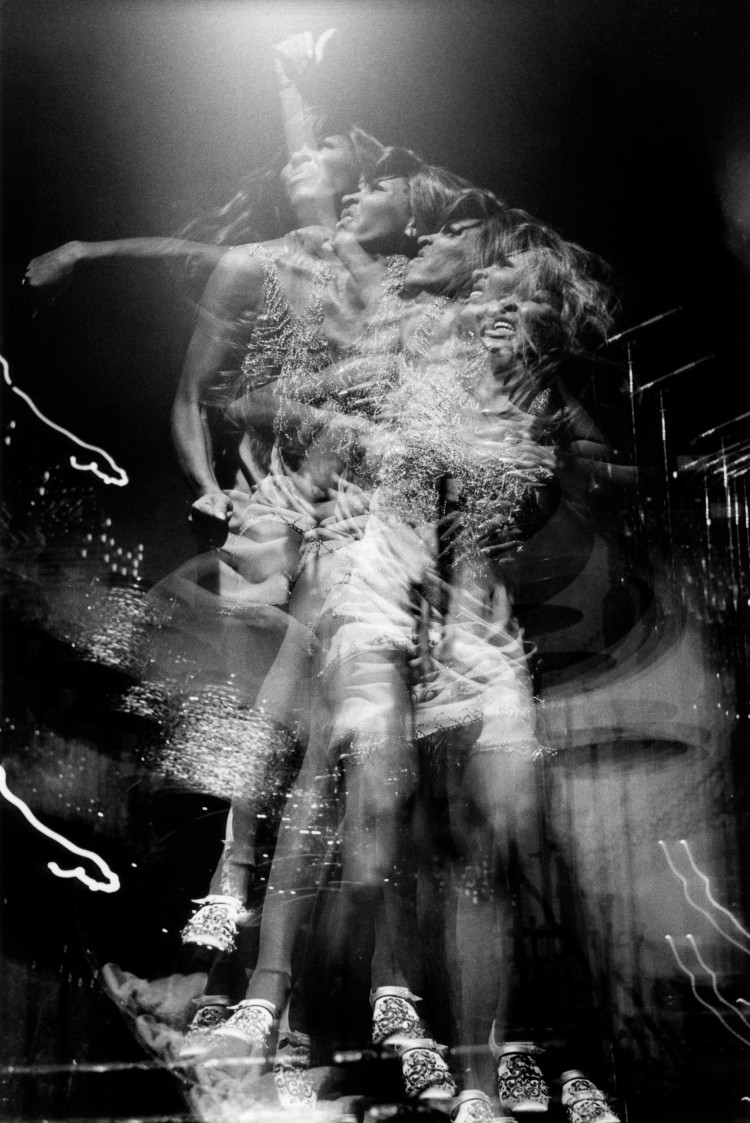 Mr. Gruen told me about his first real breakthrough photos. Of Tina Turner. At a concert one night, she was in strobe lights and he shot her with a 1 second exposure… which resulted in four useless frames, but also this amazing photo. "I made some prints and when we went to see Ike and Tina's show in New Jersey I brought them along to show my friend. I didn't think Ike and Tina would be interested in seeing my pictures but after the show we ran into Ike and my friend pushed me in front of him. Ike took one look at my shots and said, "Come and show this to Tina". He dragged me into their trailer to meet her, I just couldn't believe it. I've always been lucky that way – being in the right place at the right time. "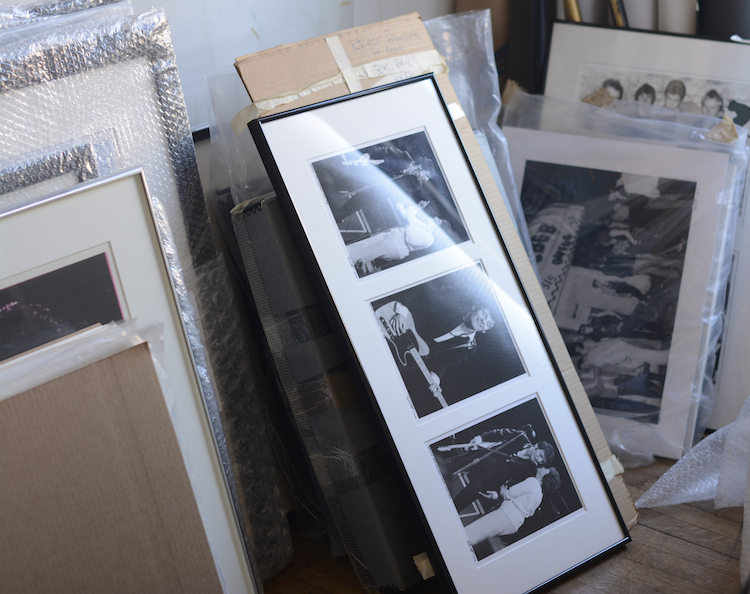 The work he did with Ike and Tina kind of put him on the map, and paved the way for relationships that would propel his career. He spent the  next decade photographing the front lines of Rock and Roll. For bands, for album covers, for magazines like Creem, Rolling Stone and Rock Scene.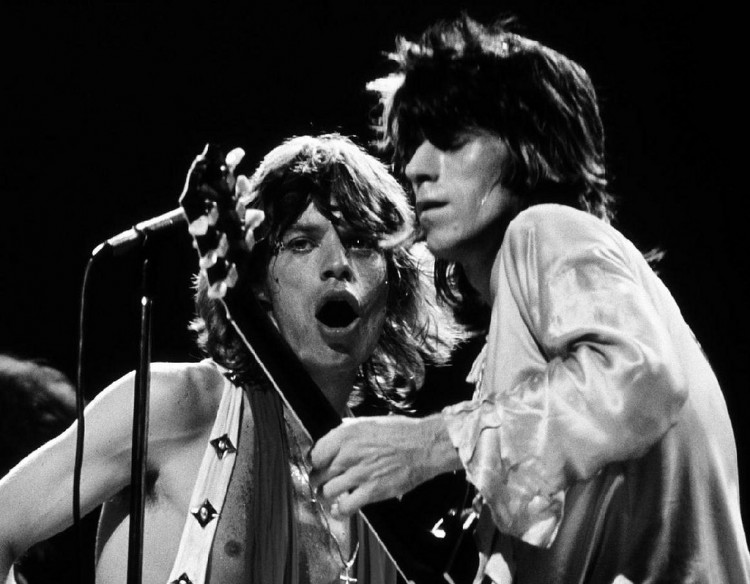 "I liked working for the bands better than the agencies," he said. And he would let them choose the photos they liked, and wouldn't be cagey about his vision or censorship, which helped him build great relationships with the bands. They trusted him.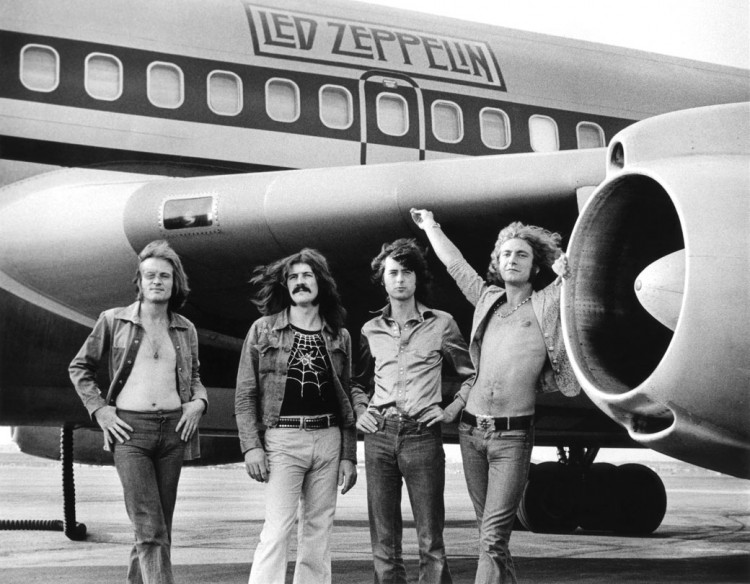 His knack for making friends came in handy in 1972, when he met John and Yoko at an Apollo Theater benefit. He talked his way backstage, and found himself in a group of fans snapping shots of the couple with Instamatics.  John told him that so many fans took pictures, but he never saw any. "I said, 'I live around the corner, " said Mr. Gruen. "Well, slip them under the door." And Bob did.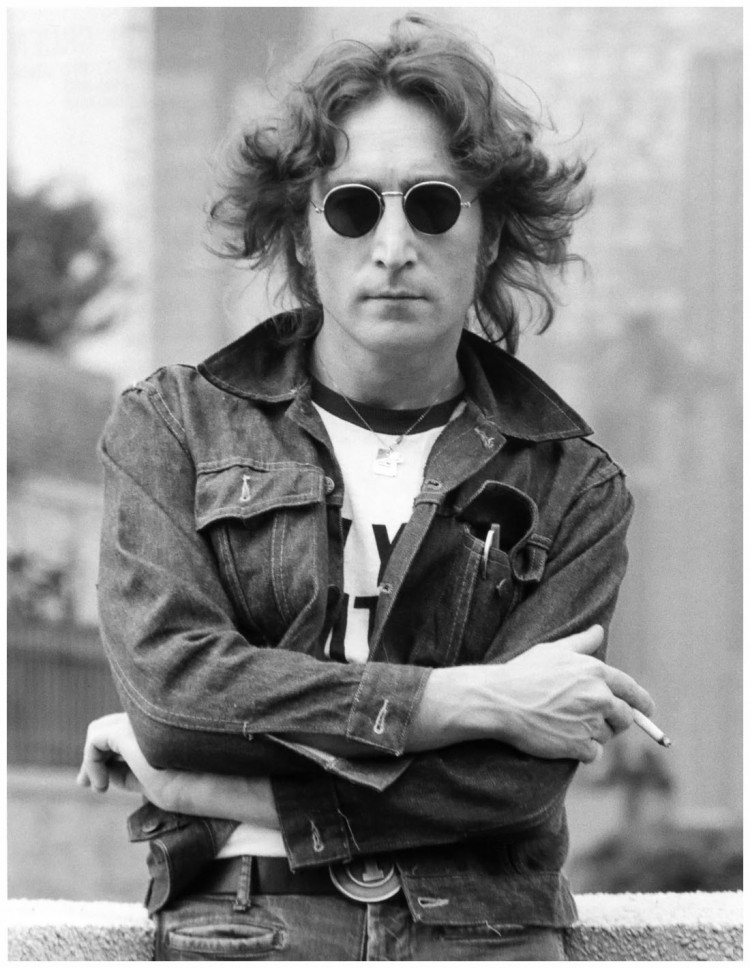 "Years later when we were friends, Yoko mentioned that I was one of the few people who didn't try to get something," Mr. Gruen said. "I just gave them something." He eventually shot them in a recording studio for a story about the band The Elephant's Memory, who were recording with John and Yoko. A few weeks later he heard from the drummer- he was the only person who had taken photos of the band with John and Yoko and they wanted something for the album cover. He brought Bob over to the Lennon house. "That was the first time I actually met them to talk. I showed them my work and we sat around talking for hours. As I was leaving Yoko told me I would always be their friend, and even if they had people working for them whose job it was to keep people away I should never take it personally, just wait and call back the next day, to be always in touch and be their friend."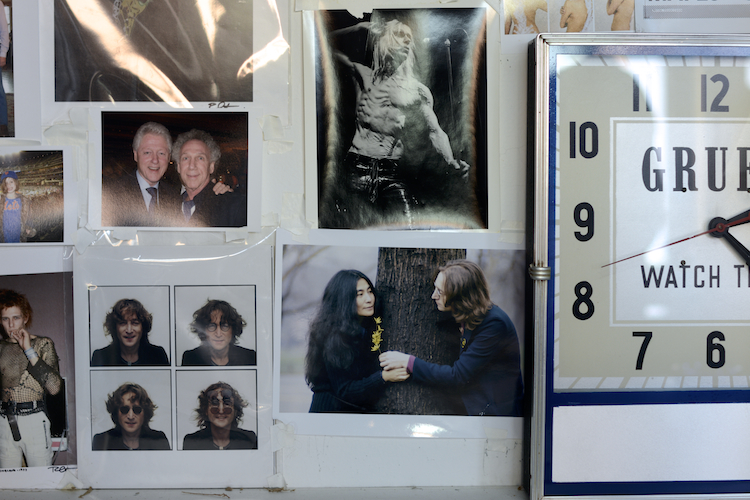 Before long, he became the go-to photographer whenever they wanted candid shots of their lives. "Bob understood what we were doing, He was interested in photographing John as he was, whether the photos would one day sell or not." Yoko has said. "The magazines and newspapers wanted the Beatle John's photo," she added. "Not photos of John living and working with me, his wife. That was embarrassing and boring to them."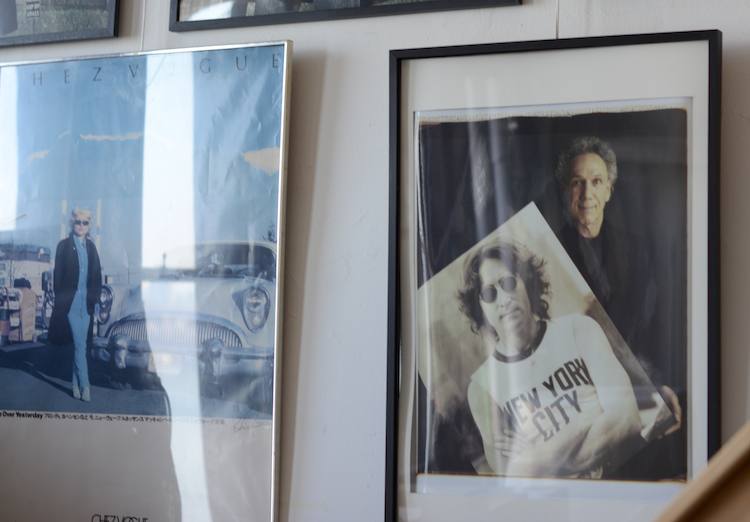 The famous shot of John in his New York City shirt came about one day when Mr. Gruen came by their apartment to shoot some photos of John for his Walls and Bridges album, maybe something for the cover. Bob had been obsessed with those New York City shirts and had at bunch of them. He would buy them in Times Square and cut the sleeves off. He was shooting John on his penthouse terrace, in John's 52 street apartment, and noticed the skyline. "Do you still have the T shirt I gave you?" John went and got it and they shot a few rolls and that was it. The reason the photo became so famous, was because in 1980 when John was shot, Bob selected it to be displayed in Central Park for the public memorial. He and Yoko thought it was a good way to reinforce the fact that John loved NYC and that it was not to be blamed for his death. "Yoko always said, don't blame New York for John's death," Mr. Gruen said. "John died in New York because he lived in New York."
When asked how Bob feels about his image being reproduced all over the world without his consent, he pretty much called it flattering. Well, they are going to steal from someone! While that photo is his most famous, his favorite is the photo he took of John with the Statue of Liberty, above, because Bob really believes in his message of peace and love.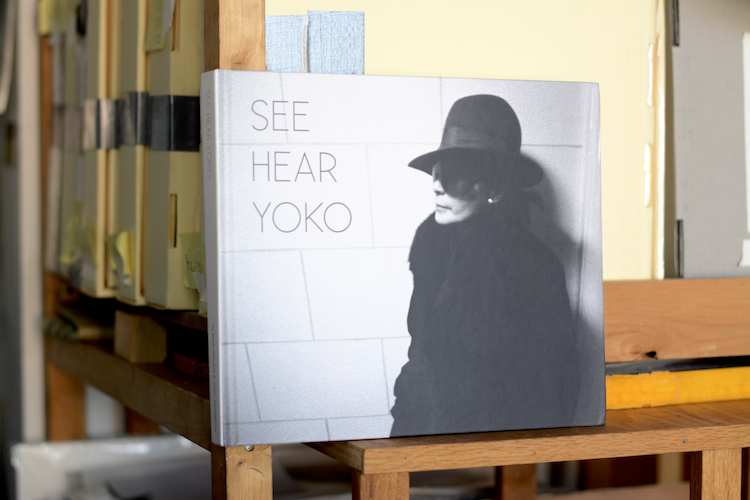 He also showed me this private book he made for Yoko's 80th birthday. Its basically a photo journal of her life. (He and Yoko are still friends and speak weekly.) At first the book was just for Yoko, with only a few other copies, and with no intention of publishing. But Yoko loved the book so much, she called Bob and suggested it. It should come out within the next few years.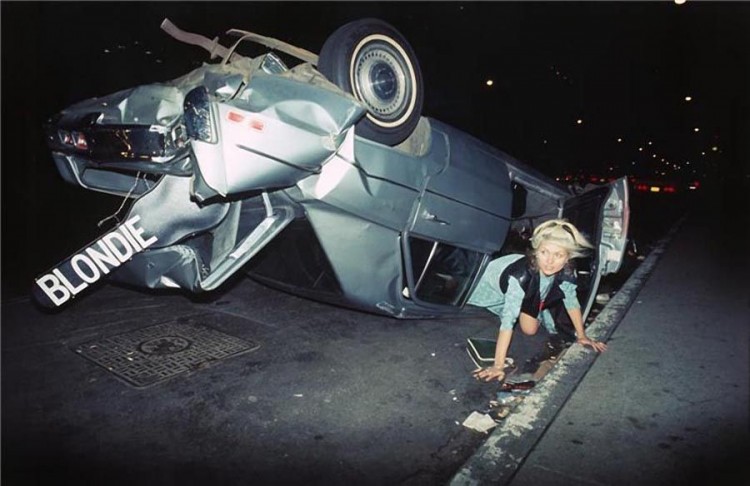 I asked Mr. Gruen if he still shoots in film. "I'm not a purist!" he said. People should do what works for them! I asked what advice he had for young photographers: GET A CAMERA, TAKE IT EVERYWHERE. TAKE PICTURES OF EVERYTHING. (Happy to say, I'm already doing this!)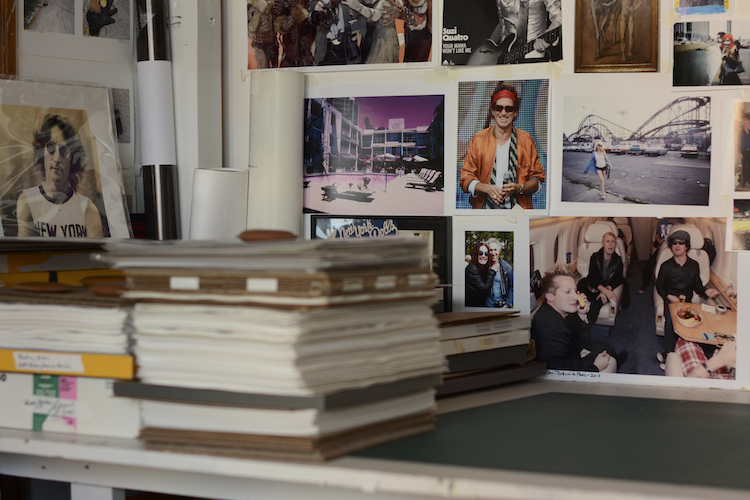 When I asked if he still shoots Rock & Roll, he said, not that much. "It used to be a really hard thing to do." He explained. "I was about getting the art shot, about getting that magical moment. Now I go to a concert and I see the photos are online almost immediately. I don't care to try to get a photo up 40 seconds faster than someone else."  He  does still work really closely with  Green Day. (I think Dookie was one of the first albums I ever owned, I had it on tape!)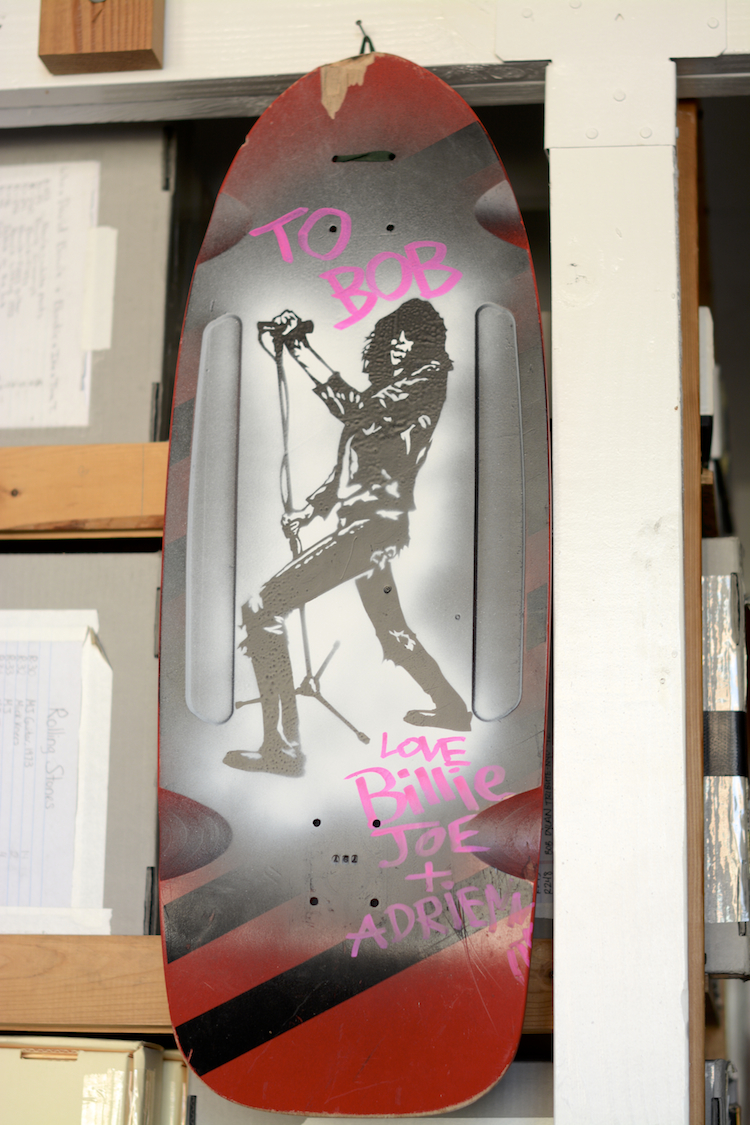 A gift from Billie Joe Armstrong of Green Day.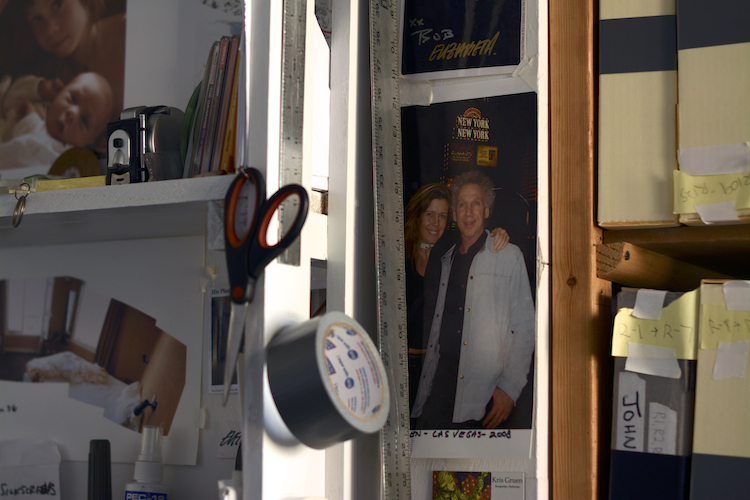 Bob and his wife artist Elizabeth Gregory Gruen, who is an artist – I actually love her work and want to feature it separately- hanging in his studio. She is currently helping Bob and his team archive his entire body of work.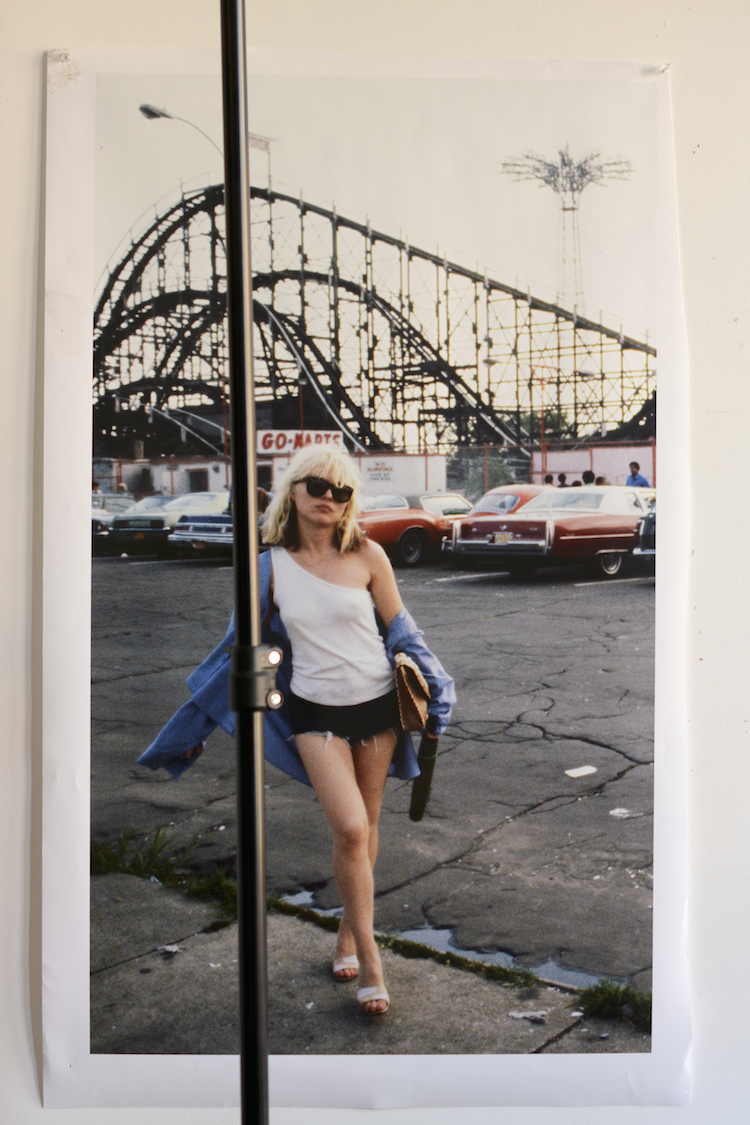 Bob was one of the few people to cross over from the 60s and 70s rock scene to the punk rock scene of the 70s and 80s. As chief photographer for Rock Scene Magazine in the '70s, Bob specialized in candid, behind the scenes photo features. He toured extensively with the emerging punk and new wave bands including the New York Dolls, Sex Pistols, Clash, Ramones, Patti Smith Group and Blondie. Bob has also worked with major rock acts such as Led Zeppelin, The Who, David Bowie, Tina Turner, Elton John, Aerosmith, Kiss and Alice Cooper. As legend has it, Bob used to tour with The Clash and open the shows with the bugle calls he learned in the Boy Scouts! "It was really great fun because it was the only time I was in a band, and it was for one of the greatest bands. I often take pictures of bands in the dressing room and when we're done they'll say, 'OK, only the band in the dressing room.' But that time they said, 'OK, we're going to talk about your part,' and suddenly I was in the band."
I pulled some more of my favorite photos: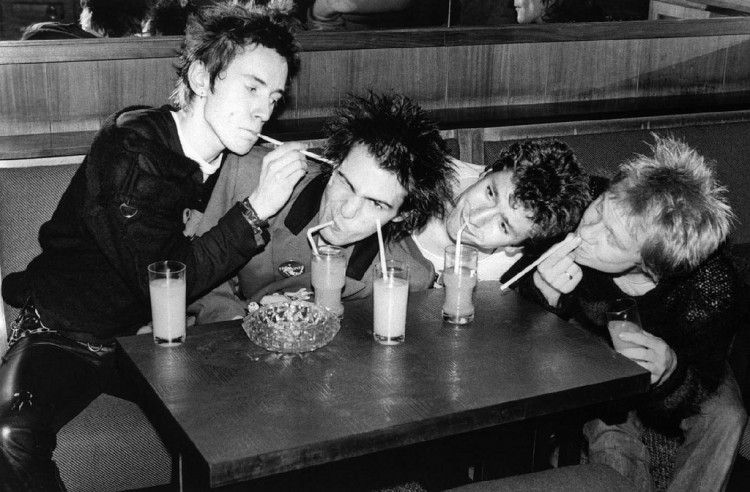 Sex Pistols, Luxembourg, 1977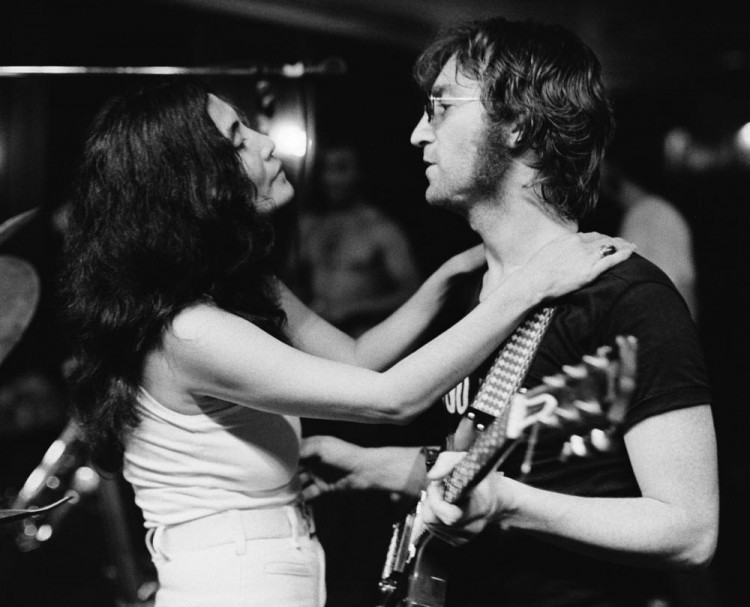 John Lennon & Yoko Ono, NYC, 1972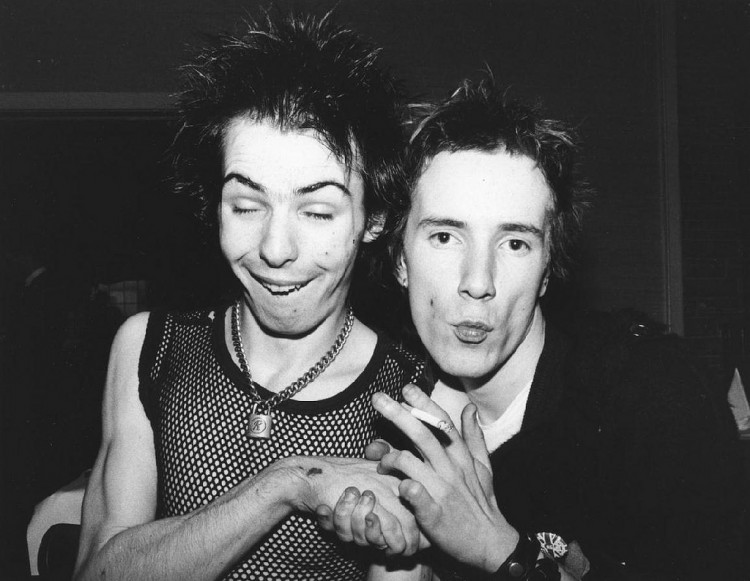 Sex Pistols, Luxembourg, 1977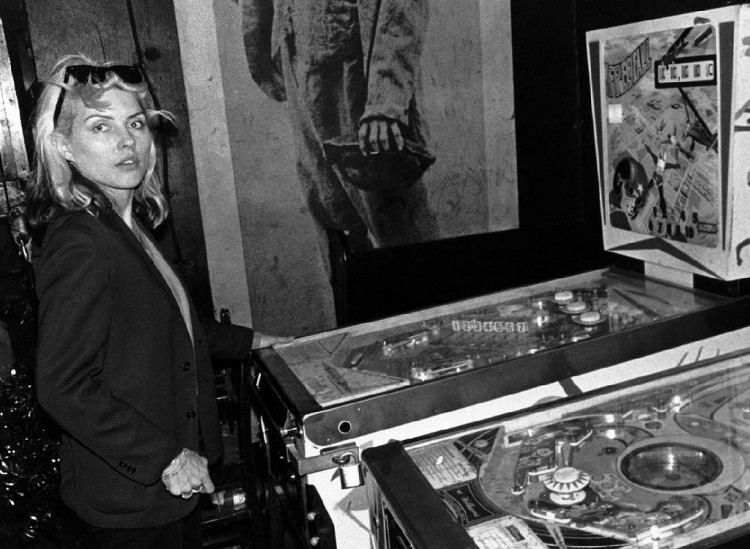 Debbie Harry, NYC, 1977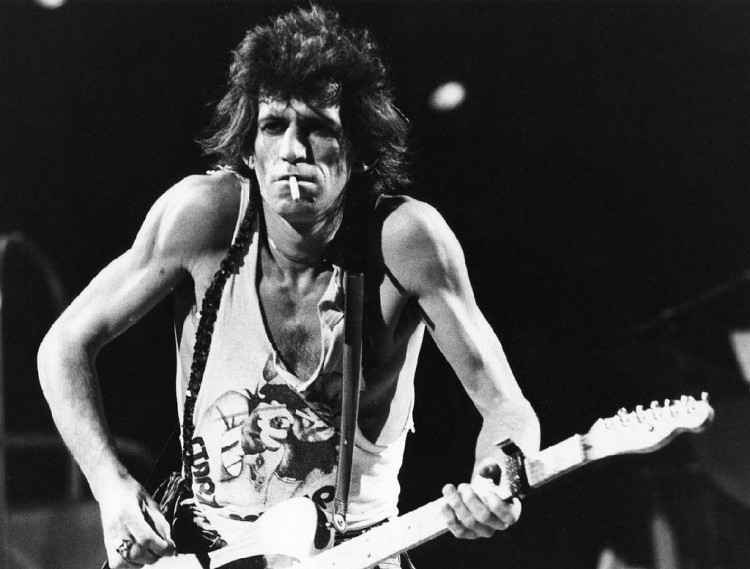 Keith Richards, NYC, 1981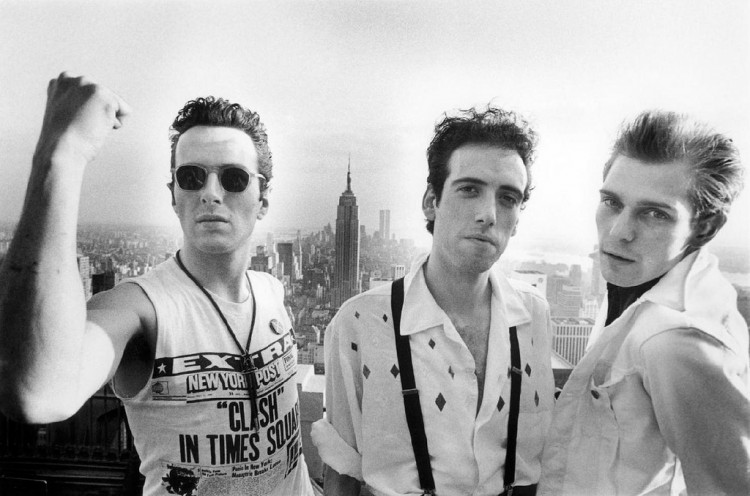 The Clash, NYC, 1981
Kate Moss, Johnny Depp & Iggy Pop, London, England, 1996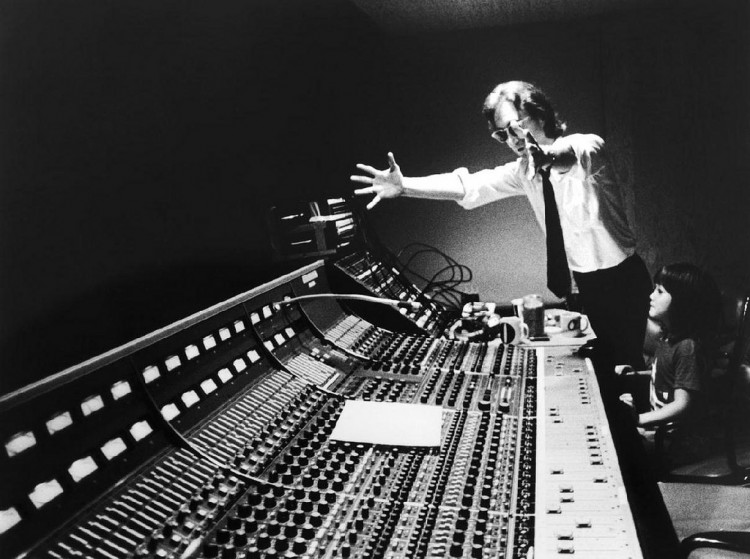 John Lennon & Sean, NYC, 1980
Mick Jagger, Los Angeles, CA, 1975
John Cale, Lou Reed, Patti Smith & David Byrne, NYC, 1976
You can learn more about Bob on his website, and buy his 2011 monograph ROCK SEEN, a collection of 40 years worth of his work.
What an amazing privilege! Thank you Mr. Gruen!