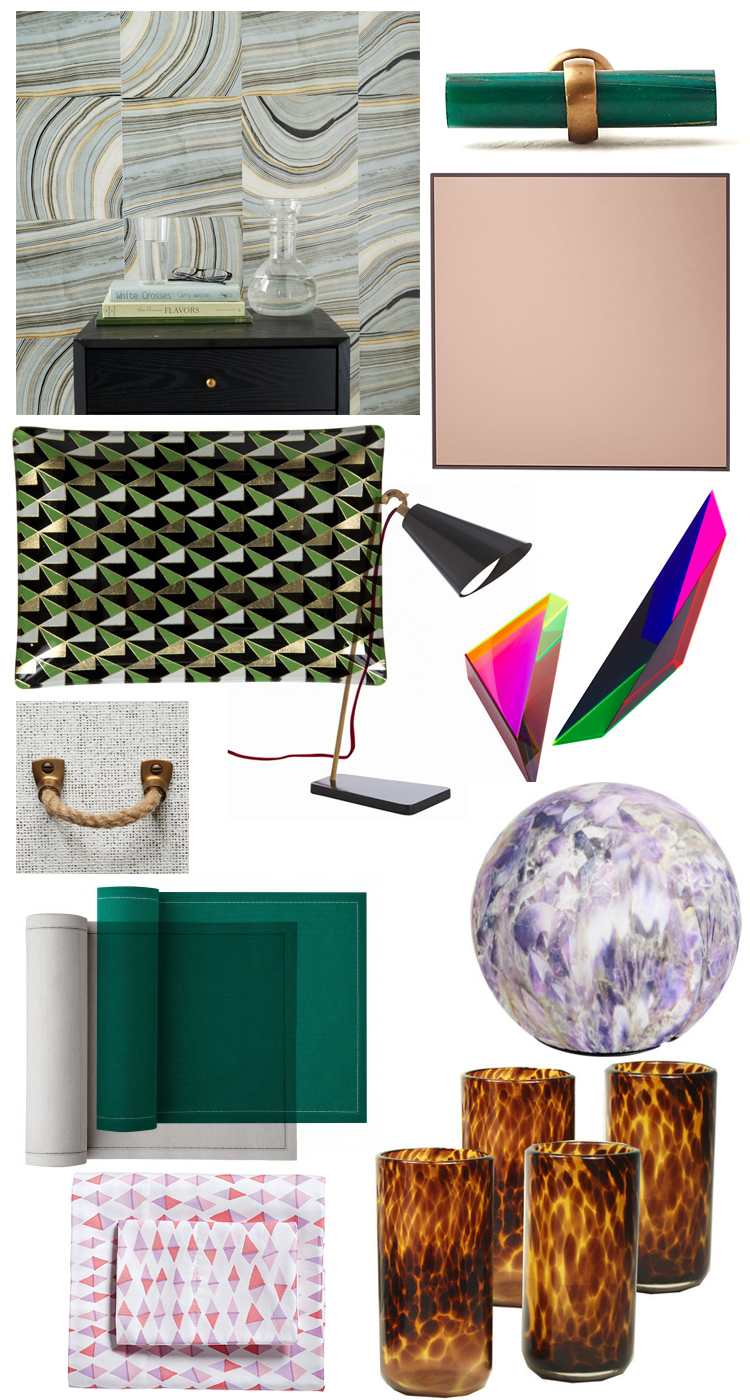 I'm finally back in my city apartment! I got back last night. I didn't miss my apartment while I was in Jersey, but now I'm reminded of how much I love being here. Of course, all the things I left undone last spring are staring me in the face even harder right now. Glass table top for dining table, light bulb out in my closet (!?!?), general piles on unfinished art hanging around, the fact that I sold my coffee table and didn't buy a new one (!!!!!), unframed prints still in their cardboard, the kids room that needs repainting, the list goes on… and I need to do it all NOW before it stops bothering me. So I was perusing the e-home stores last night and pulled together this little medley of stuff.
1. West Elm makes wallpaper now. This is great. They also have peel and stick wood paneling. 
2. I kind of want to switch all the knobs in my closet to these.
3. This PINK mirror is amazing. I haven't seen it in person, but something like this is cool and expensive looking because it doesnt come around too often.
4. More tchotchke trays, because of course.
5. Desk needs lamp, you can never get enough lamps in a NYC apartment.
6. These Vasa lucite sculptures are gorgeous
7. Also love these pulls, I have an Ikea dresser thats begging for them. They come in different color ropes and styles too.
8. We use cloth napkins every time I cook (which is only 2-3x a week), I finally saw these in person at the gift show . Tear off cloth napkins. Need.
9. Does anyone else go through a set of drinking glasses every season? At this point I cant have 6 people drinking the same beverage at my apartment. I've always loved these tortoise glasses.
10. This amethyst printed stool is awesome, imagine one in a living room or kids room, or two in front of a bed. It also comes in malachite. 
11. Cookie complained that her sheets are rough, does anyone know if Serena + Lily sheets feel nice?
Have a great day!