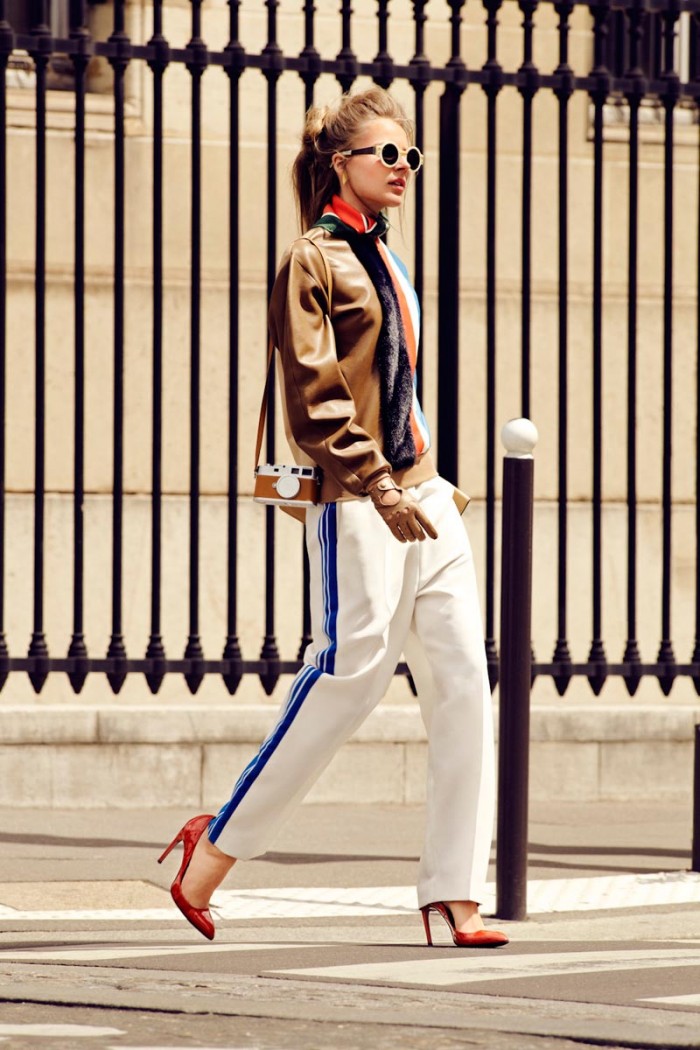 Forget Fashion Week, we all know the fall fashion really debuts in shul's across America every year on Rosh Hashanah. I know I say that every year! Anyway, to celebrate Autumnal splendor, I'm offering up this spread entitled Autumn Opus – Styled by Vanessa Bellugeon, Ieva Laguna is stylish on the streets in the latest issue of L'Officiel Paris. Photographer Alexander Neumann captures chic looks from Miu Miu, DSquared2, Céline, Burberry Prorsum, Yves Saint Laurent, Chloé, Isabel Marant, Ralph Lauren Collection, Kenzo, Hermès, Proenza Schouler, and Stella MacCartney.
This could be my favorite autumn spread ever, and Fall is my favorite season, much as I tried to resist it this year. And the clothes are the best too. Unlike spring and summer when you wish some people would put some more clothes on, fall fashion is actually about clothes, because you can wear them properly, with little jackets that aren't cumbersome. The styling here is one part preppy (classic), one part glamorous, and one part cool… the trifecta of great clothes (according to me). My kid-clothes trifecta is one part sweet, one part preppy, one part cool. What's your fashion trifecta? Mine also works for design: I look for classic/glam/edgy in every piece, or the arrangement of pieces.
Well, Happy Holidays, or just Happy Fall! Enjoy!