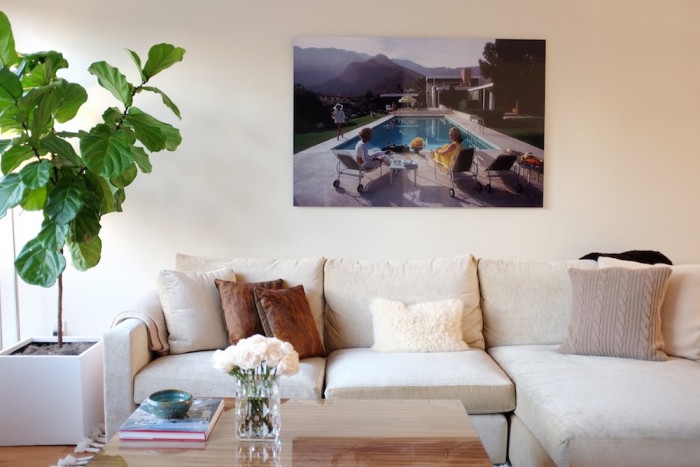 A friend of mine is selling this supremely awesome Slim Aarons print, the famous photo, Poolside Gossip.  It's a giant size: 39.4″ x 59.1″
Edition limited to 200 copies, and it's also SOLD OUT. My friend's print, which is numbered and printed on top quality photographic silver paper and wall ready, is slightly dented at the corner, but hardly noticeable, and he's selling the print for an amazing price… Email me or leave a comment and I'll make sure he gets it. (Also, how fab is this little smidge of his apartment? When it's done in a few weeks I'm going to post it!)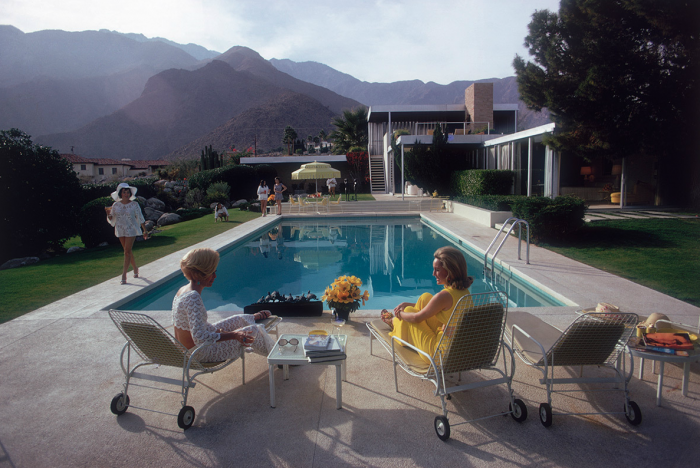 You know I'm enamored with the work of Slim Aarons, I've written about this photo, his work and even taken my own Slim inspired photos. 
The photo, taken in 1970 is not just a work of art, its OF a work of art. The villa in the background was designed in 1946 by the famous architect Richard Neutra, a champion of Modernism. 24 years later, Slim's photo of the house, from the vantage point of the pool, and framed by two silhouettes and the  wonderful vertical and horizontal lines of the pool, echoes the modernism of the house, which was sold in 2008 as part of an art auction by Christies for $15 million.
19 Responses to "Poolside Gossip, for sale."