I havent posted anything about fashion in a loooong while, because I'm a doofus, NOT a fashion blogger. But yesterday I had a little speaking engagement back in the big city… I was on a panel discussing DIY and Social Curation at the Social Curation Summit hosted by MediaBistro. What the what? So I wore what David calls my "Pee Wee Herman Dress" Also known as an oversized, on sale, Boy. by Band of Outsiders score. I love this dress… I paired it with 6 year old Dries Van Noten brown sandals, one of the best things I've ever bought, and here's where it gets fun: A necklace made by Cookie and dum, dum, dum: Two different vintage earrings. My grandmother gave me a whole bag of assorted crazy jewelry from who knows when, and both of these didn't have a mate. So I paired them up and I kind of love it. It's a little kooky, but not too kooky… I think, I hope. I mean, it's not like I was giving a speech on nuclear physics, I was talking about DIY, so why not add a bit of edge?
And yes, my mommy took these pictures for me. You can kind of tell right? Nicole, smell the flower, now SMILE!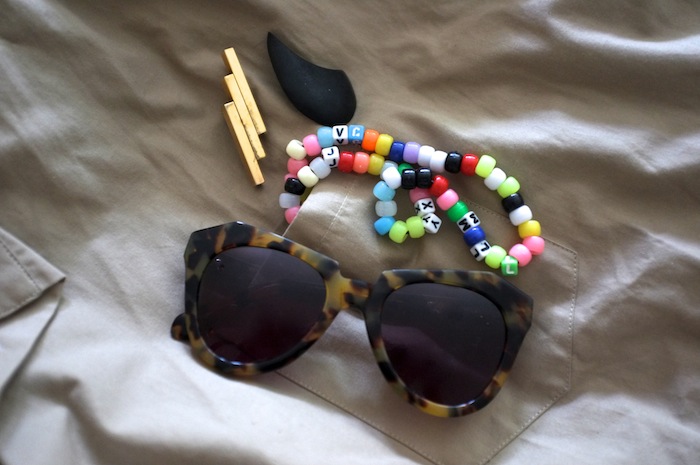 Here's a close up, also included are new Karen Walker sunglasses that I love… Oh and yesterday I was at Topshop and I went downstairs to TOPMAN, is it bad that I liked the boys clothes better than anything in the girls section? Even though we are totally in the dolldrums of summer shopping right now and there is nothing to buy, anywhere. At TOPMAN they were selling little word bracelets like this one. Just in case you aren't lucky enough to have a kid in your life to make them with. HERE. Shop the look: Similar Trench, Sandals, Sunglasses, Earrings HERE and HERE and  Similar but legit necklace HERE.