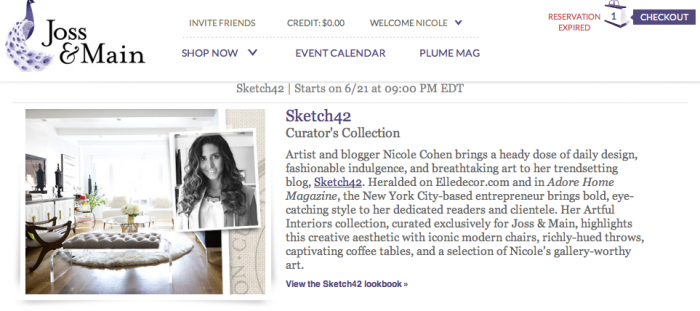 Heya! I've curated a little sale for you all as part of the "Curator's Collection" at Joss & Main! It goes live at 9 PM tonight.
It's a collection of stuff I cherry picked for you out of billions of items- AH!- based on my general aesthetic: you know, a little bit chic, a little bit badass! It even includes some of my own paintings… I hope you enjoy it!
Check it out- HERE.
As for what else is happening in the life of Sketch42: two things: A. you know how I sometimes say that being a mother is harder than work? Well this was NOT one of those weeks! Lot's of beach and pool time, very little work and you know what- it felt awesome. (Not like its possible to do anything else in this heat!)
AND B. My little sister is getting married on Sunday!  I'm nervous about getting all my ducks in a row: my kids are supposed to be marching, potential wardrobe malfunctions, hair and makeup running in this weather, etc etc… AHHHHH!
Hope you all are having a good one! And don't forget the sale HERE! 
4 Responses to "Sketch42 on Joss + Main!"