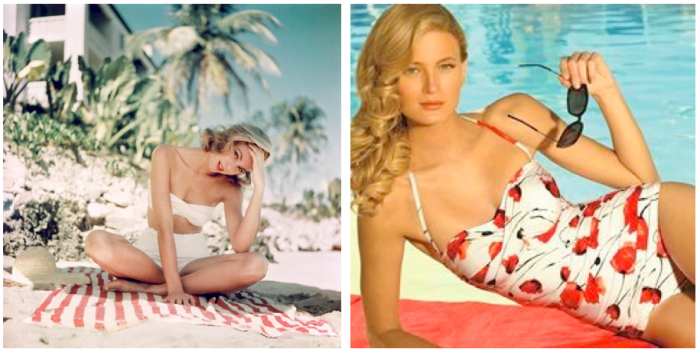 Now that we've had two bathing suit weekends in a row, summer is really rolling in. Last weekend I wore this vintage retro-style bathing suit (from my mom- not actually worn by strangers!) and I was THIS CLOSE to instagramming a pic of myself wearing it… but then I didn't. Cause, well, inappropriate? But I love the sexy pinup vibe. Stripes, cherries, fun prints, bra top shirts, upper stomach showing, cat eye… It looks like what sitting under a cabana striped awning and drinking a Bloody Mary tastes like!  (Plus the high waisted short/bathing suit is actually surprisingly flattering. It makes waists looks smaller and other parts look bigger…and I feel like it can hide stretch marks and the other woe's of the post baby stomach without wearing a one piece.)
And we could argue until the end of time about the merits and methods of buying on sale, but really, sometimes its just a chance to get a piece of crazy something that you wouldn't normally buy. So below is the not cheap, but mostly on sale retro look I pulled together: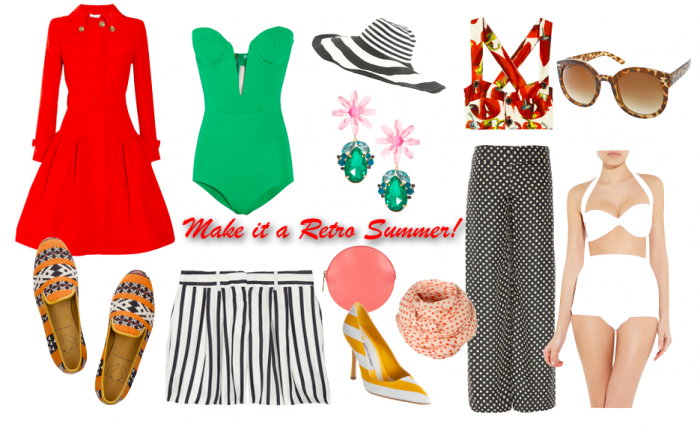 Oscar de la Renta Coat – from $3780 to $1395 ,
Willow Green Bodysuit From $595 to $415,
 Hat – $43
Black Fleece Striped Shorts- from $350 t0 $175
Dolce & Gabana Chilli Pepper Top From $1000 to $600
Haute Hippie Polka Dot Pallazo pants –  From $325 to $227
Cobra Society Navajo Loafers- From $475 to $237
ASOS Earrings $26
Jil SanderLeather Pouch – from $360 to $216
Red Polka Dot Scarf – 32
ASOS Sunglasses $20
Manolo Blahnik striped pumps- from $655 to $389
Norma Kamali Bikini $175
Enjoy!
6 Responses to "Retro Summer Chic: because it's on sale."