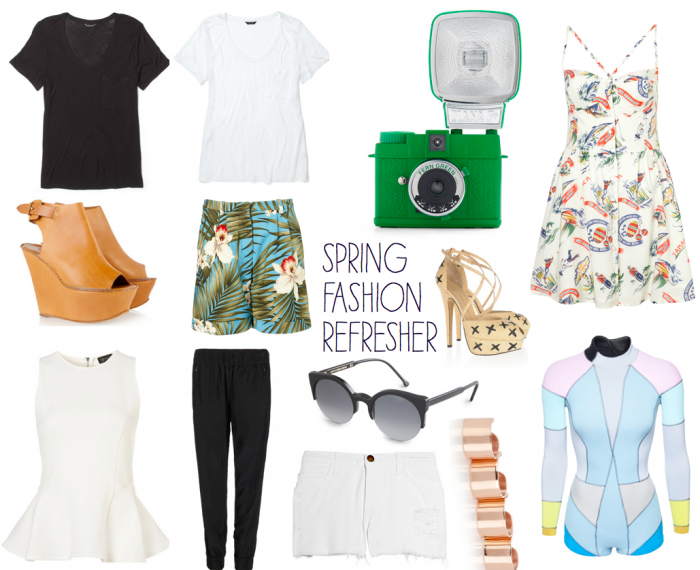 Its high Spring. Very high. Almost summer…The wardrobes in NYC have gone through a decided shift. People are already breaking out the shorts (something I don't do often in NYC and if I do they are loose and at least mid-thigh), but skinny jeans feel like straight jacket. That peel your jeans off at night feeling is NOT fun. So I've turned to baggier stuff, some good basics and a few fun pieces thrown in. Im one of those people that can't buy clothes in advance like we did in the 80′s… I buy it right when I need to wear it and if I don't wear it immediately, I know I don't like it that much. (And why do I need to buy so much stuff, last year I was 20 lbs overweight from the baby and the summer before I was pregnant.)
Last time I did a roundup I had to disclaim that I don't actually own all this stuff. This time I want to give my personal recommendation of awesomeness on a few products. The first: Club Monaco V neck T-shirts with a pocket. They are awesome. I just bought these again(this is like my third batch) in every color. So slinky and I buy a medium so they can be a bit oversized.  The next personal recommendation is for the black All Saints Pilot pants. They look like nothing special on the computer but in person they fit so well. They don't have a drop crotch but they do have elastic around the ankles with a zipper, and whatever material they are (I can't figure it out, really) they just don't look like pajamas. They look great with heels and flats. They are glorified sweatpants and they get the Sketch42 stamp of approval.
I just bought these tropical shorts and the Jamaica dress from Topshop, but I have yet to wear them so I can only tell you they are really cute, but not how well they will work. Everything else is speculation/lust. I just became aware of these Cynthia Rowley for Roxy wetsuits, and WOW are they cool. I think I need to take up surfing just so I can own one of these. Amazing.  The Lomo camera is something I want to play with, white distressed shorts are a new staple and the four finger knuckle dusters are amazing. We all need at least one crazy shoe in our wardrobes and the Charolotte Olympia walk the line between crazy and prim.
Club Monaco T shirts: $39
Lomo Camera: $109
Jamaica Dress: $72
Cynthia Rowley for Roxy Wetsuit: $195
Maison Martin Margiela Rose Gold Knuckleduster ring: $495
Distressed white shorts: $158
Sunglasses: $160
All Saints Pilot Pants: $195
TopShop Peplum Top: $48
Chloe Wedges: $945
Tropical Shorts: $120
In addition to all this, ShopBop is having a MEGA SALE! Basically the entire site is 20% off for the next 3 days, and you can use the code BIGEVENT to get the discount at checkout. HERE.
Have a great day everyone!