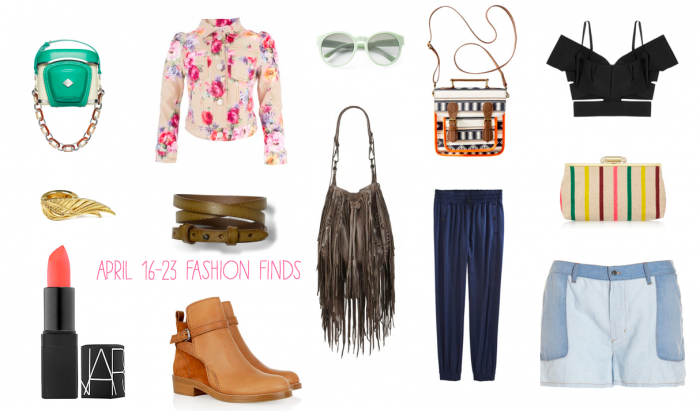 First let me get this out of the way, since a commenter asked me last time: NO, I don't actually buy all of this stuff. Some of it I do buy, some of it I want to buy, and most of it I just post cause I think its fun. Anyway, it's mid April. We aren't wearing sandals or shorts yet, but its hot and fun in NYC and everyone wants a piece of the current trends: Florals, boho joyfulness, and just generally casual clothes (for daytime). I officially wear white jeans at least 4 times a week now, but I won't post those again…(HERE – in case you want to buy), and the other days I'm wearing light denim, OR, cargos.
Anyway, my picks for this week, clockwise:
That's a Proenza camera case. No, I don't want it. No, Im not even going to tell you how much it costs, but its just cool. To look at. For fun. Not to buy. HERE.
Floral Denim: Why not… super trendy, but just hit the trend hard and get it out of your system already. $95
Stella Minty Avocado round frame sunglasses. Yes, I have these. I look like a fashion freak, and I love it. $225
Bag via Target, $25
Bandage top: I think this is amazingly sexy. Wear with high waisted mom jeans, or high waisted black skinnies for a Grease Lightening look. Roland Mouret $1635
Sweet little Clutch from J Crew. $98
Probably the most hideous shorts I've ever posted, but I have a sneaking suspicion that they look great on, hide a multiple of flaws and could be a go-to piece for summer. Isabel Marant $265
Track pants… yea, thats happening now. Alexander Wang $450
Fringed bag, 'nuff said. $198
These Acne boots… so digging em. $550
Nars Coral lipstick, I have this. Love it. $24
Leather wrap bracelet, you could DIY, but this is always super cool . Club Monaco $29
And that wing ring- so cute. Rachel Roy $38
What trends are you guys loving/hating this Spring?