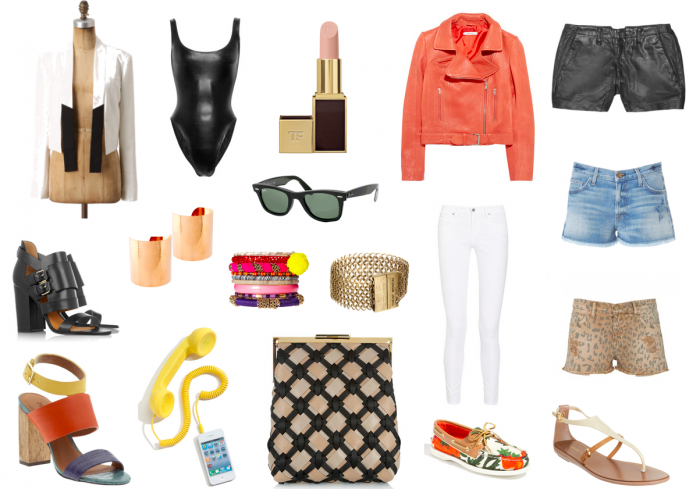 The hubby and I were both going bonkers at home, so we booked a last minute trip to Miami for the weekend… My packing list… although most of my stuff is from last summer. So… ya know. I did my best to work it out for you all.
2. Norma Kamali One piece. I don't actually wear one pieces, but I'm going to start. I think people actually need to be thinner to pull off a one piece.
3. Tom Ford Nude Lipstick- great for daytime and at night with big eyes. $48
4. Carven Coral leather jacket $2000 (I wish I had this, I don't.)
5. Leather shorts, a staple. I bought a pair of loose, high waisted ones a few years ago. One of my favorite things that I own. $385
6. Denim shorts, another staple $168
7. Leopard boyfriends, cuter than the jeans. $178
8. Leather and Jelly sandals, had them since last summer in black and brown: LOVE them. Trust me, these are a winner. $275
9. White jeans- So FLA, they feel so much cooler in NYC. $187
10. Marni Clutch$1750
11. POP phone, everyone has these on the beach. $30
12. Elizabeth & James- Cute colorful sandal, $199
13. Double Brass cuffs $25
14.Givenchy Heels, loving em! My favorite shoes of the season. $880
15. Wayfarers, always a winner. $214
16. Array of friendship bracelets $17
17. Floral Topsiders- So cute. $124
18. Mesh Brass Bracelet… looks like way more than $44
All this said: A. I packed way too much stuff, and B. As a New Yorker, I have SUCH a different sense of style than the folks down here… Miami has a huge South American Flavor to it… people are glitzier, and way less self conscious of showing skin… Everyone wears full on backless cocktail dresses to dinner, people are topless at the beach…its just different.
Have a great weekend everyone!
4 Responses to "Packing List: Weekend Escape to Miami."