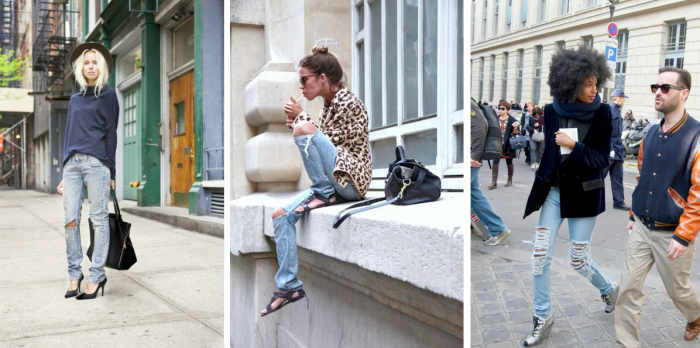 I bought my first pair of actual non-stretch, non skin tight jeans, jeans this week. First pair since about 2004 or 5. Do you know how good it felt to wear actual real jeans? Made out of real soft worn in denim? That wasn't painted on like a second skin? And didn't give me muffin top? It felt good.
We've been seeing the cool girls wearing boyfriend jeans for years now. But I didn't want a boyfriend jean. Because I'm short and I didn't want to be overwhelmed by a big hulking mass of denim that would ultimately make me look 10+ lbs larger. Not a good look for the under 5'6″ set.
What I wanted was apparently a slimmer version of a boyfriend… one that would just cover my legs lightly but not suffocate me.
Here are a few pairs that I really love, wear with chunky heeled sandal, Marni cuffs and  vintage inspired shades… and I've been loving that gray/green leather fisherman looking vest for weeks. I've been quietly stalking it… It might be just what I need to finish off my spring uniform. And I may just DIY a super distressed pair of jeans.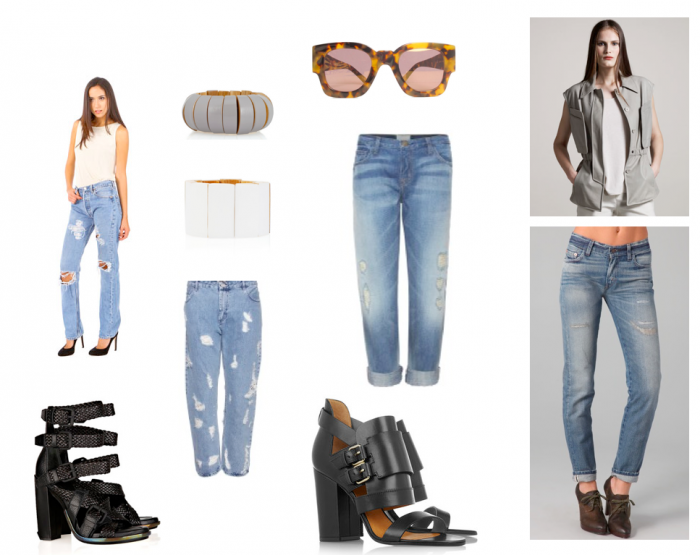 Sources:
Karen Walker Shades $220
Gray Marni Bracelet $157
White Marni Bracelet $117
Theyskins Vest $1150
Givenchy Sandal $880
Acne Pop Trash Jeans $485 (Center left)
What Comes Around Goes Around Vintage jeans $59 (Far left)
Alexander Wang Woven Leather Sandal $276 (Far left)
Levi's Vintage Jeans $142 (Far right)
Current Elliot $525 (Center right)