The first round of Spring 2012 is hitting the stores… I'm always apprehensive about buying clothes so out of season. Like, what is this, 1990? Stock piling clothes in advance reminds me of back to  school/summer shopping with my mother at Lester's in Brooklyn, and then putting that shit on LAYAWAY for 3 months.
I, along with Kelly Cutrone (whose book I read this week) think that fashion is going to stop being delivered 6 months in advance, and start being more time-relevant. [I also think, like she does, that normal gets you nowhere, that you need to cultivate a tribe of like-minded people around you(kind of like what I found when I started the blog!), that the people you are born into may not necessarily know what the right "best for you" is... She's a really smart and inspirational woman.]
Anyway, so this is my first batch of selections from Spring 2012 accessories. And, I don't really want to buy anything yet because so much of the good stuff hasn't come out yet. And right now I'm into more muted colors, because its still winter in New York, but I know inevitably it will be warm out and I'll want to wear head to toe neon, like our favorite Neon Running Lady of NYC, who thanks to your instagrams, tweets and emails, I now have tracked all over NYC. Ahh… the locals, what a fun bunch!
Round 1: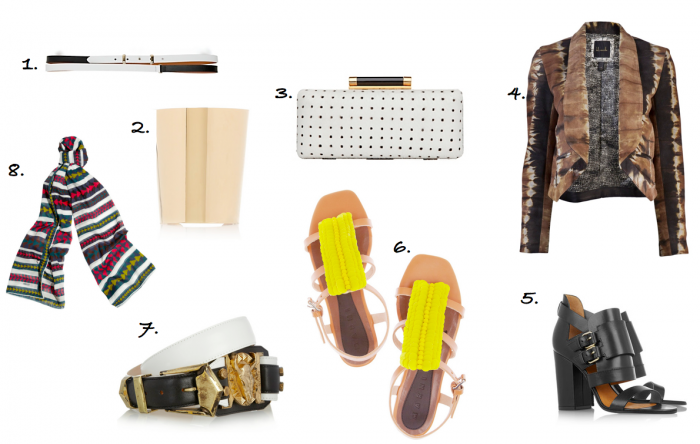 1. I lost the source! But basically, any skinny belt. I've been wearing the skinny belts off all the Zara trousers I bought last year.
2.Yves Saint Laurent $895, This is heinously expensive. Especially because I want two, so that I can look like I Dream of Jeannie.
3. Diane Von Furstenberg Tonda Clutch
4. Kelly Wearstler Tie Dye Suede Jacket.
5. Givenchy, $880  Im all about the clunky heel and platformless shoe. No more Minnie Mouse shoes!
6. Marni $525
7. Balmain $1020, this price tag makes me sick, but I LOVE IT! As a bonafide belt collector, I can tell you, this is sufficiently gaudy while being super cool. Wear with a T shirt and jeans and no more.
8. Bally $275 Love this print, its nautical and almost tribal. Perfectly preppy print to start wearing at the end of winter and into spring.
Happy Weekend!