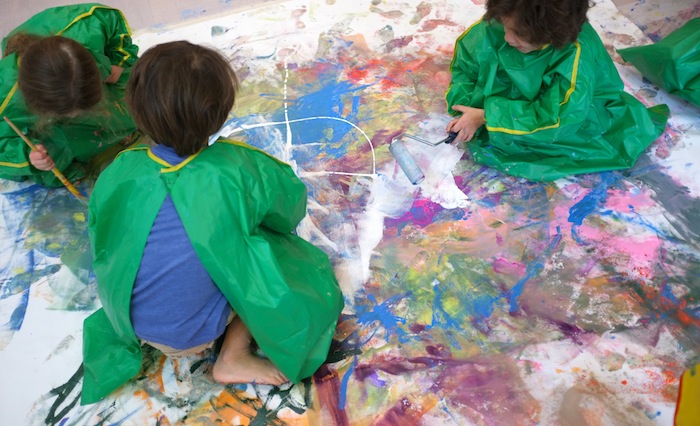 I'm pretty sure that if your child goes to preschool, he or she is learning about art right now. In between the holiday and winter/spring lull, the preschools do an art segment where they teach the kids about various artists and their methods. Of course, I absolutely loved it when Cookie came home last year (at age 2) talking about Rothko, but I love it even more now that she is old enough to fully process what she is learning and internalize it enough to tell me at a restaurant where a sunflower stood as the centerpiece- Mom, look a sunflower, like Van Gogh paints!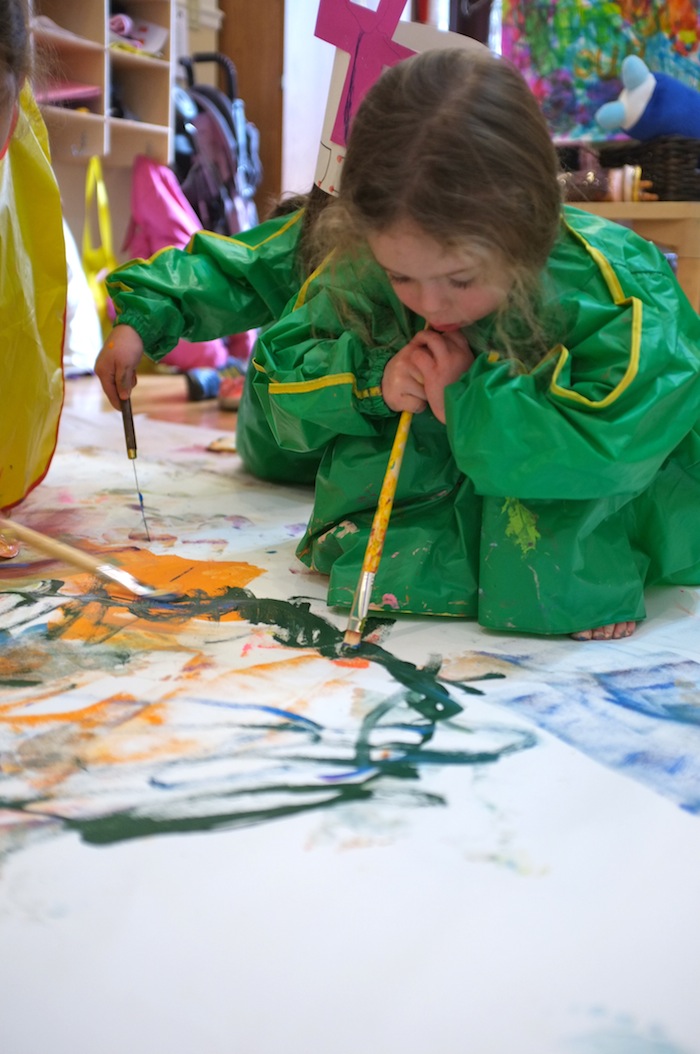 A few weeks ago Cookie's school asked me to come in and do an art project with the kids. Obviously I thought that would be a lot of fun… except for one thing: I was NERVOUS! What was I going to do with them? What was I going to say? Despite being a mother of 2 kids, I'm really NOT a kid person and I'm not an art teacher, and I definitely didn't have a lesson plan. Would it be chaos? 12 kids running around with PAINT!?! Yikes.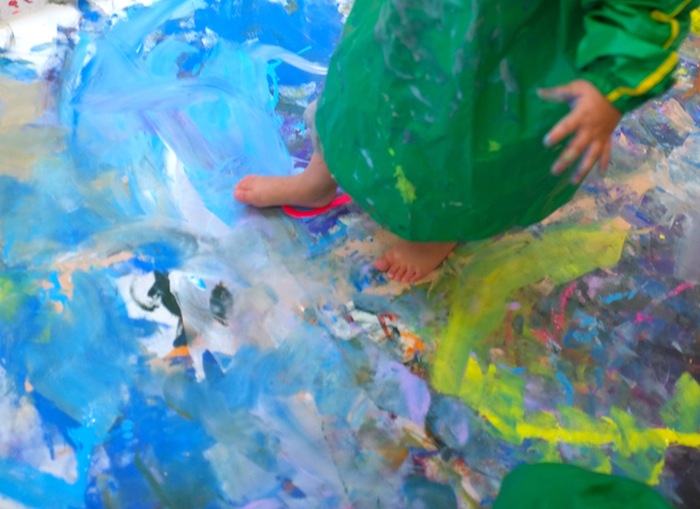 But, how hard could it be? Really.
I decided the kids would have fun doing anything with paint especially something large scale, and I brought in a huge canvas that we laid flat on the floor, like Jackson Pollock, who the kids were learning about as well. And then I showed them all my tricks. Splashing the paint on the canvas, using different brushes and strokes to weave the colors into each other and layer them… I brought in paints of different viscosities, and we spread them around the canvas with our hands, feet, palette knives, thin brushes, house paint brushes, and roller brushes… all things I use to make my own paintings…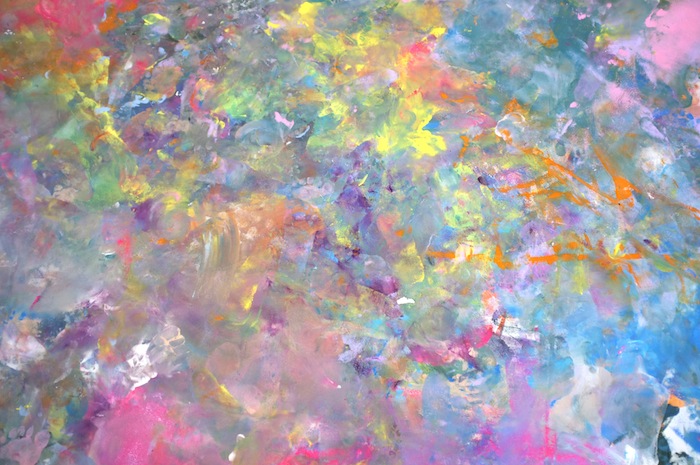 Et voila!
Pretty good Sketch42′s huh?
I've always felt that children make the most organically beautiful art. Really. I frame lots of Cookie's work and I hang it, too. And not just on the fridge. (Think about what that does to a kid's confidence, to see something they made, framed beautifully and hanging in a main room in the house!)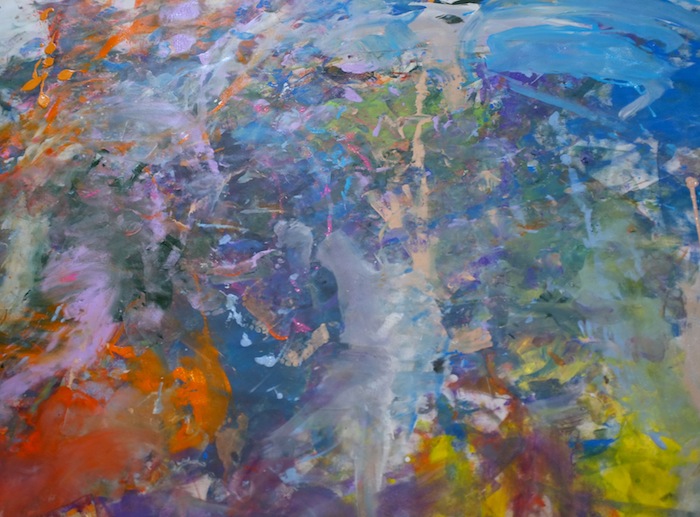 But there are tricks to painting with kids…
The painting we made  is HUGE, and when you look at it hanging in the class, it doesn't look as good as these two photos here.Why is that? Well…
A. The key with painting and especially painting with kids, is KNOWING WHEN TO STOP. And the project at Cookie's school was less about making a beautiful painting and more about having a fun hands on experience with the kids, so I wasn't about to say WAIT! STOP, the painting is DONE NOW. NO. But you should if you do that with your kids. Really. Stop them and give them a new piece of paper or canvas fast enough and you will get amazing pieces of art out of them.
And  B. Sometimes the whole painting is not as good as the sum of its parts… and so, if I were to frame this, or stretch this, I would totally cut it up into its most successful portions the way I did with my camera. Don't be afraid to crop.
Anyway, thank you to Cookie's class  for inviting me!
And also- I just have to add, kids are way more well behaved in school than they are at home. Its insane. If I spread something flat on the floor in my apartment, I would bet a million dollars that Cookie and her play date would walk right over it. But in the classroom, they somehow magically tip toed around the canvas, sat around waiting for permission, etc… I was floored!
Have a good day everyone!
12 Responses to "Painting with Kids… My adventures with Cookie's Class."