We bloggers like to put things side by side. Its something we do. As people interested in visual things, holding one thing up to another is something that is fun for our little brains to do. I personally LOVE room to outfit posts, especially when they work well, although I know some of you are sick of them… I like them because, when they work, its like KABAM. Art, fashion, design, COLLIDING in my head and making a wonderful mishmash of pretty. Somehow, it also teaches me things. I don't know what exactly… but maybe it somehow helps me refine my aesthetic by training my eye to know EXACTLY what I like and don't like? Or shows me exactly how to crossover the aesthetic I like in one discipline to another?  I don't know… Im rambling.
Anyway, when Helen Frankenthaler passed a few weeks ago, I started seeing more of her work around town, including some of her woodcut prints… Anyway, I saw one that I really liked and that looked very familiar. Below, Top left: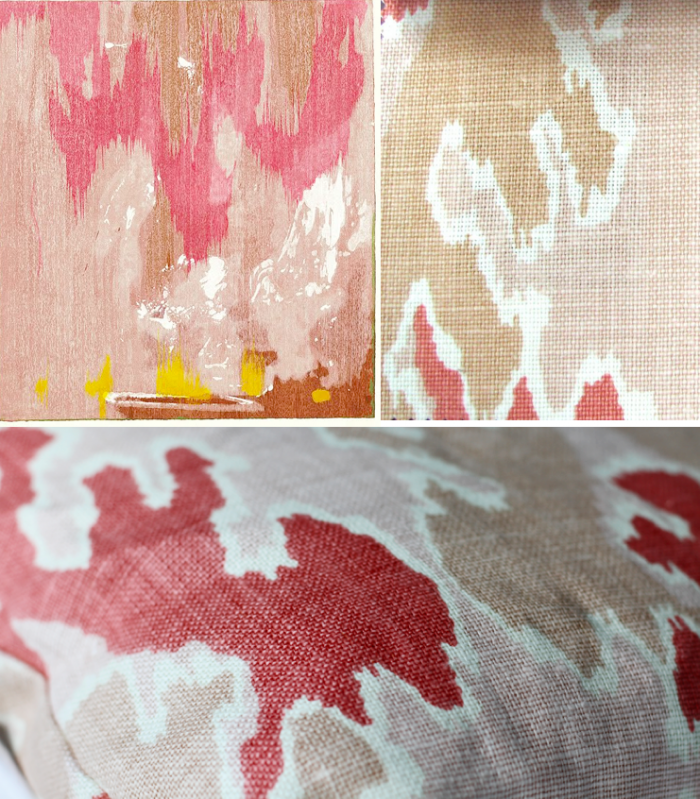 Helen Frankenthaler
Tales of Genji IV, 1998
Collage
47″ x 42″
Edition of 30, 12 Artist Proofs
Is the print, top left, not  a DEAD RINGER for Kelly Wearstler's Bengal Bazaar fabric in apricot?
I love both the fabric and the print, and I just thought it would be interesting to show them to you this way…
And for those of you interested, you can order pillows in this fabric and others at Plum Cushion on Etsy.  The ones I have in my living room in the gray color way are from her.
Thoughts?
6 Responses to "Training the eye."