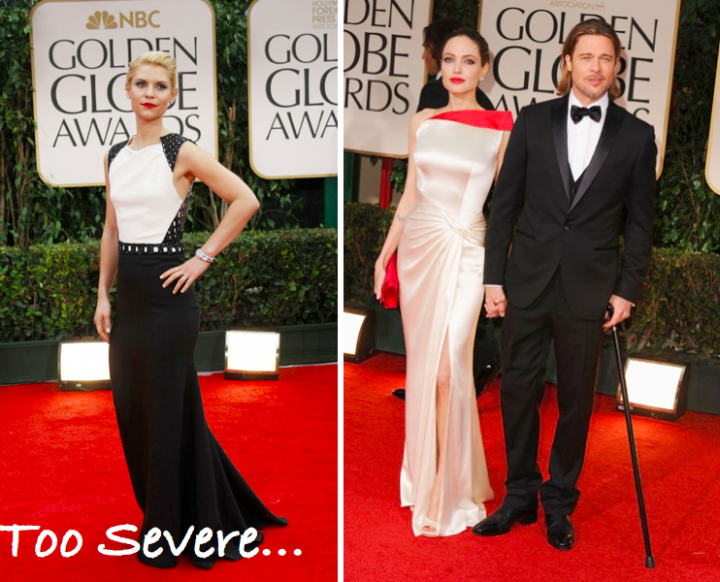 Best and Worst Dressed: Golden Globes 2012.
Lets get right to it… Not the most exciting year in fashion at the Globes. Im of the opinion that you are better off just trying to look pretty than trying to make a statement… but my favorites are the people that did both.
My ultimate TOP look of the entire night had to be Helen Mirren. She is the most elegant woman. We should all take a lesson from her in aging gracefully. Also Jane Fonda and Michelle michelle Pfeiffer. They looked beautiful while still moving their faces.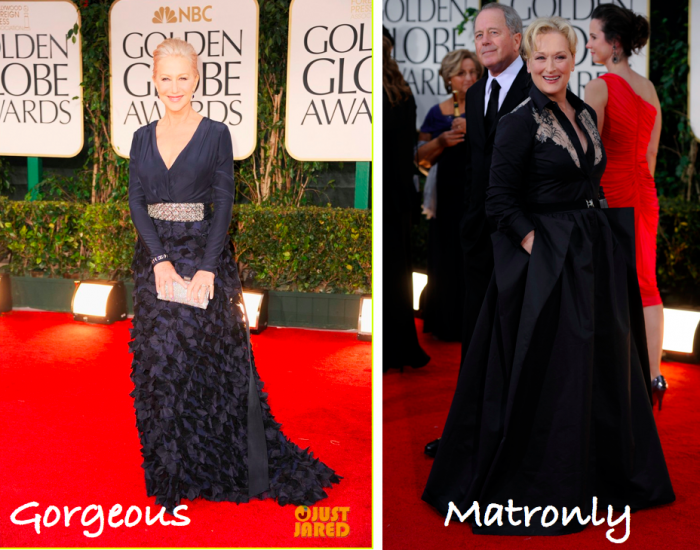 Helen Mirren glows in her dress, but Meryl Streep looks dowdy.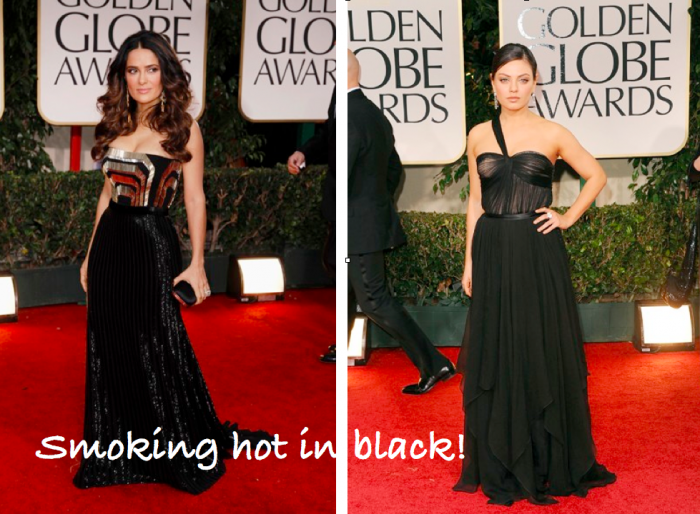 Salma hasn't looked this hot since Fools Rush In. She doesn't look sleazy, she looks cool and hot at the same time. Plus, correct handling of her boobs makes her look thin and trim, not fat. (Sometimes big boobs make you look fat, trust me, I know.) Mila Kuniz also looks cool and pretty at the same time. I would wear that in ten seconds flat.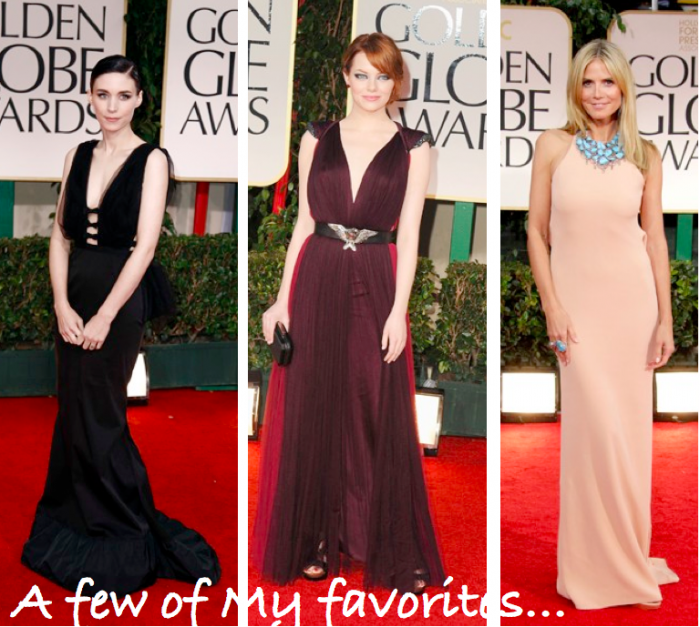 I didn't see girl with the dragon tattoo, but I hear Rooney Mara plays a badass. In which case, I LOVE this Nina Ricci dress on her. Emma Stone looks awesome in Lanvin, and Heidi Klum has a rare red carpet success… although I don't think its totally appropriate, she looks awesome.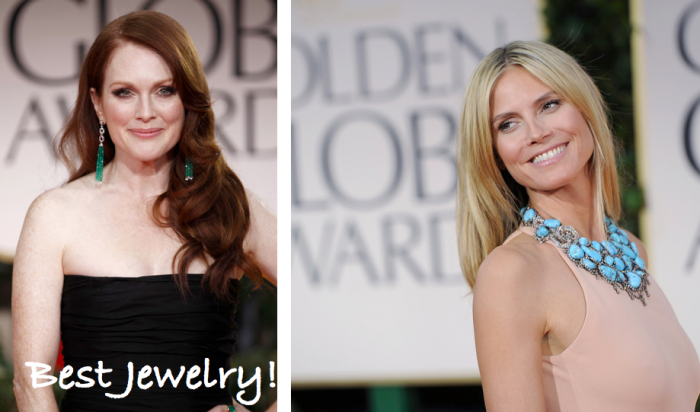 A simple dress with the right jewelry can be the winning combination! Especially if you are scared of color. Most people look great with a little color around their face. Just saying. 
Now on to the fashions that I wasn't so in love with… but didn't think was awful. The best of the worst? The worst of the best?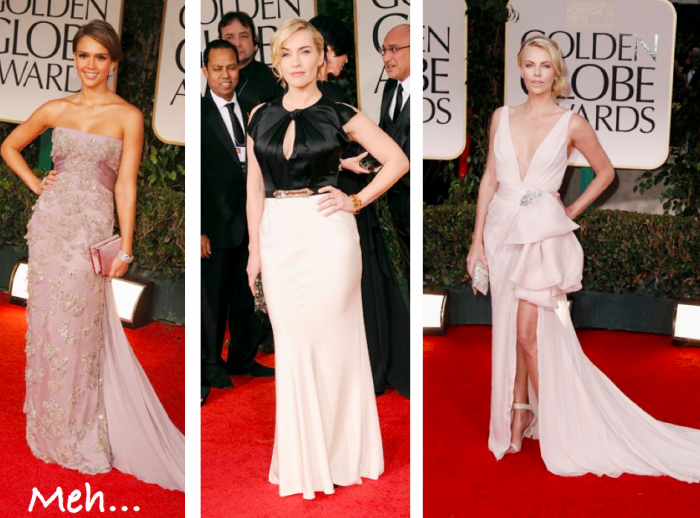 All of these looks are eh to me. Feel like Ive seen them a thousand times, and a thousand times on these actresses. While they all do look beautiful, I can't deny it, the actual dress selection is just slightly boring and not my favorite. I want to love Kate Winslet's Jenny (Packham) but something is throwing me off… Maybe the ripple up the front? I don't know what. Jessica Alba was dressed by Brad Goreski in Gucci, and I just personally would have done something less sweet. Charlize Theron's Dior side pouf dress feels very last year to me. I think Im over the nude trend too. It looks bad on MOST people!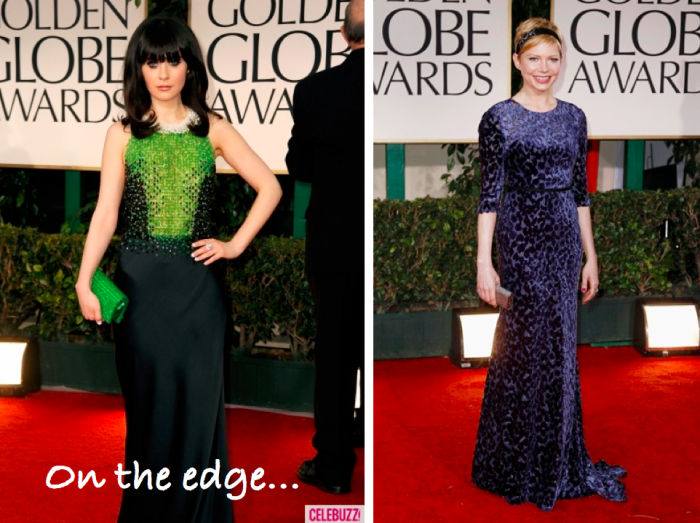 I like Zooey's dress. Its Prada btw. I would like the top with a pencil skirt. A lot. I just don't love it with the hair. And Michelle William's (Jason Wu), you were so adorable in your speech, but I don't love this dress for this occasion. It just feels dowdy.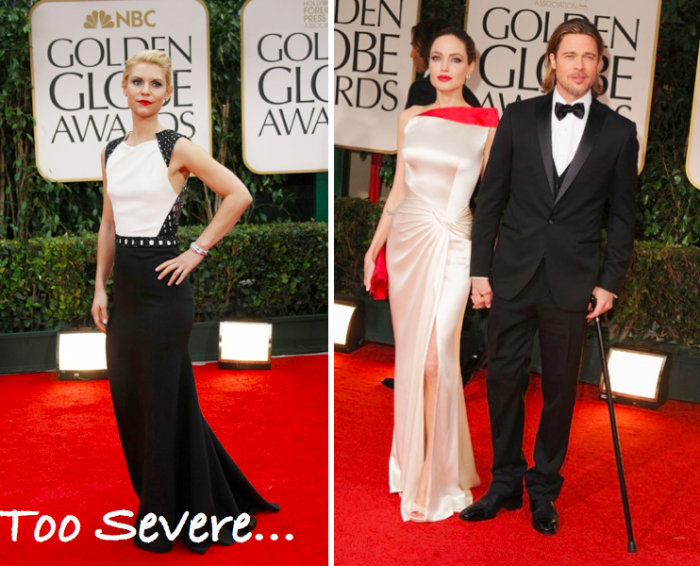 Claire Danes has such a straight body and angular face, this dress J Mendel did nothing to soften her. If it were in a different color I would have loved it. Imagine that. Me not loving black and white. And Angelina looks like an evil snow queen from Narnia. This Versace dress just enhances her scariness and icy beauty. But not a good choice. 
How did you make it to the Globes miss Kyle?!? Lose the choker. Debra Messing, the dress has WAY too much fabric. Natalie Portman in Lanvin, too much fabric, and a bad neckline for her. The dress makes her look bobble head-y.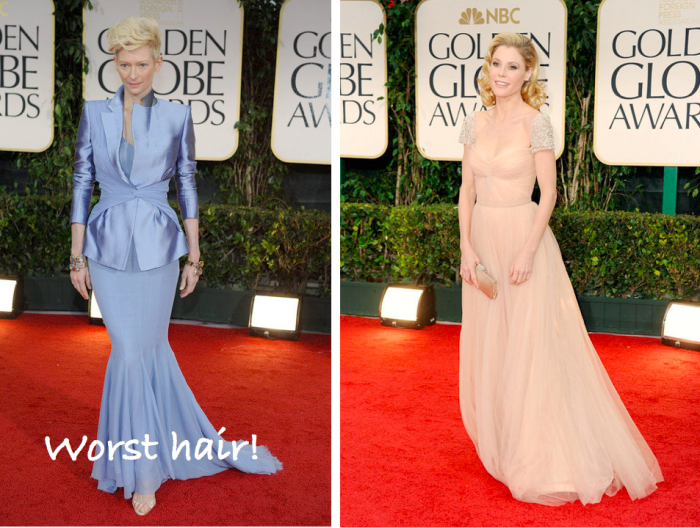 Its almost too easy to pick Tilda…Tilda, I don't even care what you are wearing(I actually like it on her), because you dug up Andy Warhol and plunked his wig on your head! Julie Bowen, I want to love you, but this dress just ISNT you. It could have worked on you without the curls. 
And now, the worst: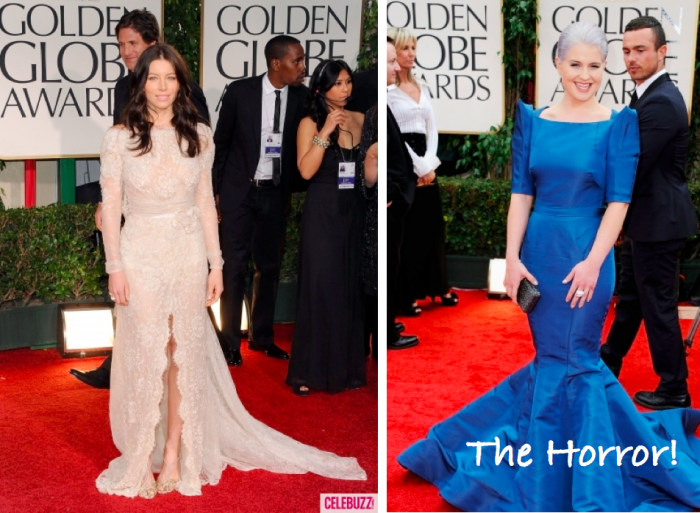 Jessica Beil (rumored to have been dressed by Brad Goreski?!?) the dress had a third saggy boob when she presented. It was tragic. As for Kelly Osborne, NO WORDS to describe. The fact that she is on fashion police and Joan doesn't rip her a new one every week for that gray hair is insane to me.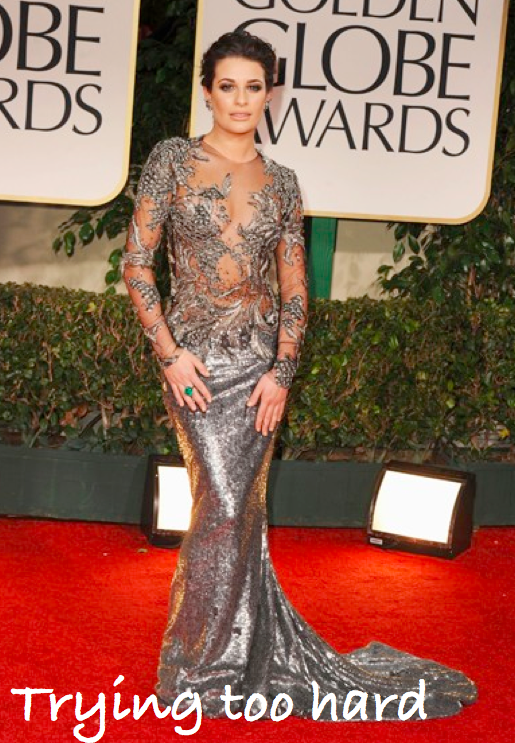 I can't stand Lea Michelle in general, but the Blue Steel sexy face is making me gag. The dress is Marchesa so its not a shock to me that I HATE it.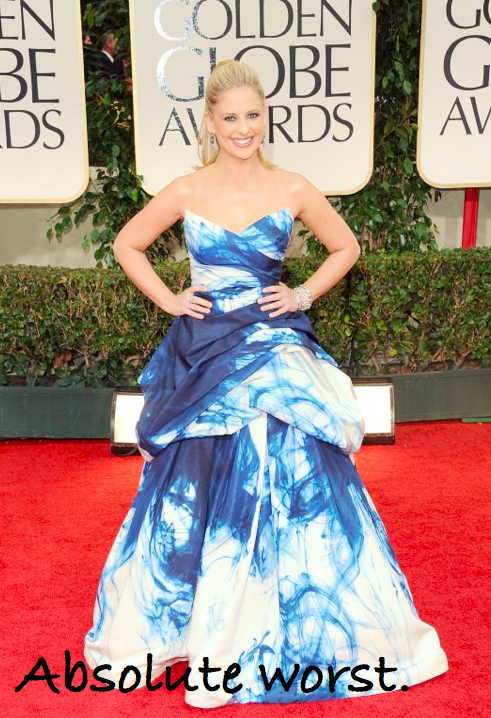 And last, the ultimate worst: Sarah Michelle Gellar in Monique Lhullier. I love tie dye. But I HATE this dress. HATE. I don't even care that her 2 year old picked it out. Not a good look for her.
I also really loved Emily Blunt, but I couldn't find a pic of her… Who were your favorites? Least favorites?!?!?