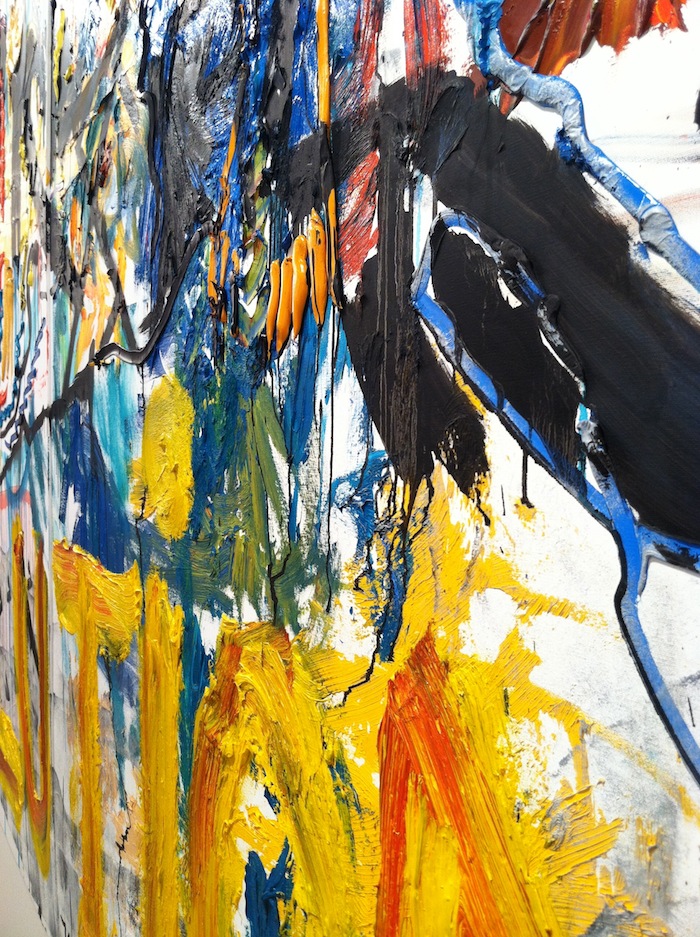 Jonathan Meese -detail shot by me. Is this not insanely beautiful?
I wish every weekend was ART BASEL. Why? Imagine a whole city consumed with art and design, people handing out fliers for art shows instead of eyebrow threading, canvases being carried through the streets, people drawing in Starbucks, parties every night. It was festive and fun and exciting, like New Years in Miami, but without the drunks and idiots. So exciting to have the things I love be completely relevant for 4 whole days. Design + Art, Food + Parties, plus SUN?!?! (It wasn't actually so sunny. But thats better. It was good art weekend weather.) The only suggestion I could have for all these shows is: START AT 9 AM INSTEAD OF 12!!! Going to an art fair and then hitting the beach would have been perfect, weather allowing. Starting at 12 means no beach time!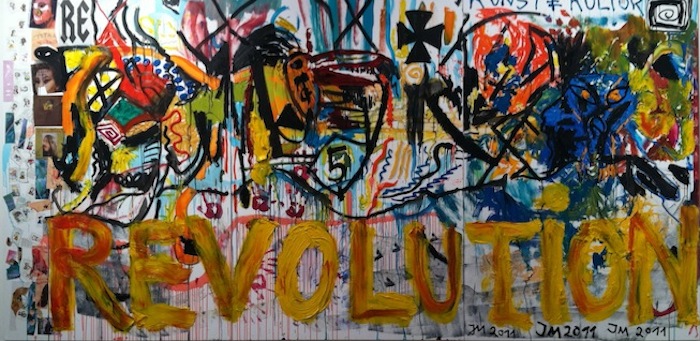 Jonathan Meese
So here goes with the photos from the actual Baaaahhhhsil, the  Miami Beach Convention Center, which is too big to be completely and totally enjoyable. You start to get lost in a maze of art and people after a few hours and then you have to claw yourself to the nearest exit. But I had press passes everywhere so you know that validated my entire life!
John Semmel
Anyway- Enjoy the photos. Some of them are close cropped, some are shown hanging on the wall, and others have people in them too. I wish all could be dead on clear shots but there were thousands of people around so it was hard! There are a few instances(I actually can't believe how few!) where I could not get the name of the artist- it wasn't listed on the wall, gallerist was busy etc… and one instance where the gallery owner wrote it down for me and I can't for the life of me read it! So I apologize for that, I tried to list the gallery name in that case. ENJOY! (OH- and my camera died midway, so I then burned through 2 iPhone batteries too!)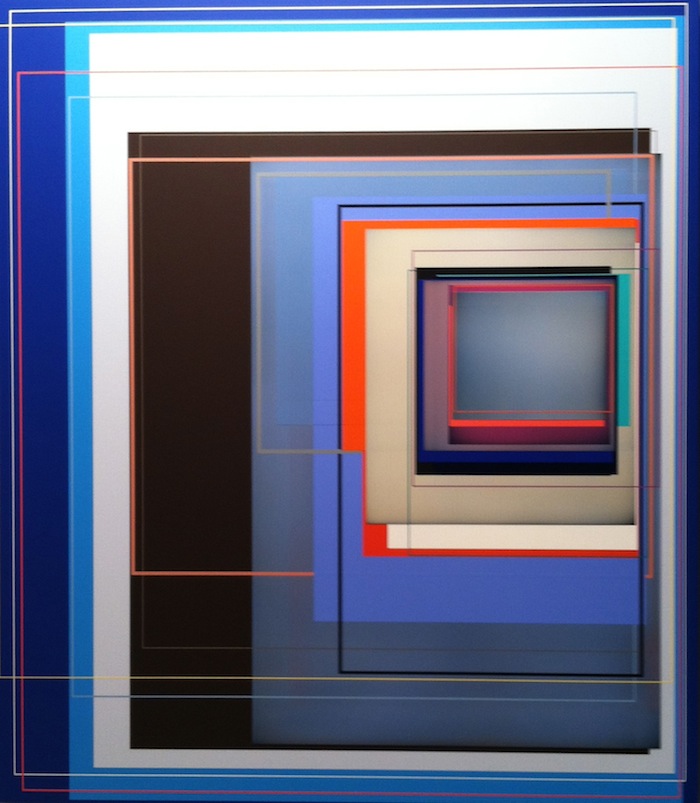 Patrick Wilson
As a painter, there are some things I learned from being in such close proximity to so much amazing art: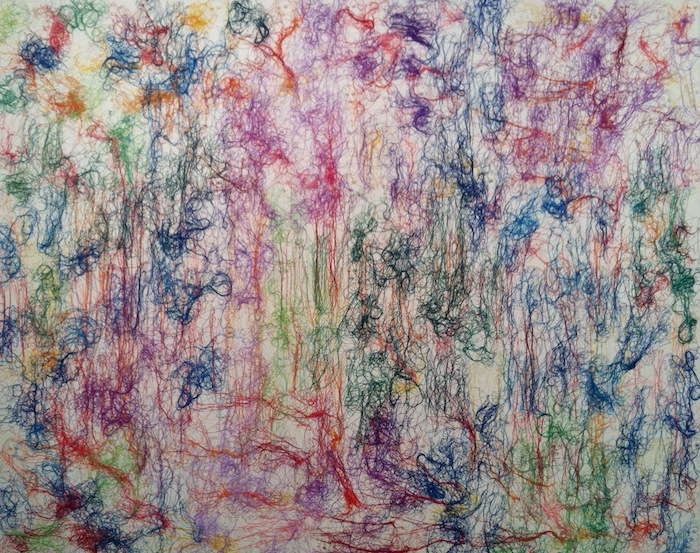 Ghada Amer – embroidered canvas
1. Framing is everything. The presentation of the canvases is SUPER important. It can make or break a work. I saw so many successful ways to frame pieces and I am excited to try some new ones at home.
2. Size doesn't matter. I always thought the bigger the painting the better, and to some degree I still think thats true. But I saw some amazing smaller pieces, and even TINY ones – and some large pieces that I couldn't stand. So a powerful piece is a powerful piece. But sometimes largeness can actually mask the flaws, smaller canvases need to really speak.
3. I love mixed media pieces. I saw so many different ways to make art. Silicone, stripped canvas, painted frames, ripped canvas, collages, neons… I want to experiment more with different materials.
4. I love photography. Although most of the pieces I chose here are paintings (there was a bad glare on too many photos), in general, I was in LOVE with so many photographs (even more so at PULSE- you'll read about that soon). Maybe its because its not what I do?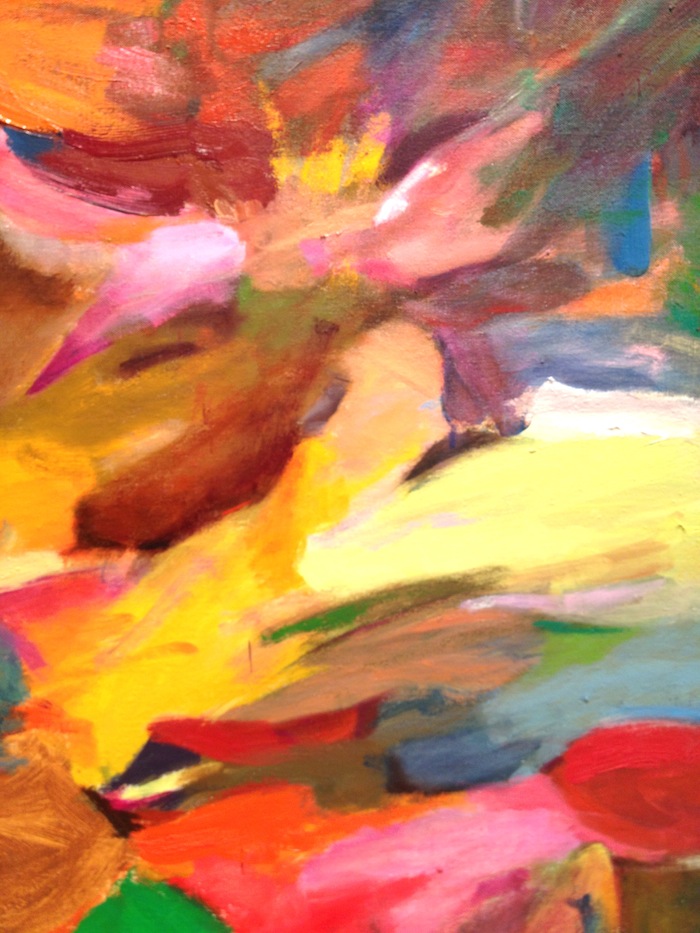 Detail shot of a painting at the Sarah Galvak Gallery taken by me.
I chose a few shots to preview for you, but you can click through the gallery easily below. For some reason, you have to click each page of photos individually though.
[nggallery id=11]
I don't even know how to tackle the MOUNTAIN of pictures from this trip. Maybe I will alternate ART post, DESIGN post all week long? So you don't get bored of just one thing? I even have some seriously AWESOME surprises. Its going to be a good week here at Sketch42. Trust.