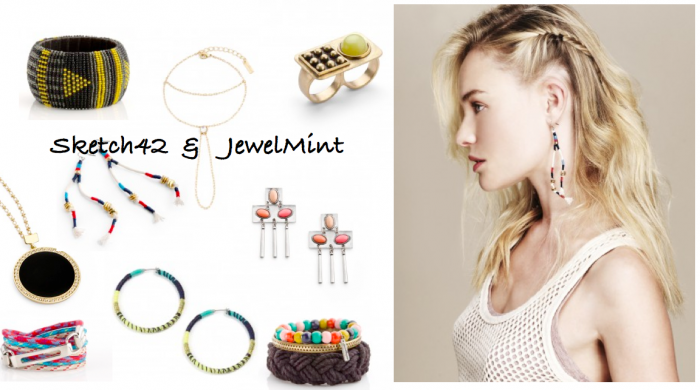 I am so super excited about a week long collaboration with the amazingly cool company JewelMint. In case you don't know, JewelMint is your all access pass to the latest in cool  and affordable jewelry… Kate Bosworth and stylist Cher Coulter scour everything from vintage shops, runways and style blogs to come up with the coolest and latest in amazingly awesome jewelry.
You sign up, do a little "style diagnostic" and viola- your jewelry personality type is chosen and pieces are hand picked for you. And the best part is – its really affordable only $29.99 for each piece.
Sooo… You know I am super pumped that JewelMint and its sister company StyleMint asked me  to use some of their latest products in a few DIY's, and of course, offer you, my dear, darling, beloved, never ever mean to me readers a few giveaways while we are at it!
In addition, Sketch42 readers will be able to purchase one JewelMint product for 50% off HERE with the promo code "SKETCH"!  I'm making some awesome pieces with the stuff they sent me! Cant wait to show you…
Looking forward to a week of fun with you all!
3 Responses to "A Week of Fun with JewelMint & Sketch42"