While I was in Paris, I went into the Isabel Marant store and fell in love with a beaded belt… BUT it was $1500, so it was a no go. (OK, apparently, I am mistaken. The  belt is only $612 US Dollars. BUT as my two friends who were with me confirmed, the lady in Paris DEFINITELY told me that it was over 1000 dollars and as I heard, $1500…. WHAT could it be? Was the stench of my Americanness so appalling that they just couldn't sell me a belt and had to lie to me about how much it cost? WHAT!!??! WHAT?!? Im VERY confused.)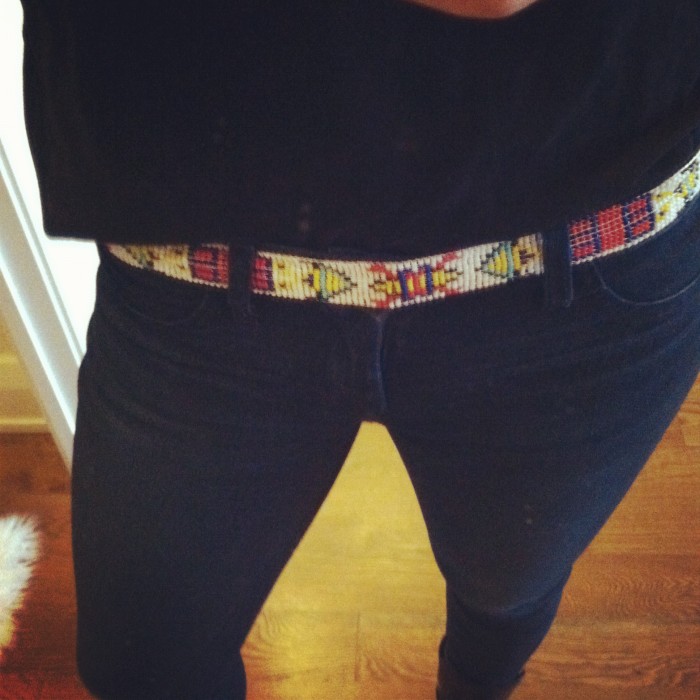 Then I went to M&J Trimming, and I founded STRETCH beaded trim in 27″ and 28″ sizes… I did a similar DIY last year with mesh backed beaded trim, but this is MUCH better. So I basically took a piece of stretch trim, put it through my belt loops and tied it behind my back with the little elastic strings. And because I am rocking the shirt mullet today(and every day), the lazy closure is covered.
Its totally awesome.
The beaded trim collection in the store is much larger than the one online. The actual trim I used isn't online, but you can order it by emailing
Info@mjtrim.com.
4 Responses to "DIY of the Day: Navajo inspired beaded belt."