I often speak of my haphazard style of mothering… You would think that KNOWING that I was going to have to take my child out of his bassinet after the summer and that Cookie was going to  be moving into a bed so that he could have the crib that I would have planned ahead, and you know, actually set the whole room up before the kids got there? NOPE. Instead I did nothing.
So when I arrived back in the city after two months, 2 hours of traffic and 2 screaming kids and lets not forget the POURING RAIN (Im talking, shopping bags ripping in the street pouring), after all that, we had to move beds, reassemble cribs and take shelves off the wall.
Crazy town. Anyway, I'm  going to TRY having my two kids share a room. This is NYC after all! Space is SCARCE! And havent children been sharing rooms since the begining of time? YES?
My plan is try to keep them in the same room (so far its worked for two nights) and to make that happen, I took ALL the toys out of the room and put them into the den, which Im going to turn into a playroom.
And thats why you guys havent seen the new boys nursery yet- because it doesnt exist. Its contingent on what happens with the two sharing a room.
Anyway, Ive begun to gender neutralize the room, and this is what Im doing. STILL not sure if Im going to keep the hummingbird wallpaper. Its kinda girly, but Im keeping the striped rug for sure and working around that.
So today I went sheet shopping, cause JoJo was sleeping on pink crib sheets and cookie had none…

I decided on light blue gingham from Pottery Barn Kids for both beds, to unify. Combined with a blanket from Conran Shop that I already had, a CB2 pillow I already had and another pillow I bought from Urban on sale for $9 for Cookie's bed. So far I LOVE all the colors together!
So fun and kiddie! And its all just sheets, so anything can swap out really easily.
Still deciding on the wallpaper. I love it, but it may have run its course, AND, I still need to have a daybed built for Cookie, so she doesnt fall out of bed every night!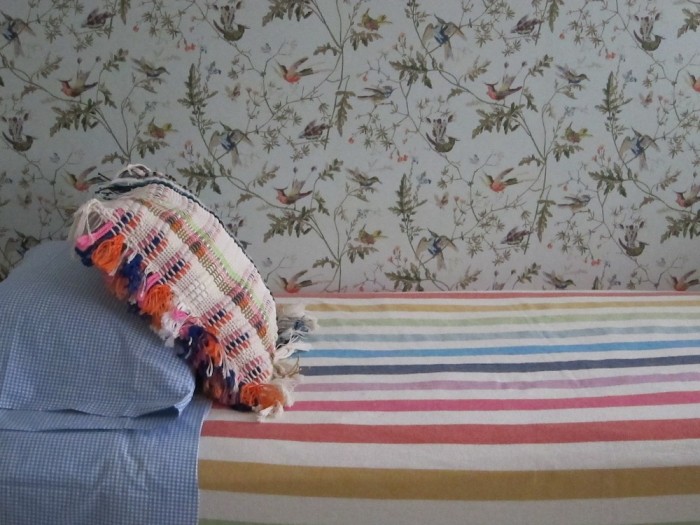 Im trying to make this a space both kids want to be!