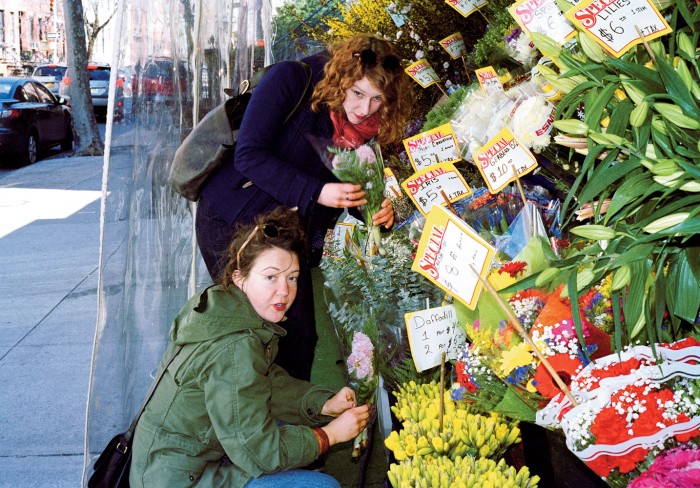 Today's NYTimes Style magazine has a great article on what to do with even the humblest of flowers: the NY bodega bouquet… (you know the one your well meaning husband brings home not knowing its hideous?) I love this article because I have been meaning to do a post like this for almost a year! I once actually bought to hideous bouquets and I COULDNT master them so I never posted it!
So, not only did I learn a lot from this article, I figured I would pass it on to all of you.
The article has Brooklyn-based florists Sarah Ryhanen and Nicolette Owen, who also run the Little Flower School, shop at a local NYC bodega and give some pointers on how to create breathtaking arrangements with them.
Some of their tips:
1. Build 3 Tiers: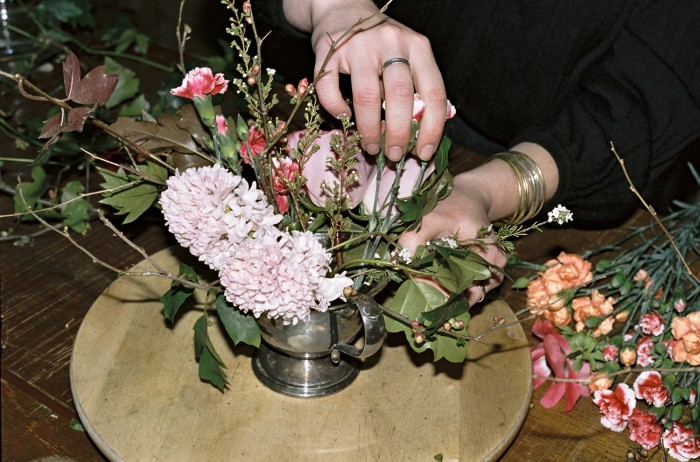 Owen and Ryhanen encourage deli-flower shoppers to buy in tiers: bulky, real-estate-hogging items like cherry blossom branches, heather and lilies to create form, structure and a foundation (first tier); showy "face" flowers like tea roses and hyacinths to give a bouquet focus (second); and a gestural, attention-getting element like anemones or tiny undeveloped carnation buds for a sense of finish (third). "The face flowers you usually want to do in clusters of two or three — don't spread them around, but do stagger their heights," Owen says. "In placing them you want to avoid any suggestion of eyes, headlights, ears, antennas, arms or boobs. The massing rule also applies to color: like tones together." Above all, as Ryhanen always tells her students, resist the impulse to build a pyramid: "Asymmetry creates movement."
2. WHEN IN DOUBT, GO MONOCHROME.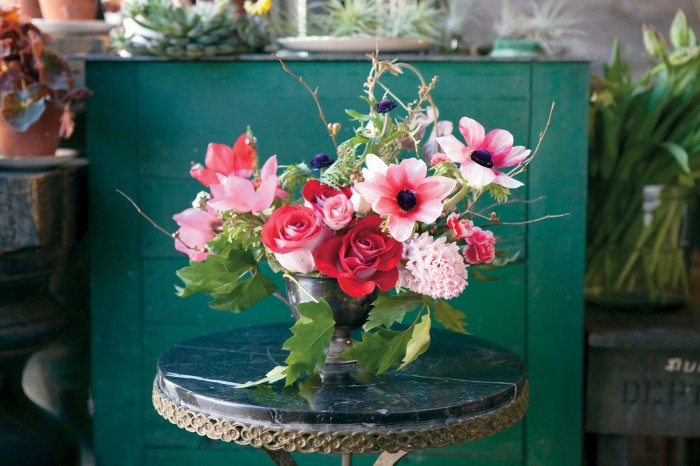 To save supermarket bouquets first ditch the dyed Eucalyptus and other un-saveable flowers, then group the remaining flowers by type and color in different vessels and cluster them together to create an arrangement.
3. EACH STEM SHOULD BE A DIFFERENT LENGTH.
Cut the stems at different lengths — some as short as a few inches, depending on the holder — and place them one by one, being sure to at least partially mask the holder's lip.
Click HERE to read the full article and see more photos.
4 Responses to "What to do with grocery store bouquets…"