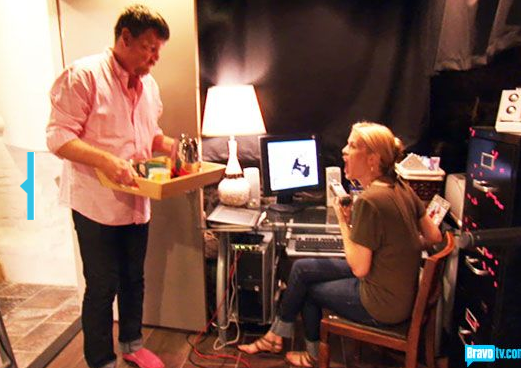 They're baaaccckkk: Real Housewives of NYC Recap.
First let me say that Bravo should not feel compelled to have a housewives show(or 2!) on at all times of the year. I think I speak for everyone when I say, I would much prefer if they cut the crap and just gave us the good stuff. Also, this is really my first year watching Atlanta and Orange County (I came late to the housewives game, folks) and what I really like about watching all the different cities is seeing how different (and yet the same) women all over the country are. Each city has its own distinct vibe… the OC women behave how normal people behave during summer/vacation time. Plus they are heavy on the boobs and lip fillers, not to mention the blond. The Beverly Hills women seemed SO DIFFERENT from the OC women even though they live, what- an hour away from each other? (I guess the same holds true for NY and NJ) The Bev Hills women make the OC chicks look like country bumpkins in comparison….  anyway, on to NY.
They season starts with everyone returning home after the summer… Jill is all "Happy New Year" to everyone at social events, even Simon and Alex, who I assume arent of the tribe? Right. Anyway, its that perfect outdoor NYC fall weather… I love that. I miss that.
Jill starts off by saying that she is turning over a new leaf this year. After the backlash from last season, Jill has to make a concentrated effort to be nice to people. Like that moment when Alex invited all the girls to walk across the Bridge in wedding gowns from "Manhatttan to Brooklyn"  and Jill almost burst into explosive laughter and had to control herself by what looked like biting her lip at the sound of the word "Brooklyn"? Yea, that was her actively trying not to be a bitch, but as we see, the instinct is still there. Later in the episode she tells Kelly that she really IS NICE and I say the lady doth protest too much, methinks.
Im not sure exactly what happened with that whole Ramona/Alex/Jill situation. And it only got more confusing after WWHL… not that I even give a crap. What was ridiculous however is how Alex is trying to make her "be accountable" for it. Alex says: Im not going to let Jill get away with anything this season, and from the get go she is on Jill's tail. First about the Brooklyn Bridge gay march (which, to be fair to Jill: If she doesnt want to go, she DOESNT HAVE TO! She should want to participate, not feel obligated, and if she has plans to be in the Hamptons- SO WHAT?), then Alex starts in on the "you knew I was coming, but you said you didnt" nonsense…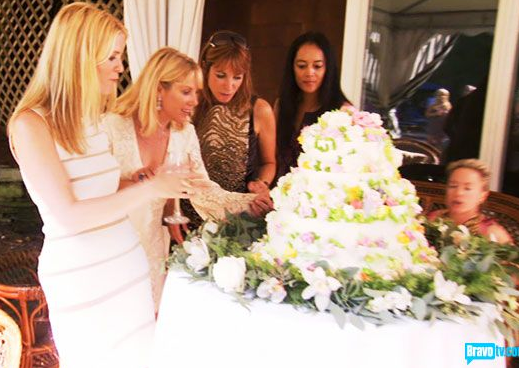 (Ramona sticks her finger in someone else's wedding cake.Also, I hate when the non-cast member friends try to be bitchy to get airtime. Also, Amalita was back! AND is it that BAD to wear ivory to a wedding during the day in the summer? I dont think so!)
Other things to note about  Alex: She is now a model. I know many of you dont find her attractive, but I get how she could be a model. Have you seen the Prada campaign this year? Some of the girls are very "interesting" looking… which is something. And as Kelly says: You dont have to be pretty to be a model, you just have to be photogenic. True dat.  But Alex is just a wee bit too cocky with her "genetically blessed/attractive parents" crap. Last season she was all defensive over the other women thinking she was ugly, now she is talking about how happy she is when she looks in the mirror.
Also, Simon quit his job and is now founding a social media company. Great. They both work in what looks like the basement of a club.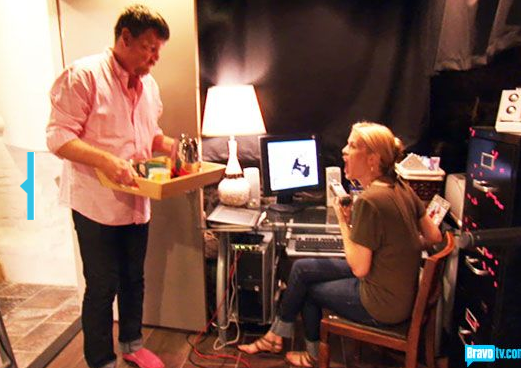 Luann has a new boyfriend and he is ADORABLE. (Why he was sitting on the side of the table with Sonja in the first place I dont know! That was weird.) and Sonja is dating or boning some beefcake-y dude.
Other than that, there is a new housewife! I think I am going to like her. She is the founder of the company "Completely Bare" and as Cindy explains: I had a bikini problem, so I fixed it. How hairy do you have to be to FOUND a waxing and laser hair removal company?!? Ha. Cut to her crystalizing some woman's nether region. (Also, dont you think that other would-be housewife Jen or something from last season feels bad that she wasnt chosen to replace Bethany?) Anyway, Cindy is a single mom of twins… she is apparently a "mature" woman and had her children via IVF in her mid-40s. Jill feels the need to ask her about that 5 minutes after she meets her at a party. She explains "When you see kids its normal to ask about their father." IS IT? I dont know… Ive never seen a mom with a baby and said: so did you use a sperm donor? Who is the dad?
Cindy is co-hosting a party for the artist Peter Tunney who reminds me of Phillip Seymour Hoffman and also does a "performance" type art show at the event. Is that normal?
Ramoner finally created her own brand of pinot. Who in heck would buy RAMONA wine? WHO? Would you? She is shilling it with a life size cut out of herself holding a bottle. (I LOVED when the prize for winning Andy's game was 10 uninterrupted minutes of product-plugging time! He sure knows the way to  a housewives heart! Did you guys catch when Jill told Bobby- I need a pair of Spanx with lace on it- it doesnt exist, I have to CREATE IT. Now she is slipping product shills into the content of the show as if we wouldnt notice!) What took the cake as the worst moment of the show was when Ramona berated the poor girls she was interviewing. Did she ever consider that maybe being filmed for a reality TV show on your first interview out of college would be hard enough without someone telling you that you have shitty skin and are dressed like crap? That was awful Ramona. You know it, own it.
Hmmm… what else? I LOVED when Ramona said that jill gets "jillousy" of anyone who starts to get more attention than she does. Genius. And duh- you know thats true. Did Jill get dumped by Bethany just a little, maybe. But is Jill definitely Jillous of anyone who doesnt need her? Yes. I also loved Andy's clip of Tina Fey's analysis of the women. Jill is a TOTAL queen bee and why she couldnt just own that was annoying too. Knowing Jill must be really, really exhausting. Imagine someone remembering everything you say and then banking it away to use against you at a later date? I know Tina said that was Ramona, but its definitely Jill too. I know people like this in real life, and they scare me.
What did you think about the episode? Did I miss anything? Are you excited by the previews?