Do you know how much TV I have watched this week?
And as my husband pointed out- its the same damned show over and over! I was about to turn on Big Love when he said- I cant watch this anymore- Its the same show! I said no its not- this is Big Love not Real Housewives. He said- SO WHAT- Its still just a show about bitchy housewives! The other show is a show about bitchy housewives! And all you do is complain about other bitchy housewives(referring to the ones I know in real life!) HA. Touche David, Touche.
The amount of time that I spent dealing with my boobs this week is insane. Nursing, pumping, complaining, worrying, nursing, pumping, complaining, worrying…. AHHHHHHH!!! I feel like a big fat BOOB! (And I'm watching the BOOB TUBE while dealing with them… oh boy… I'm a moron: Refer to Silly Putty Brain Post.)
So let's discuss:
Real Housewives of Miami:
This show actually makes me hate Miami. Christi and Larsa think they are "celebrities" and are WAY more famous than Lea. Miami must be a really small town, because who the HELL cares about these people? NO ONE. Fame hunger is all over these women's greedy faces… Its revolting. Sadly, this is pretty much exactly the feeling I get when I go to Miami. Everyone sitting at the Setai's beach has that exact same attitude. DONT YOU KNOW WHO I AM? IM REALLY REALLY IMPORTANT. YOU BETTER BELIEVE IT. No, Im not staying at the actual hotel, but I totally deserve a lounge chair… and you best get your act together and let me go party by the pool because I am rich and important. UGH.
Adriana is interesting… but she is exactly like every Brazilian/Euro that I know… Always late: but at least fun when she gets there. And Im kinda with the artist on this one: that stunt she pulled by showcasing another artist at Marcus's opening wasnt cool. Also of note- that Marcus is lame. The fact that he even pretends he can produce 10+ pieces in 2 days is comical.
The only person I am remotely interested in is Marisol's mother. HOLY HELL. That woman is terrifying. Her face looks like a baboon's butt. "I'm a – how you say- Im A WITCH" You said it! If you were Marisol's boyfriend, how scared would you be right now? Wouldnt you take Marisol's mom as an indicator of how Marisol is going to age? She seems to be well along that path already!
And another thing: That Miami/Cuban accent "llllike, I'm really impordant" makes me thank the lord that I sound like a Jill Zarin from Brooklyn. I'll take it.
All in all, Bravo is stretching themselves way to thin. I cant emotionally invest in this many people! STOP ROLLING OUT NEW HOUSEWIVES!
Real Housewives of Orange County:
I dont feel I can adequately discuss these women since I have not been watching since the beginning. In fact, I've pretty much only seen chunks of last season and pieces of this one.
A few things I will talk about: Alexis thinks her husband is SUCH A CATCH. That makes me happy for her. But she's a tad overly-zealous/hypocritical on the religious front. She says stuff like: "Divorce isnt approved of by the bible, but I think that my friendship with Tamra will survive her divorce." HUH? You and your hub are both divorced!
Also, those scenes with her mother getting plastic surgery…UGH. I just kept imagining Heidi Montag taking her sweet mother in for some "resurfacing." Ouchy.
Tamra is T to the RASH- TRASHY. "Now that Im a free bitch" hahaha…. Who talks like that? She reminds me of Pamela Anderson.
Gretchen: Gretchen Christine "BEAUTAY" Haha.
Also- I dont get shopping parties. How much do you think that company paid for that spot? A LOT.
Also that evil eye  is some really serious stuff to some people. I know people that think the hand symbol protects you from the evil eye. A hand has 5 fingers on it- HENCE if you say the number 5 that will protect you from the evil eye. But everyone knows this, so by saying the number 5 to someone you are pretty much telling them that you think that they are wishing you the evil eye.(Like what Gretchen did to Tamra.) So in polite society, they dont say the number 5 to each other. Like this: "How many months pregnant are you?" " Im in that month" or "How many kids do you have?" "I have 2 boys and 3 girls." What do you guys think of THAT?
Also, I want to give a big fat BOO to all the Tuscan decor going on in LA. EW.
BIG LOVE:
Will someone just kill Bill  already? I literally cant stand the sight of his smug self-righteous face. I hope he ends up alone with Nikki at the end of this show. That would be adequate punishment for his hubris.
The JErsey Shore: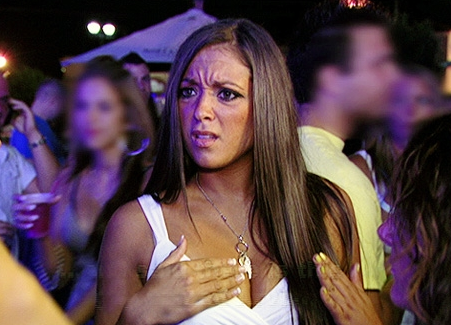 (Do you not love how Sammi talks with her hands?)
UGHHHHHH…. SAMRON is back. It really bothers me that NO ONE sticks up for Sam. EVER. Ron almost beats her to a bloody pulp- destroys all her belongings and sends her running for her life and yet everything is her fault.
"LEAVE- that's what you're good at." And "I didnt walk away from us- you did" and then finally at the end of the episode "I was home CRYING over you and you were texting another dude!"
CAN someone please tell me why and how this is wrong? Wasnt that his entire defense for his Miami behavior? "WE WERE ON A BREAK!" These two are the most annoying couple since Ross and Rachel!
No? No?
Anyway, also in this episode:
Mike cant be left alone for a second. He lets the dogs shit all over the place as a "prank." Joke's on you too Mike.
Snooki takes home an exact replica of Pauli D.
Jenni takes advice from Ron and Sammi and breaks up with her boyfriend because he  did the "dip" aka- drove away quickly when she pulled up next to him in a car. She even said we are "done." Turns out he was late to an appointment at the barber shop.
We heard the two greatest lines in Jersey Shore history:
1. Same Shit, Different Toilet- JWOWW
and
2. If this relationship continues I'll kill myself. -Pauly D. We hear ya Pauly.
I also watched Top Chef, Bethany Ever After, Million Dollar Listing…. Ack. I've become an idiot.
Also- Just to let you know- Im using Evernote to keep track of my baby's gifts. I take a picture of the gift with the card and EVERNOTE READS THE CARD!!!!! Awesome right?
What's up with you guys?
13 Responses to "This week's TV round-up."