Random stuff that I am loving these days: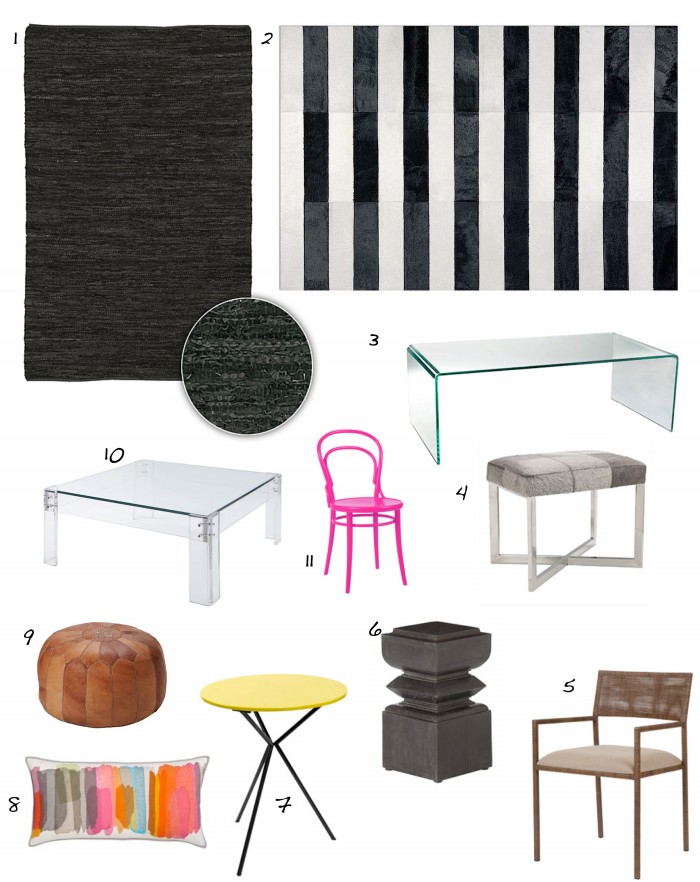 1. This rug is one of my favorite secret things ever. Its a WOVEN LEATHER RUG. So basically, its a rag rug made out of leather. But its less than $200 bucks for huge sizes like 8 x10 and 10 x 14. Amazing price for the size, plus I am in love with the texture! From HERE.
2. Also in love with this rug… Its a striped cowhide patchwork. YAY for this rug. $480
3. I also love this waterfall table. Very good price for what it is.  $279
4.Cowhide X Bench $350
5. Its on Sale! Forget it! The chair sold out in the time between when I wrote this (2 AM) and this morning! UGH!
6. Awesome carved stool $650
7. Fun side table $85
8. My fave pillow ever to come out of Cb2. $34
9. Poufs in neutral colors… YAY. $395
10. Acrylic Table $799
11. Hot pink chair- so cute for a desk or vanity, but I also love a few at a kitchen table $150