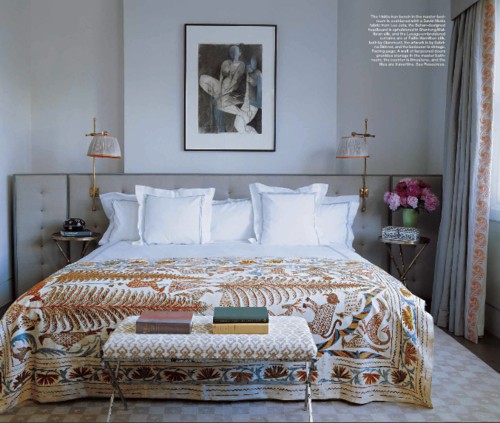 That blanket is just the prettiest thing I have ever seen. And I love the sconces, the trim on the window and how it works together. What do you think of that screen headboard?
Im pretty much putting myself on bed rest so I have beds on the brain.
Also, so many of you posted photos of my apartment from Rue Magazine on your blogs! THANK YOU! I love it! It is bizarre when I click over to someones blog and see the bed I am snuggled in, but it is so flattering and very much appreciated! So Thank You!
(You can see all my posts on Rue, including my sources HERE, HERE and HERE.)
One blogger  did a "Get the look" post about my apartment… Very strange for me, but it's a good one! HERE. She did this before she saw my source list, it could have been a lot easier! I'm going to write a post next week about how I approach designing a room. I actually do some level of planning before I start…details to come.
Have a great weekend everyone!
And FYI, I am contemplating writing a Jersey Shore recap this weekend because it was just so funny!
Should we also discuss the fact that RHONY has been pushed off until Spring, because of the brand new-didnt know they existed- Real Housewives of Miami? Thoughts on this? I was ready for the NY ladies…