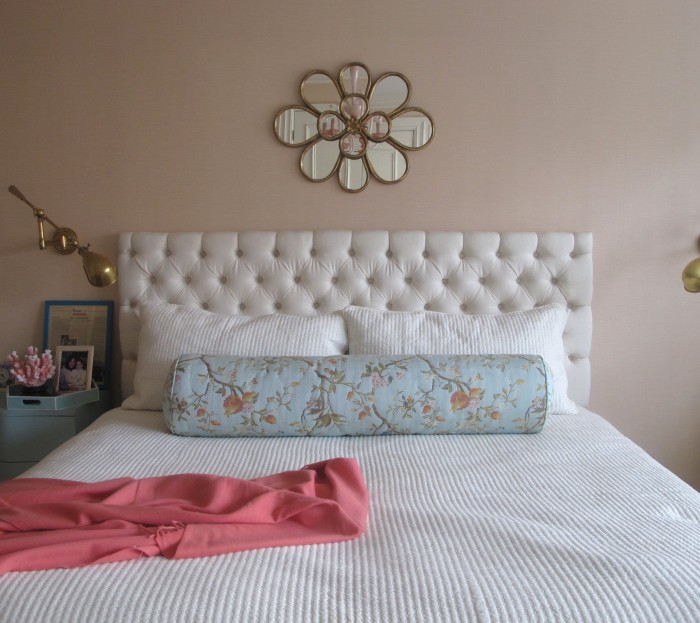 It was over a year ago that I started working on my niece's bedroom. She threw out her existing furniture(basically just twin headboards that were past their prime) and we started from scratch except for the wallpaper, rug and light fixture. My nieces HATED that everything in her room was peach. HATED. She wanted a change, but we didn't want to rip up her wallpaper and rug. So we decided to add in the robin's egg accent color to give the room a little more life.
We ordered everything rather quickly, but in the world of design, sometimes things go wrong. The first headboard that came in was a mess. That mirror that you see hanging above the bed- came with improper hanging tools and broken the first time! Basically… things just take a LOOONNNGGGG time. And I havent been such a nut about photographing this place because- a. its in brooklyn and its a pain for me to get there. And b. I still have to style the place. I really want to show you the desk area, but between the fact that I didnt hang the art yet – and that my niece is a normal and studious teen who uses her desk (and wasnt home today) I couldnt really move her stuff to take pictures of it. So that part will have to wait!
I wanted to show you what is done… even though its not picture perfect just yet!
We used the same fabric from Baranzelli (A silk surplus store in my area) on the custom roll on the bed and on the chair from Bungalow 5. The chaise is from Jonathan Adler, but we did COM with another fabric from Baranzelli. She already had the pillow on the chaise.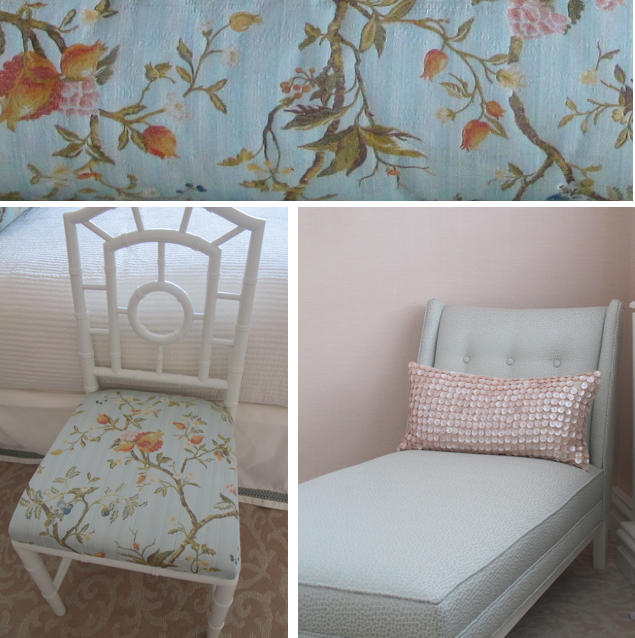 The nightstand is from Bungalow 5, the bedding is from Home Goods, except for the roll- which we made- and the throw, which I bought on sale from WS Home.
I swear I would show you the desk area, but the art isnt hung and its piled high with books.
It contains awesome lucite shelves, a very cool desk and a killer lamp…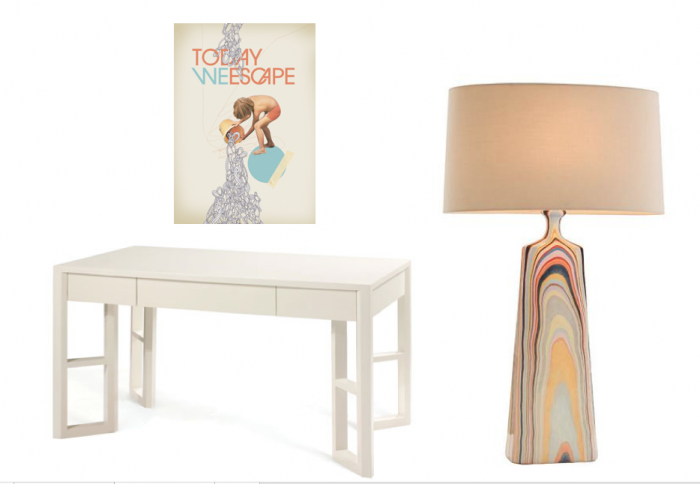 Desk is from Bungalow 5 as well, and the Arteriors Lamps is available at Clayton Gray Home HERE. Thats not the exact print we used- ours is a girl on a Vespa, not on the website anymore- but tis the same color scheme and its from the Urban Outfitters Print Shop. Its still not framed. Boo. The mirror is the Lilly Pad mirror and its available at Modern Dose.
I hope you enjoyed the photos and if I can ever get this room fully pulled together I will post more pictures!
27 Responses to "One of my first projects ever… My niece's bedroom."