Last night I chose real human interaction- dinner with friends over live watching of the RHOBH Finale AND a new episode of Jersey Shore. Crazy isnt it? So thats why this recap is coming now instead of at 7 AM.
Anyway, this episode was structured like so many other Bravo episodes. Boring light scenes building in a crescendo that culminate in one set up scene that causes more ruckus and drama and in this case- created more questions than it answered.
Here is some of the stuff going on:
1. Russel is throwing a birthday party for Taylor. If you for a second believe that this wasnt BRAVO throwing the party you are nuts. Half the staff's managers and publicicsts were there. (As well as Mauricio's mother, Farrah and a whole bunch of other weird people that should never have been invited to Taylor's birthday party- but were invited to the wrap party!
2. Kyle goes to a psychic and brings her mother's ashes and a lock of her hair in a box: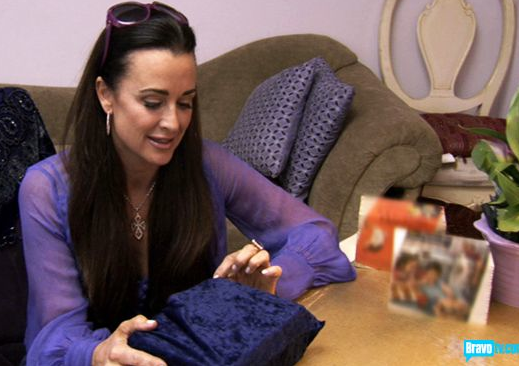 UM. WTF Kyle? This sheds a completely new light on the whole Allison Dubios dinner scene. I thought Kyle thought all psychics and mediums were bullshit- BUT NO! She actually has her own- She just thinks Allison Dubios is a moron? I need to rewatch those scenes to determine if Kyle was just being a bitch to Allison. Why would she be so fascinated with Allison's job and beg her for a reading like that if she actually thinks there are such things as real psychics and mediums? That whole scene with the ashes and hair made me think Kyle is slightly more crazy than we give her credit for.
3. Taylor gives away Snowball as a trial. She and Russel are going to Mexico to "work on their marriage " and have an open and honest talk about things… The Snowball thing is the only loose end that was actually put to bed nicely in this episode! (Also, does that vacation to save the marriage thing ever really work?)
4. Lisa is fascinated with Taylor and insists that she and Kim "clear the air" and "put this thing to bed". I dont get it. Everything seemed like it was already put to bed and Lisa is not the type to stir up trouble- so why was she encouraging them to talk? Is she just that jealous of Kyle and Taylor's relationship?
5. Cedric is thirty  seven years old?!?!!?!?!? I thought he was 32-33 max. And after hearing the lame excuses roll off the tongue again and again I think he is a shiester. I mean "Its not the house, its that for the first time in my life I feel par of a family"  and then " But Cedric- even if you were one of our kids you wouldnt be living here anymore!" "Why not? You know Italian families keep their kids at home until they are 50!"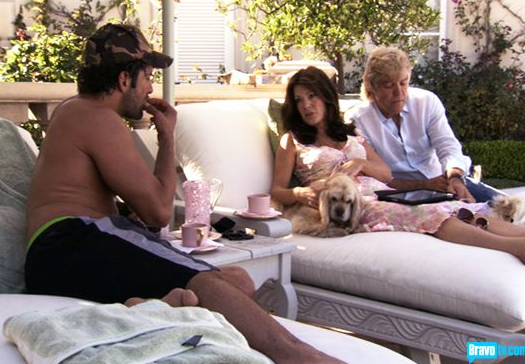 "Aren't you going to forget about me if I leave you? Out of sight, out of mind?"
HOLY CRAP Ced…. this is complete bullshit. I dont believe your tale of woe anymore. You are just pushing it too far.
6. Camille and Kelsey: Camilles scenes consist of one coversation between her and DD in which I feel seriously bad for her. In it she describes how cruel Kelsey was to her in NYC, treating her badly and ignoring her as she stood by his side, leaving her room in the middle of the night, and the worst part- keeping the other woman at their apartment in NYC, to the point where she needed to show ID to the doormen to prove she was his real wife so they would let her in. That is heartbreaking.
Seriously, no woman deserves that. Really. And in that conversation she drops this bomb with all sincerity:
"I believe in my heart its a woman." And DD nods. YIKES.
She talks about how she begged him to stay for the sake of the children and I genuinely believe her. I cant imagine how hard breaking up a family would be on young children. Especially when you are the mom and you are on another coast left to pick up the pieces while your husband has an affair with a woman who is 30 years younger than he is!
So for the first time ever, I sympathise with Camille. And its mostly because in EVERY SCENE that Kelsey is in, he is truly despicable. He seems SO COLD, SO SELF SATISFIED and just so SELFISH. Clearly his life and their life HAS been all about him for the past 14 years. And so Im starting to see why Camille has her guard up like this.
Also- I have to add this: You know the statement… show me your friends and Ill tell you who you are? Well the same holds true for marriages. If one person is awful, chances are the other person is not that lovely either.
Anyway.
NEXT:
7. At Taylor's "birthday party" in which she recieves the most awful toast from Russel… she also decides to confront a visibly-off Kim. Kim has shown up to the party with a strange foreign girlfriend in tow. (Once again, she didnt get the memo and dressed inappropriately for the event- TOO DRESSED UP.- In fact, Adrienne and Kyle are also two of the least stylish people I have ever seen on TV. What is with Maloofs hair? And on WWHL her face looked SO EFFED UP! And Kyle and her ugly clothes… UGH!!!! OH and earlier in the episode we had to watch Kim learn how to put on make up. That was the most boring 10 minutes in housewife history!)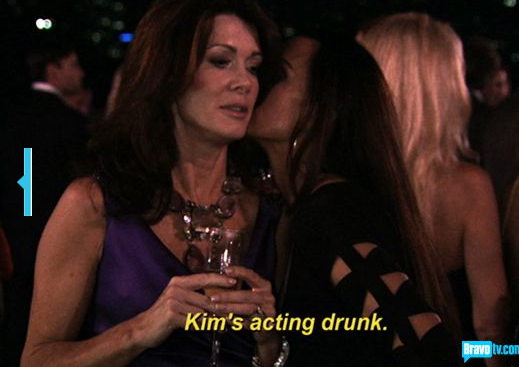 Kim seems off.. and as the night progresses and Taylor confronts her- something I cant believe she did at her own party – Kim starts getting all crazy, defensive and it turns into quite the scene. The entire party is standing around watching these woman scream at each other. (Which is why they all came- isnt it?)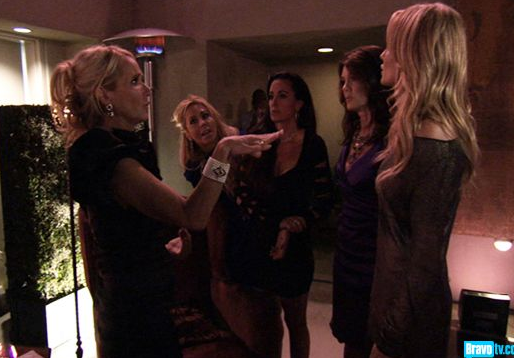 The main focus of the fight is now between Kyle and Kim, and its obvious that there is something that they are not telling us. Kim escapes the party, is followed by Martin (OH THAT POOR POOR MARTIN!) and Adrienne and eventually Kyle. They start driving around in circles and letting off steam. And in that car- Kim and Kyle let some real doozies fly: Mom had to die and leave you on me! Kim: I bought your house (is that what Kim said?) Kyle: My husband has taken care of you like a second f*cking wife!!! And last – you are an alcoholic!!!!!!! Get help! Im sick of your shit! AND- WE are done- we will not take care of you anymore!
AND Kim is left in the backseat of a limo crying alone.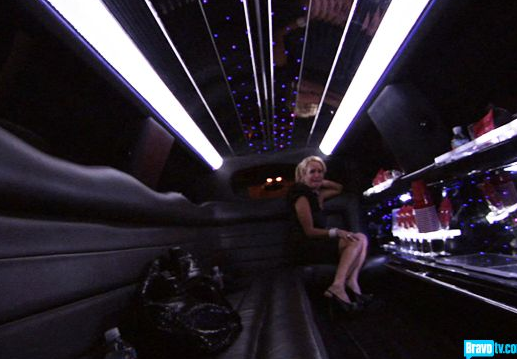 This was so brutal I couldnt even watch. On one hand- Is kim an alchoholic? She is a bit loopy and she constantly seems like she is about to break down, but is she really an alcoholic? I DONT KNOW.
And second- is Kyle way too mean to her? If she is an alcoholic and she does constantly get involved in "antics" as Kyle called them, I could see Kyle being sick of it. It seems like Kyle is the "cool" sister and she hates having Kim around being a wet blanket all the time. Its all so high school. So I see that Kyle could be sick of all this shit, and pretty pissed that Kim is even on this show with her and ruining all her fun.
But I have to say- in this situation, Kim really did seem picked on. I dunno. Im sad for her.
I found this episode to be really sad and I cant wait to see the reunion so we could get the truth. In the closing statements it says that Kim's family checked her into rehab and that she checked herself out after a week. So maybe she really is an alcholic?
Also we learn that when Cedric moved out he and Lisa had a huge fight and that they havent spoken since. OUCH.
Very sad. Cant wait for next week.
Thoughts?
{Also, dont forget to enter the Clayton Gray Home Giveaway, you can win a fabulous mirror. Enter by leaving a comment HERE.)