So, I never planned to write recaps of this show because I never planned on watching this show. Why? Because it happens to stink. Its not good. Equally bad is Project Runway on Lifetime. (Between Heidi's scrunchie, awful hair and terrible red carpet choices, I'm quite skeptical of her ability to judge a design show. Also, the mini-documentary commercials about "lifetime women" are a constant reminder that I should turn off my TV.)
Anyway- "The Fashion Show" is hosted by Iman and Isaac Mizrahi, who have basically swapped genders for the purpose of this show… and the premise is that all the designers are split into two "houses" who then have to create  a cohesive collection that they present in "The Fashion Show." To the winner: Congratulations, you have created the ultimate collection. To the loser: YOU. Are out of fashion.
Basically this show has been puttering along weekly, with some good designs, but mostly really boring and crappy ones. Isaac refers to them as "sale rack" and I think that is a pretty apt description of almost everything I have seen these designers produce, with a few exceptions.
One house- the House of Nami- has one about 90% of the challenges. Last week they threw out one of the only competitors who consistently made pretty clothes…
There is one designer named Calvin who is such an asshole that everyone repeatedly votes him off every week, but producers keep him around to stir the pot. And also, he makes avant garde clothes.
This week, I was literally in shock when I saw how crappy the House of Emerald's clothes were. SHOCK: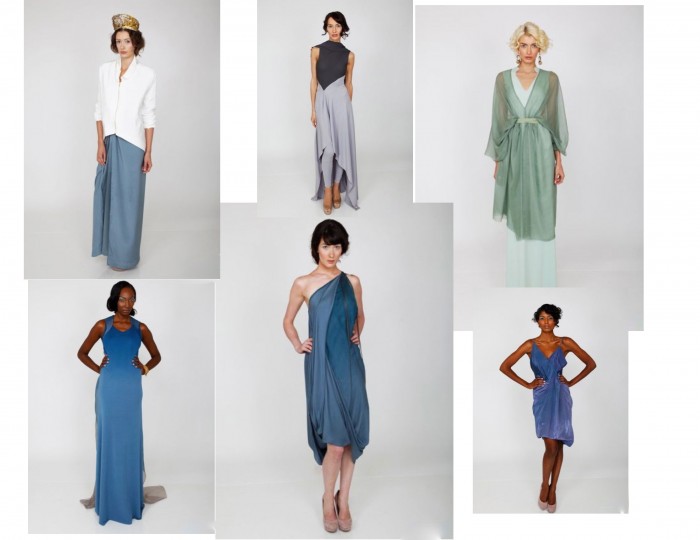 Ill fitting blazer with sarong(although the judges loved the sarong), OK dress over leggings, dressing robe from the 70′s: By Jeffrey.
Then Caesar: Boring dress, boring dress, boring dress…. I love that they are all hand dyed… but they look like any random BCBG collection.
Now lets look at the House of Nami's collection: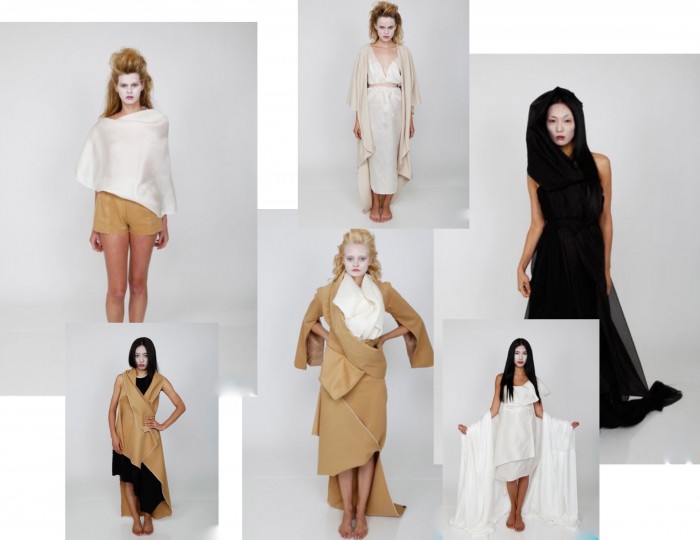 Forget that this is
my favorite color palate
… The challenge was about representing the elements: air, water and earth… UGH… How literal and boring is making your "final" collection before the finale blue, green, gray and white? And making 6 long dresses? That sucks too.  House of Nami made some weird but interesting looking clothes.
At least they tried a little – Right? And if their clothes are sale rack- at least they are Barney's CO-OP sale rack?
In the end- Nami had the ultimate collection and Ceaser and Jeffrey had to go in and "fix" their most offensive design in 35 minutes. Caesar went home.
Did I just waste all of our time with this post? Not to mention the time I spent watching this show? Maybe. But I've said it before and Ill say it again- I dont really have standards when it comes to TV. Except that I couldnt sit through Skins- a show full of Jenny Humphries- UNWATCHABLE. And also American Idol sans Simon and plus JLO is making me want to punch people.
What are you watching?
3 Responses to "House of Emerald… You are in need of an evacuation!"