Thoughts on the Golden Globes.
* I got a lot of these photos from the Telegraph and I didnt put those hit or miss signs on them. I agree mostly, but not completely.
Trend #1 Emerald Green: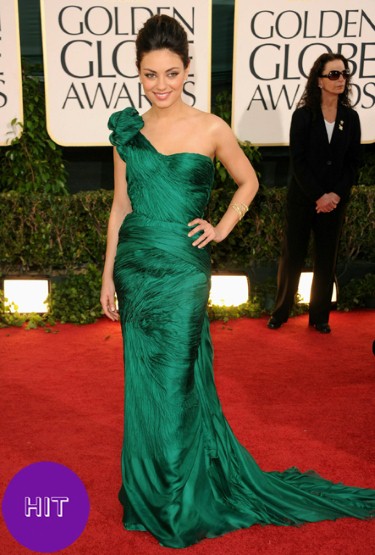 Mila Kuniz looks GORGEOUS in Vera Wang. DIE. Brunettes with pale skin and light eyes look fantastic in emerald green. (Kyle Richards has this one down.)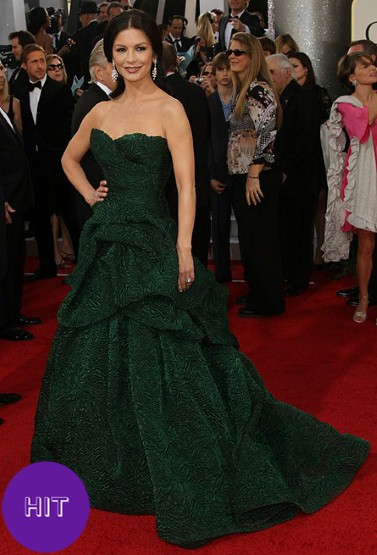 Catherine Zeta Jones… Shape is cupcakey but the color is gorgeous. Dress Monique Lhullier.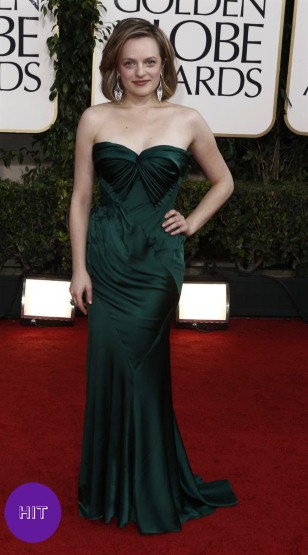 Elizabeth Moss in Donna Karen.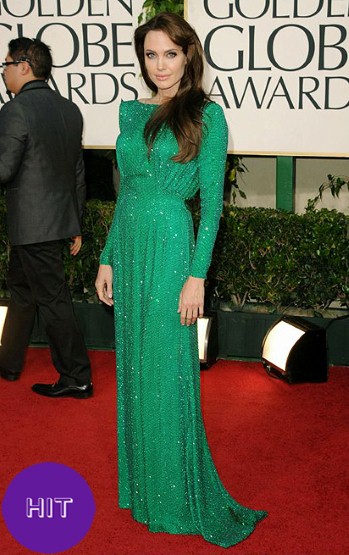 Angelina Jolie rocks it in Alteier Versace. DIE. She took last years Oscar earrings and turned them into a gown: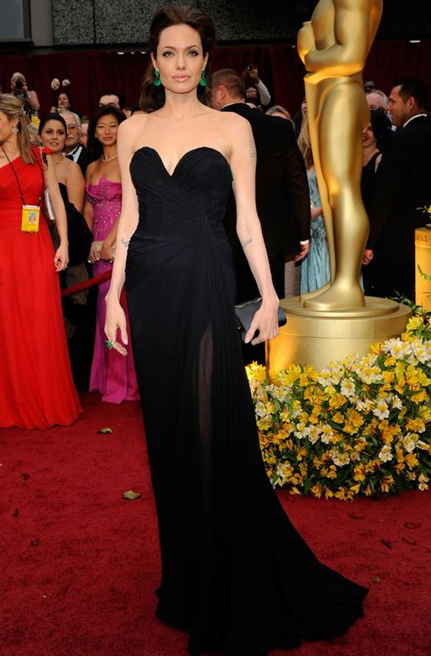 (Oscars 2010)
(PS you can get earrings like hers, the ones Kyle wears on RHOBH HERE. And they are only $125!)
She is also rocking the long sleeve trend, which works for her because she has bony and veiny arms.
Green is this year's purple: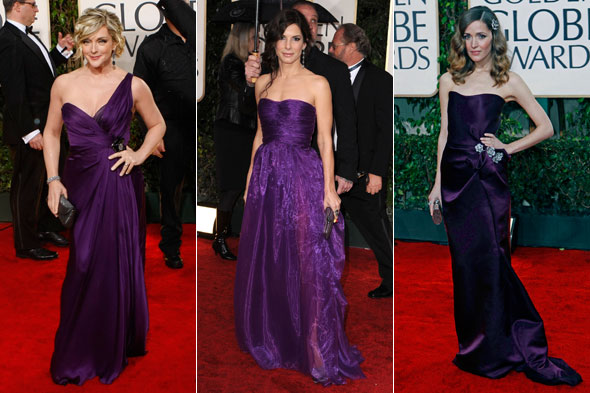 (Purple dresses from 2010)
Trend #2 Long Sleeves: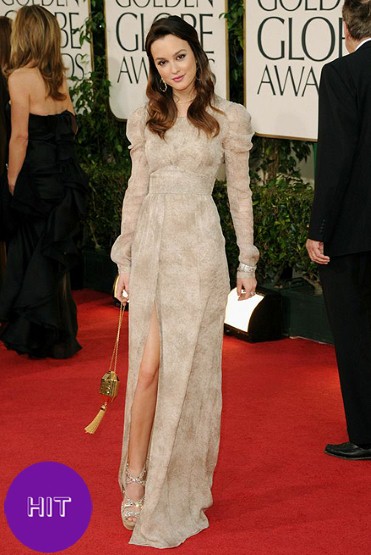 Leighton Meister in Zac Posen. The telegraph says she is a hit, but I dont think so. Too frumpy.
Anne Hathaway- Not in love with the hair, but I like her in the dress. Armani Prive. And yes, Rachel Zoe did style her.  The back: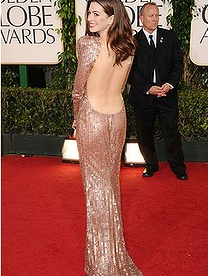 WOWZA!!!!
(Also remember, Angeline wearing long sleeves.)
# 3 Floppy half long sleeves: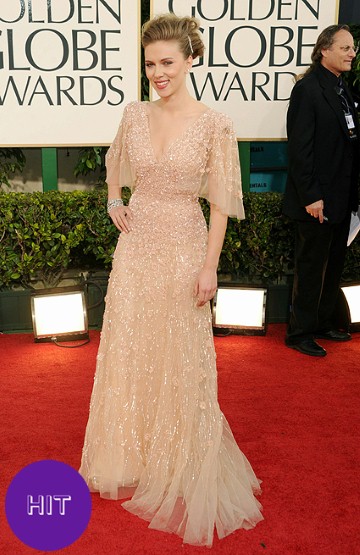 Again- I disagree with the Telegraph. Scarlet's hairdo is so lame. And if those floppy arms were cut off this dress it would have been 1000x better.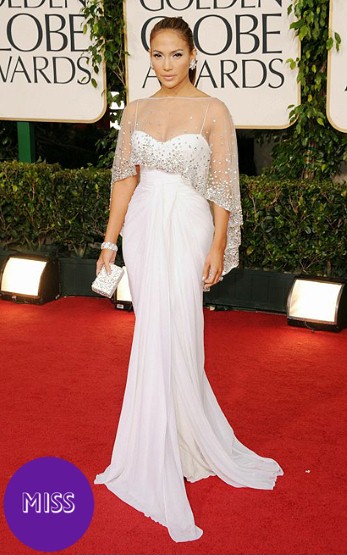 J Lo's dress is tragic. Ugh. That shawl kills it. And although I like the shape of the dress, the whole thing looks so dated. Like 1999.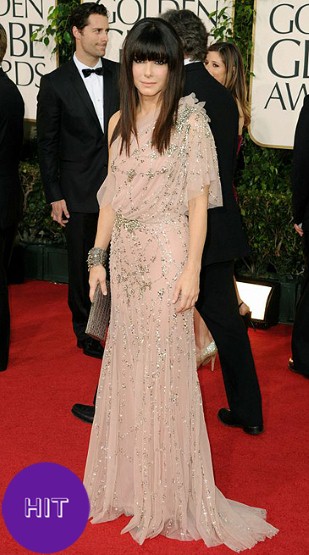 Again- I disagree with the little hit sign. I like the dress well enough, but Sandra's hair looks like a wig and she kinda looks like she is dressing up as Cleopatra for halloween. Its not just the bangs, its the way the ends were cut and blown. I also would like to see her with a little more color on her face. She almost looks goth to me.
#4 The what the hell were they thinking and they should fire their stylist trend: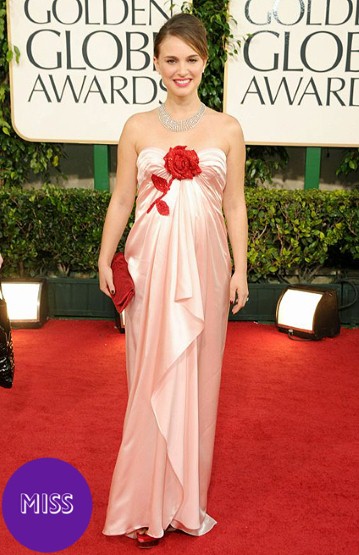 Im pregnant, and I am much uglier than Natalie, Im not nominated for a Golden Globe and I dont have a team of stylists and I wouldnt be caught dead in that dress. Forget the rose, the fabric choice is horrific. It looked bad from every angle and it wrinkled. She should have worn this: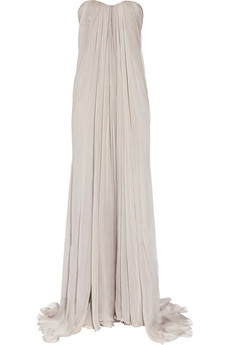 Now sold out Alexander McQueen dress that I love.
Also, perhaps worst of the evening: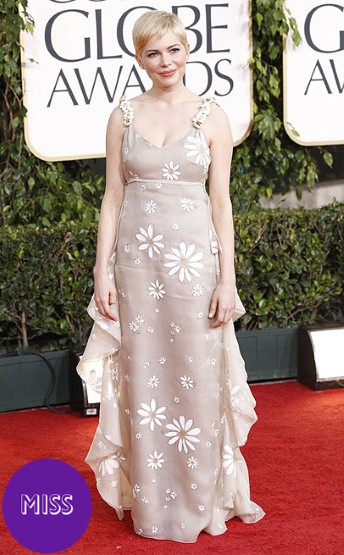 This dress is truly baffling. Aside from the fact that its January and there are daisies all over it- its wrinkled, it makes her look fat, her boobs have no support and it completely washes out her skin tone.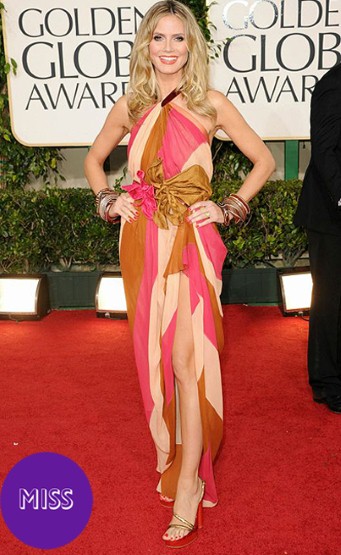 The fact that this woman judges a fashion competition is mind boggling. This dress is OK, if you are on vacation in Ibiza! But then again, she also liked and WORE this dress by Project Runway runner up Mondo Guerra: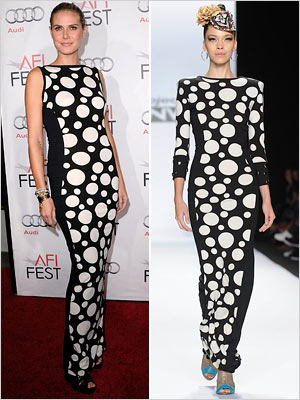 UGH.
Everything about this makes me want to know why she is still around- some ghost whispering show?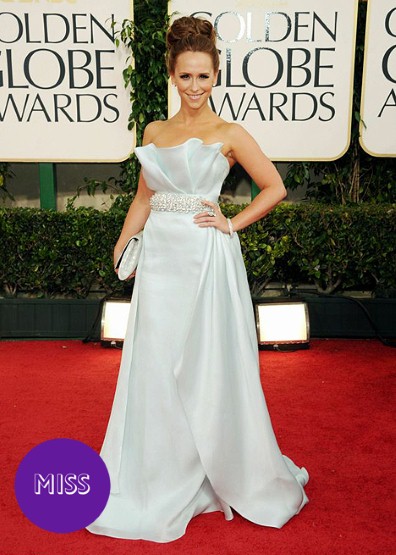 This dress is absolutely awful. It looks like a WORSE version of all the dresses I hated last year: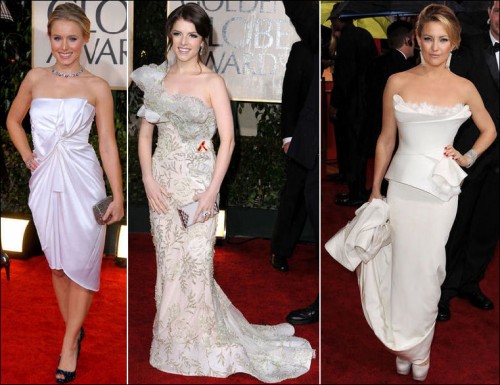 This designer Romona Keveza is a bridal designer. BAD choice.
Im on the fence on these looks: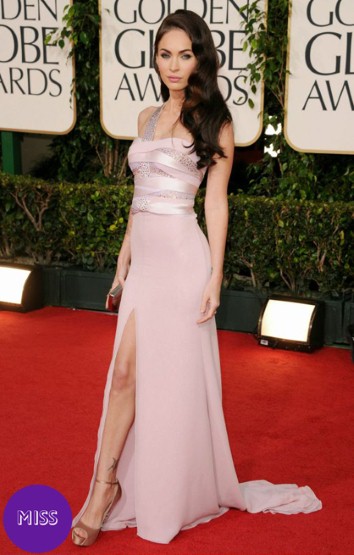 Megan Fox obviously doesnt look BAD, but the dress is just a little too prom for me.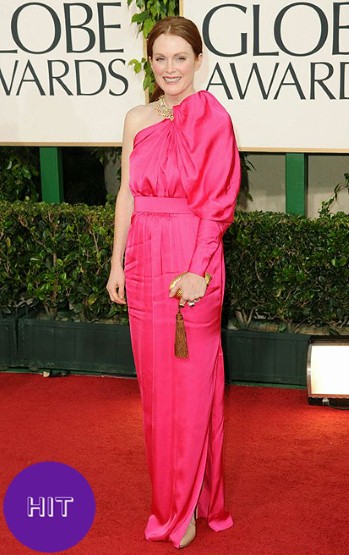 Julianne Moore in Lanvin. What's with the wrinkled trend tonight? I love the dress, but I hate that its so wrinkled. Really. And I dont think a necklace is ever necessary with a one shoulder dress.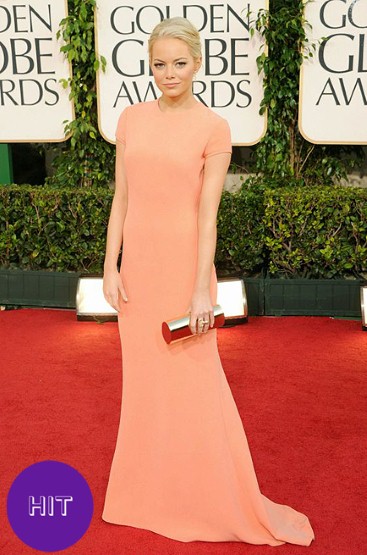 Emma Stone in Calvin Klein. Ok I LOVE the dress and I think she does look beautiful, but I think she needs to go back to her auburn hair color. She looks so much older with that bleach blond hair!
Torn on this one. Claire Danes looks simple, sophisticated and chic in this Calvin Klien, but I would have liked it a little better if it had a drop of a twist to it. It also makes her frame look SUPER boyish. She does look beautiful though. But I just wish it fit a tad differently. Reminds me of Cameron Diaz's Chanel dress in 2009, except I liked that much better: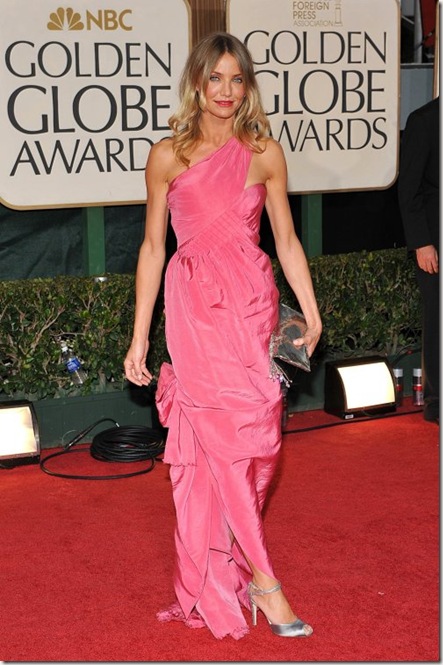 The didnt someone else wear this last year dresses: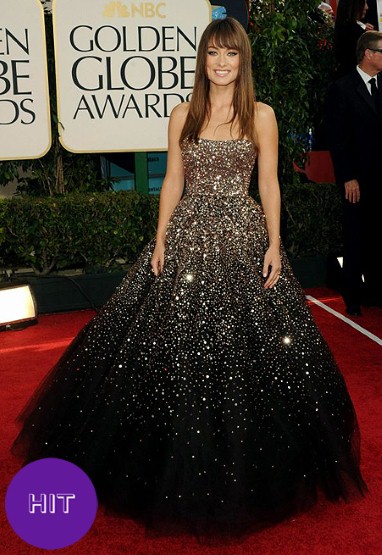 Olivia Wilde in Marchesa 2011.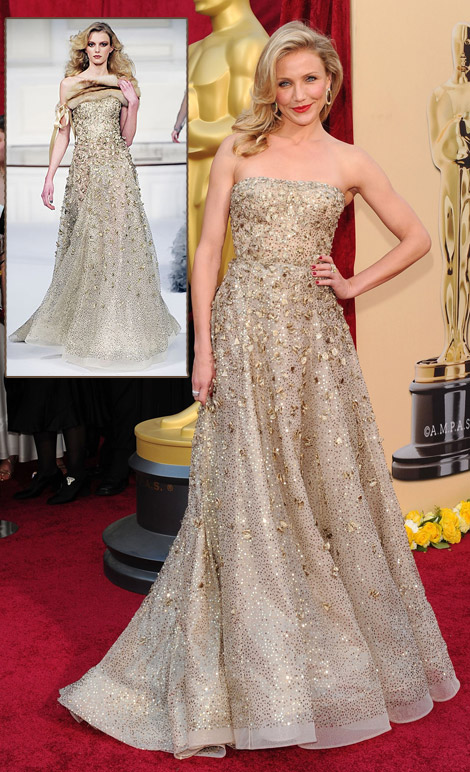 Cameron Diaz in Oscar de la Renta, 2010.
Also: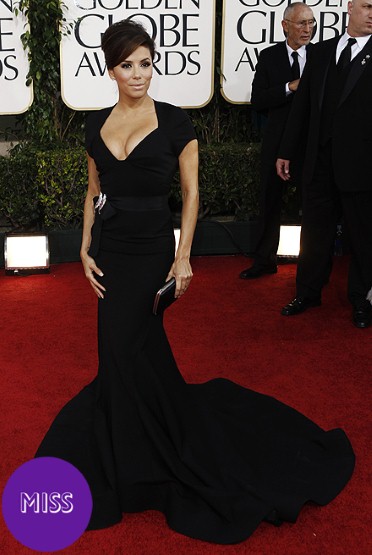 Eva Longoria in Zac Posen. Where did those boobies come from? There is such a thing as too much cleavage and too much puddle and this dress has both.
Reminiscent of Mariah's Herve Leger dress last year: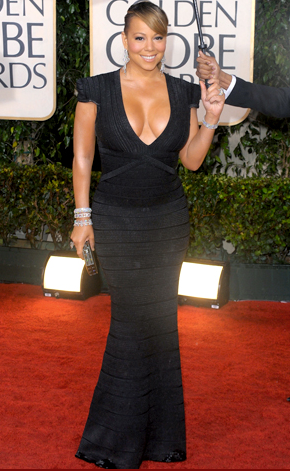 I actually like this one better!
My favorite of the evening… hmmm… toss up between all the emeralds. You? Which dresses did you love and which did you hate?