I've kept you all waiting for so long on this place. Mostly because its been taking a long time!
But last week we had our big install. The wallpaper, kitchen (sans countertop), rugs, and furniture arrived.
I must add in that about 90% of the furniture was stuff that my mother in law already owned. I literally went shopping in her basement and dug through the 30 years of cast off furniture and patio furniture to find things that could work in this apartment.
This accomplished 3 things:
1. Cleared out her basement so she could store her outdoor furniture during winter.
2. Used the furniture that was lacking a purpose.
3. Saved money!
And some of that furniture was damn good! I found a Karl Springer lucite coffee table down there! (Only problem is that the mover BROKE IT! We are having it fixed… so no worries.)
This is a photo of the den… its a little man cave for my father in law: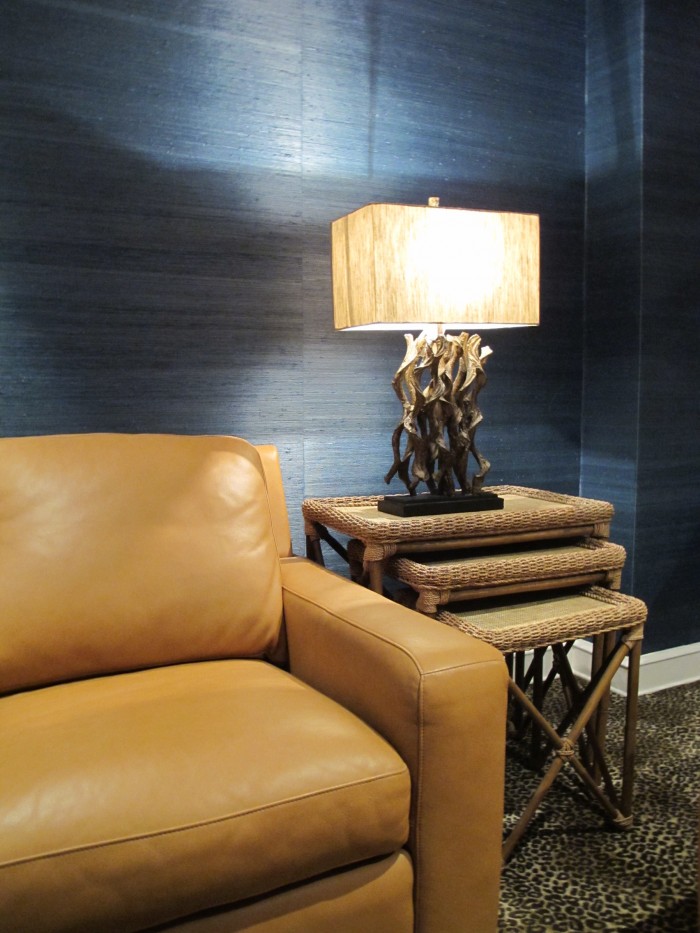 After the first grasscloth debacle (in which the contractor put all all the grasscloth without my permission and ruined the wallpaper) we finally got the new batch up, which incidentally, is ever so slightly different from the first batch.
We found the leopard rug at a local remnant store. (Its not my favorite leopard pattern ever… but for the price we couldn't resist!)
The couch and nesting tables were already in the apartment and the lamp is from Home Goods.
I still have a lot more work to do to pull this place together! Pillows, window treatments, art, accessories etc…
Stay tuned for living/dining, master bedroom and kitchen!
19 Responses to "Sneak Peek of MIL's place."