Gratuitous pretty room pics that have nothing to do with the ramblings below: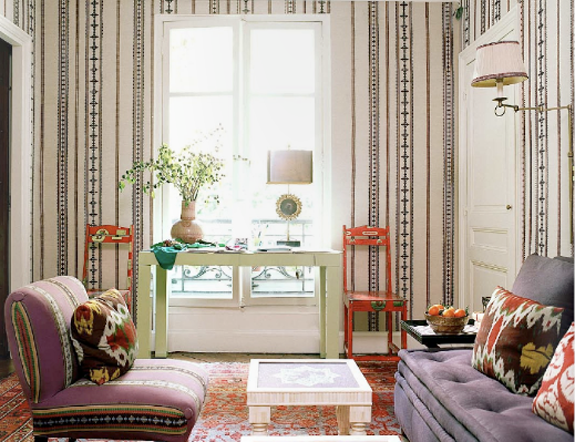 By Lisa Fine featured in Lonny…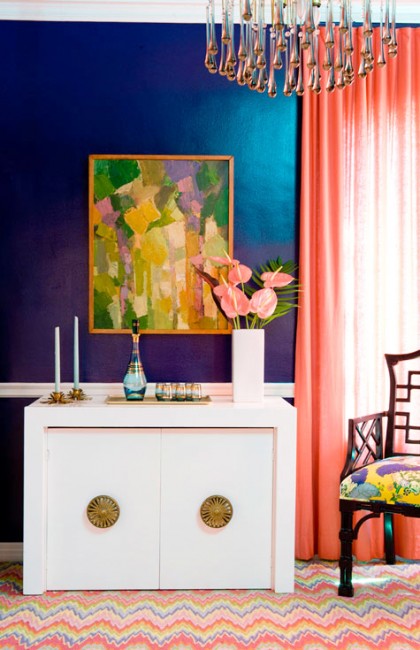 Kate Schintzius in Design Sponge… BOTH Via LGN.
Anyway… You know that itch that sometimes creeps up on you, the one that tells you to throw out everything you own so you can start over? Well that itch compelled me to do some hideous things this weekend. Like moving all my furniture almost 6 mos pregnant. I tried to float my dining table in the middle of the living/dining area and yes duh I was inspired by this apartment. So this actually could have been a really good idea…. had I thought of it 2 years ago. If I was a tad  thoughtful, I could have had 2 living rooms and a dining room instead of one clumsily laid out living room and dining. As it stands I would have to throw out almost every piece I own and start over. Not happening. Although I am tempted to start selling things and buying new things. Then again, Im also tempted to just give up and stop caring. But then what will we all talk about on this blog? Politics? Religion? (You don't want to get me started…)
Anyway, after 4 hours with the house in disarray I pushed the stuff back where it belongs. All I got out of it was scratched floors… speaking of…. regretting that I didnt stain them dark when I had the chance. My head is a mess lately, but only when it comes to this apartment. I've got the "Not much left to do here, so I'm starting to hate it all and dont want to finish what is missing" BLUES.
PS I emailed some pictures of the new layout some of my blog friends…. Rebecca June liked it but conceded I would have to toss everything I own. Nick Olsen told me to stop moving furniture, chillax go get fat and watch soap operas and Erica aka Design Blahg said "Uh, why the eff do you need two living rooms?? You have clearly been abducted by the dude who decorated the wall street apt!

"  YUP. Thank god I met you people.
Anyone else get the decorating blues?