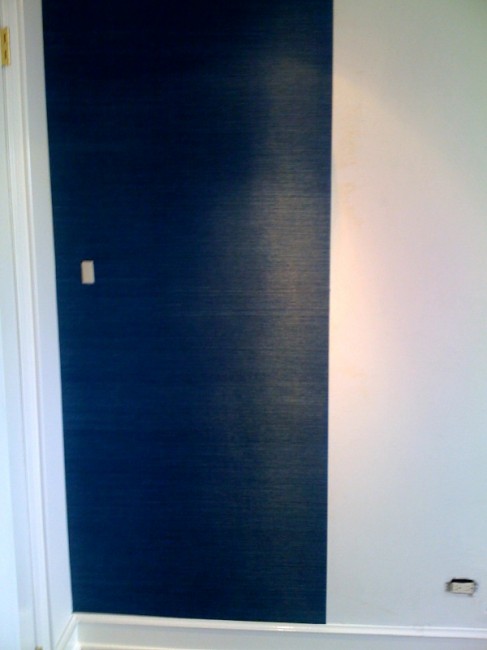 I bet you are wondering what this single blue rectangle on your screen is.
Its one strip of wallpaper.
One strip.
The contractor at my MIL's apartment started putting it up and after one strip – called her to tell her that the grasscloth is "defective" and "delicate" and that she should choose something else (its already been sitting in the box for 3 months!) because it will be "damaged." The three D's….. Apparently, this wallpaper "is missing its protective coating."
Now, I saw this wallpaper, it aint missing anything. Its just a freakin grasscloth wallpaper that isn't glossed over with anything. Exactly what I wanted.
AND, if I were installing this in a child's playroom or a kitchen, the guy might have a point. BUT THIS IS GOING IN MY FATHER IN LAWS DEN. A place where, I assure you, there will be no painting, no coloring on walls and no food fights.
"What if he is eating potato chips and touches the wall?"
These are questions I have to deal with. For real, people. I'm not kidding. Those words were spoken aloud.
And btw, my grandma went to check on the wallpaper for me, and she took that pic with her iPhone and emailed it to me. Go GRANDMA! Grandma said it was FINE. AND just FYI, Grammy has had the same grasscloth up for the past 40 years!!!!!!! My sister in law went too and also approved it- (Hi Renee!)
I can do a photo gallery of all the pretty grasscloth paper installations in the world, but I'm too pissed. I'll just show you one: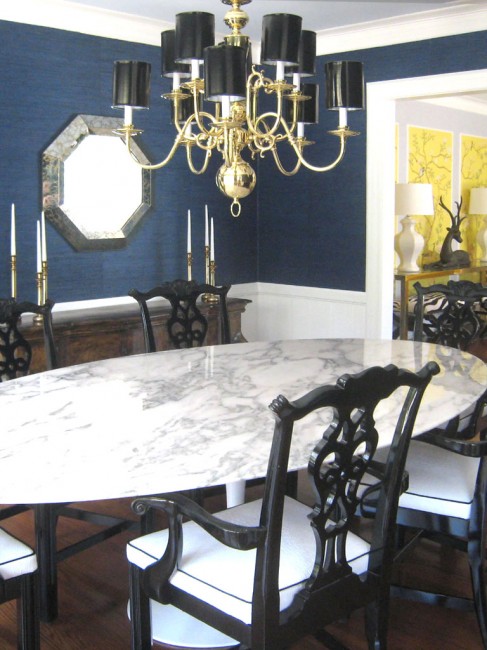 The Maison21 designed dining room using navy grasscloth. (Ours is a bit more peacocky… but you get the idea!) Just imagine how DAMAGED this paper is by now!
So this kind of crap is what makes decorating hard. Picking stuff out is easy.
9 Responses to "A word about grasscloth."