By Erica of Design Blahg.
I've lived in Brooklyn for almost five years now and I LOVE, LOVE, LOVE IT. Well, mostly. I hate Williamsburg and I h-a-t-e the whole hipster, Urban Outfitters to the miggity max vibe of that particular sub-segment of the population. I *know* you know what I'm talking about. This annoying couple from the recent New York mag home issue is the perfect example. Neo Victorians, my ass: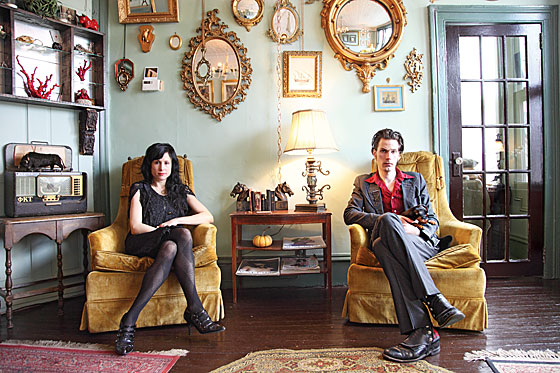 (Photo via NYmag.com)
Between the old radio, the creaky ancient floor that's been finished 9 times and the ugly-assed chairs that were probably picked out of the trash, I want to punch both of these people hard…in the face.
Girl World Design has waxed poetic about hipster decor before:
Thing is, "hipster" is one of those words that has been so overused, it sort of means nothing anymore. I mean, I could maybe be a hipster? Who knows. And, true story: there *are* lots of hipsters in Brooklyn, but also there is all sorts of cool design shiz. And if you dig Manhattan, chances are you'll dig Brooklyn even more.
I'm def prejudiced, but I kind of think my nabe, Park Slope is one of the prettiest in Brooklyn. We have gorgeous old Brownstones that make you feel like you're on an ep of the Cosby Show: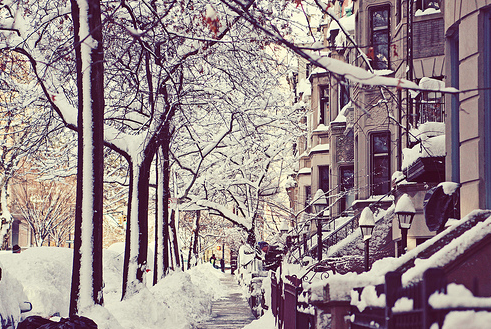 Beautiful little, chic cafes, and adorable little stores. 8th Avenue and PPW are sort of like the equivalent of Park Avenue on the UES in Manhattan. There are regal, old pre-war apartment buildings, beautiful trees, houses and brownstones, and of course, Prospect Park:
The funny thing about Park Slope is that people leave allll sorts of stuff out on their stoops for others to take. It's v. weird at first, but if you walk around the neighborhood, I swear you will find all sorts of cool stuff: books, kid's clothes, home items, etc.
While the architecture is mostly traditional, there is an interesting mix of styles that you'll find. Personally, I'm definitely into combo platter interior design: mix a bit of 70′s hunting lodge in with 60′s modern, anything made of lucite, eclectic artwork, and maybe an antique re-upholstered couch. So I def lean toward spaces that employ that technique, and being in Brooklyn, I especially love when someone can achieve that in a brownstone.
Brownstones are usually so staid and traditional, but some people manage to pull this out of their ass: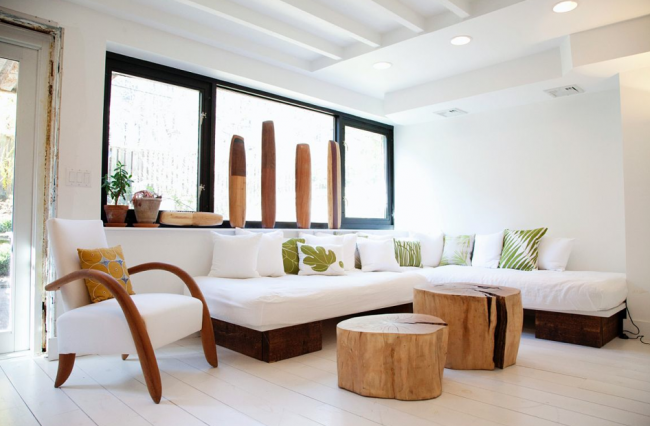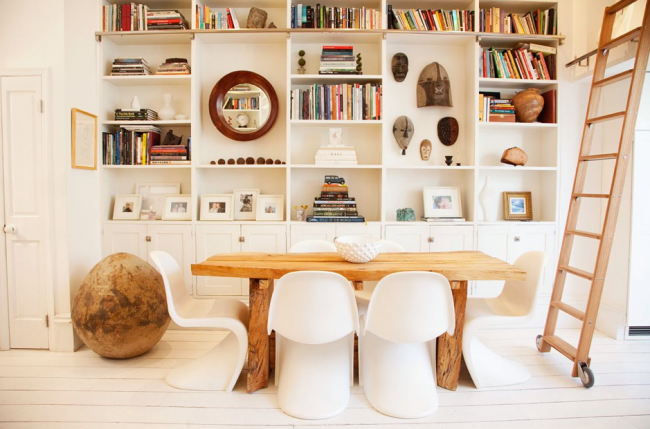 There is a KILLER greenmarket in Grand Army Plaza every sat, and also the main branch of the Brooklyn Public Library. GAP also serves as the "head" of Prospect Park.
There are also lots of pre-war buildings…like the one I live in which is just a hop skip and jump from Grand Army plaza: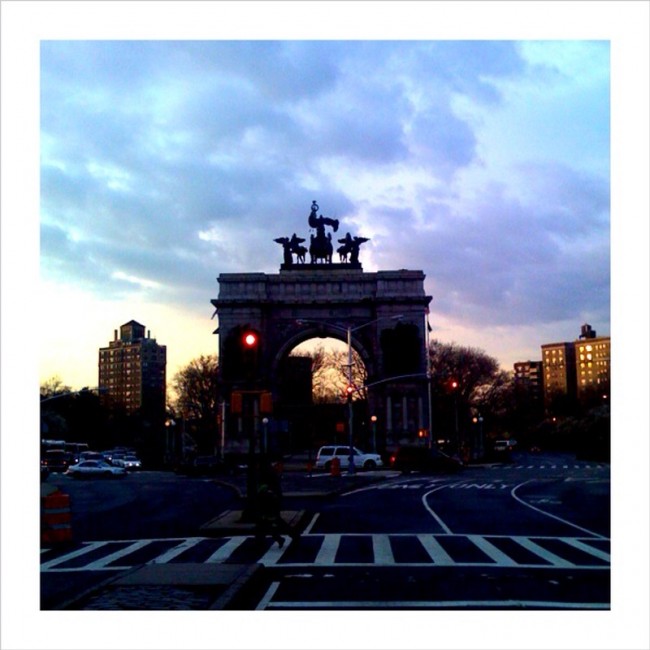 A few years ago I became obsessed with the white floors, fresh/clean sort of look with pops of color, so that's what we decided to do in our little one bedroom apartment. Here is the breakfast nook at the end of our kitchen: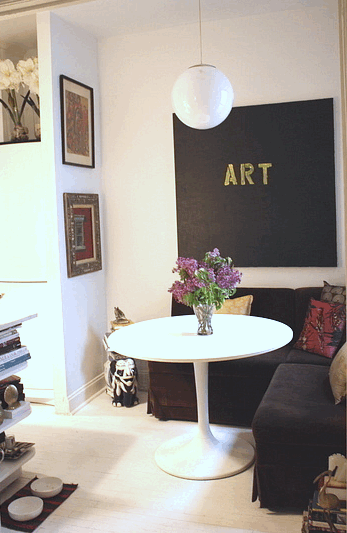 I wrote all about how our apartment was actually inspired by Nate Berkus's W. Village apt here.
I'm not as crazy about this one as the first mod Brownstone, but here's what the owner of Ricky's (an NYC beauty supply mainstay and Halloween costume outpost) did at his Park Slope Brownstone: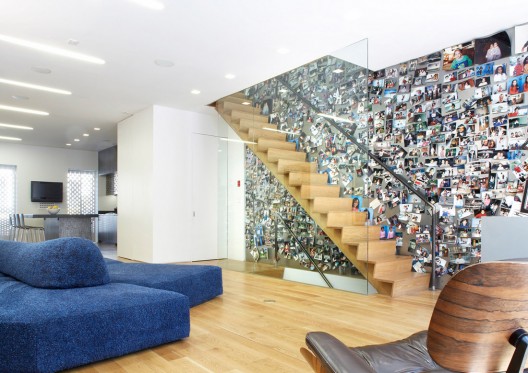 Some crazy art, fer sure as well as that cool glass curtain staircase thingy.
And here is Jenna Lyons home. She's the Creative Director at J Crew, and whoa I love her place. Her home has actually been shot for both Domino mag  AND Living Etc (can we all agree that that situation is like the twofer interior design hall of fame??). Apartment Therapy actually did an interesting piece on how each mag styled her home differently for the shoot:
Lastly, I'll leave you with the Montauk Club. This is, clearly, way more on the traditional tip, but I think its gorge. The club was built to resemble a typical Venetian palazzo and the architectural details really are stunning. In recent years this private club has actually been taken over by this hip group of thirtysomethings who have decided to re-invent and re-invigorate the joint. It's just a block or so from our apartment, so my husband and I are actually thinking of joining! I think it's a beautiful example of the traditional architecture in the neighborhood.
I took this last one a couple of weeks ago while sitting on the terrace with some friends getting drinks: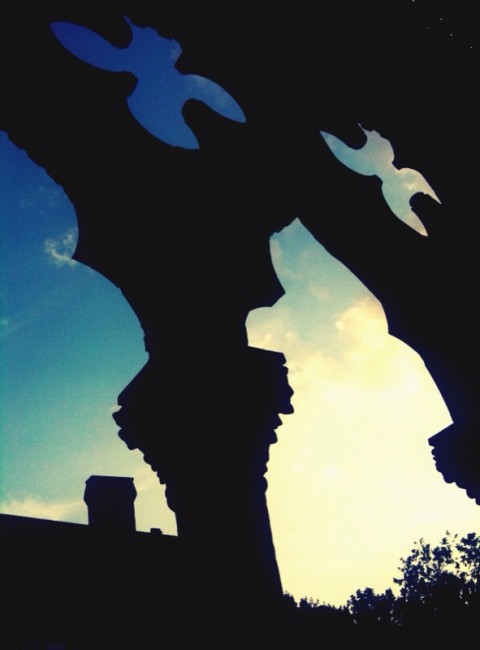 So there you have it: BROOKLYN! See, I told you we've got more than just hipsters here.
Brooklyn Design resources:
*Ork Posters (everyone has this one).
*City Foundry (great vintage store on Atlantic Ave)
*Guvnor's (killer vintage shop in Park Slope that often has decor items)
*Ikea! (that's right, we have the only Ikea in NYC…and the views from Red Hook are STUNNING)
*Jonathan Adler (has a store right on Atlantic Ave!)
*Rico (modern furniture and lighting)
*Target (ok, this might be the worst Target you've ever been to in your life, but sometimes desperate times call for desperate measures)
*Save on Fifth (the most amazing discount store in Park Slope…this is the first stop almost all new apartment dwellers in Park Slope will make)
6 Responses to "Guest Blogger/Brooklyn: Design Blahg"