By Sarina Azizo… With a side of Sketch42.
After watching last night's RHNJ episode, I've come to the conclusion that Bravo TV is actively and continuously trying to make their viewers feel better about themselves. Why else would they be putting crazies such as Danielle and Kelly Bensimon (whom I recently unfollowed on Twitter. I got dizzy reading tweets by "kikilet.") on their shows?!?! I know I feel damn good after I watch an episode. Their ploy is working quite well.(I actually think Bravo should let some of these people go. Kelly is not fit for TV. Clearly, she cant handle it. And Danielle is DANGEROUS… The woman takes threats from a 17 year old seriously and brings gangsters to charity events. )
Here are some reasons as to why I LOVED last night's episode:
1. Teresa wears a studded beret to and throughout lunch with Caroline and Jacqueline. How funny are Teresa's confessionals by the way? They're SO staged it's pathetic. I laugh at every one. (She has a vacant stare that makes me love her. She's an idiot savant, that Teresa. Read her blog, she isnt half dumb.
Read Danielle's blog too, she comes up as a total nutter.)
2. Danielle has a thrice done botched chest. But I already knew that, thanks to Nicole's link to Danielle's sex tape pictures on TMZ. My eyes are still bleeding from those shots. And those images will forever be embedded in my mind so yeah, thanks for that Nicole.(I warned you. Oh Danielle. The look on the plastic surgeon's face when she said "Nature has been pretty good to me so far" Subtext: You want me don't you. Oh, priceless.
3. Caroline cries like a baby when it comes to her children's successes. Or failures (Poor Albie, I felt so bad for him.) She's a good mom and I really like her. She's so supportive of her kids, it's adorable. (I DID NOT feel bad for Albie. I love you Albie, but the school isnt discriminating against you. EXACTLY the opposite. Its treating you like everybody else. You FAILED out, nothing more. There was no agenda. And DUH your professor is right: if it takes you 4x as long to process information, perhaps a law degree is not for you. I dont think its possible to work 320/hour work weeks. I also thought Caroline's reaction was ridiculous… Why foster that victim attitude? She needed to tell him: TRY HARDER!)
4. Ashley owned up to being a complete brat towards her mom. Finally. But I hate how she thinks she's so punk rock with her dumb beanie halfway on her head giving the "saggy" look. One word: tool.
5. Teresa hires Elvira the party planner for her housewarming event. Am I the only one who cringes every time T spends money? After that article about her and Joe's 11 million dollar debt I can't help but shake my head every time she shows off her over the top lifestyle. Regardless, I hate Elvirus. She is the epitome of tacky and her taste level is terrible. And as Teresa said: "she's a bitch!"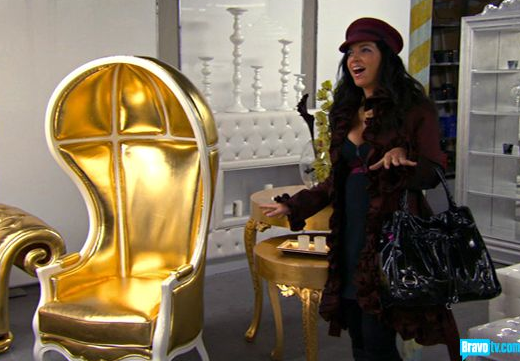 (I've actually seen this furniture at the NYIGF. Its fug. Yes, I cringe when I see her spending money on TV, and Im sure she does too.)
6. "I do it myself. I don't need live-in help." I was very surprised with that statement. Teresa's house is pretty orderly. Go Teresa! (I think I would rather take a bullet to the chest than live in a 10,000 sft mansion with four kids and no help.)
7. Teresa's doors have wings on both sides. Too much Red Bull I guess.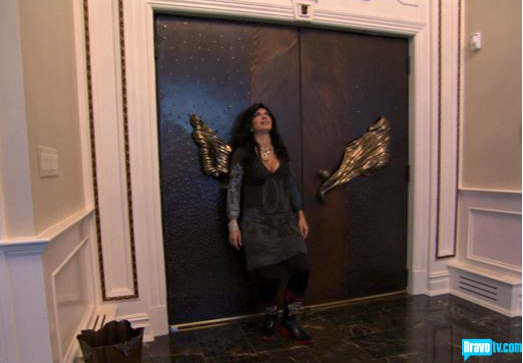 (Her house needs furniture. BAD. Where did that $150,000′s worth of stuff go?)
8. Ashley has impeccable vision. "I can see a drunk driver from like, 40 miles away." (The funny thing was the look on Jacqueline's face when she said it, it said:"Yea, I guess she is right about that.")
9. There's another Kim in the picture. Kim D. She serves mimosas at her store. Anyone wanna hit up Posche with me this week? (I hate both Kims. They are horrible.)
10. Danielle repairs her boob job at "Wayne Surgica.      ter." Nicole put it best: Danielle, why are you going to a place where the lights on the awning aren't all lit?(Oh how I wish I had a screen shot of that moment. So Jersey. I hate to bag on Jersey, but still.)
11. Gold furniture.
12. "Evelyn, aint I a nice person?"
13. Joe's party shirt.
14. Danielle's explanation of her new bubbies: "they're just….fresh."
15. Kim G and D sip out of the same martini glass. Kim D. winds up hammered. I knew she'd be a great addition.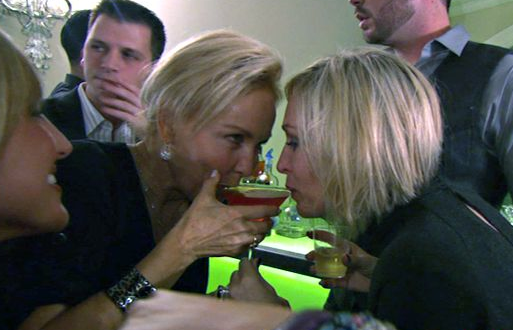 (I hate those two and I wish they drowned in that dumb glass together. Gross.)
16. Kim G's hair. It's SO New Jersey. I don't like her that much. She tries to stir up drama, but in an annoying way. Useless, let's get rid.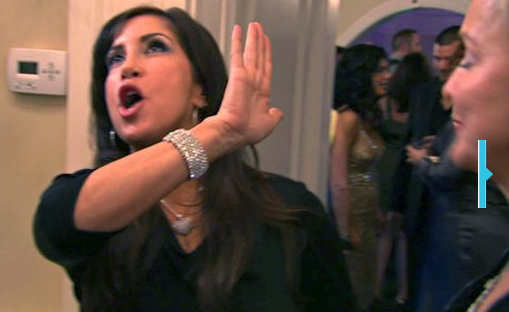 (She is so Effin OLD. And she loves to play both sides and cause drama. #FAIL.)
Did anyone watch the after show? Danielle is sooo fucked up. Like, SOOOO. Also, didn't she look crazy weird? Her nose was puffy, as were her lips. I couldn't look at her. And her tortured lullaby was just as she explained. Torture. And I think she became a lezzah.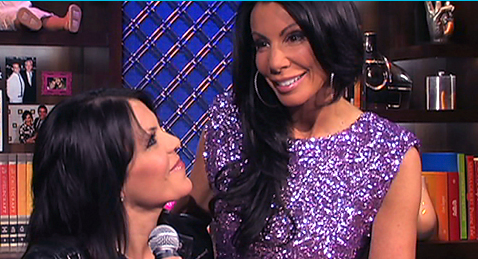 (I actually think her song is the best of all the housewives. But her lesbionics was GROSS. Not cause I think lesbians are gross, but because she is so CREEPY. Everything she does seems so devious. I think sitting in a room with her must give people the heebie jeebies. Just watching her on TV freaks me out.)
At least this show is picking up… I knew they were saving all the good stuff for after the NY season!
11 Responses to "RHNJ Recap: Cringefest 2010."