So I listed my little candle for $35 dollars. Then my MIL came over and told me that I am NUTS because its probably worth over $500.
Then Rebecca of Reluctant Floridian confirmed "It's a mystery of the modern world," she said. So I started trying to find  prices for this stuff.
What is so mysterious, you ask?
Who doesn't need $595 dollar strawberry salt and pepper shakers?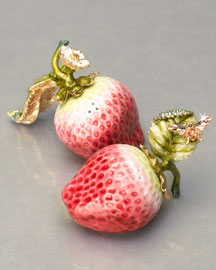 This 5″ x 7″ picture frame cost $2900.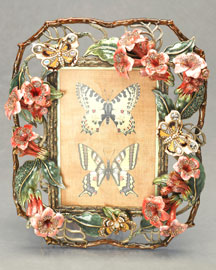 And last this $12,500 dollar table.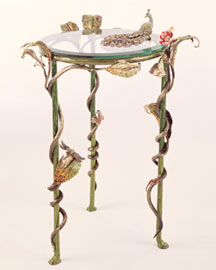 Who is buying these psychotically priced tchockes? How is this company in business? I'm blown away. I didn't even think the candle was worth $35. I wanted to throw it out.
I actually have a bunch more of these Jay Strongwater products because my first apartment was previously owned by someone who worked for them, and they left a ton of it in the apartment. I've always hated them. It erks me to have them in the house. Even though they are in the closet.
Ebay?