I made the mistake of wearing shorts to the gym yesterday, where I went to jump rope. Just a piece of advice here: DONT JUMP ROPE IN SHORTS IN A ROOM FULL OF MIRRORS. The sight of the backs of my thighs jiggling was enough to send me into a 45 minute squat and lunge fest!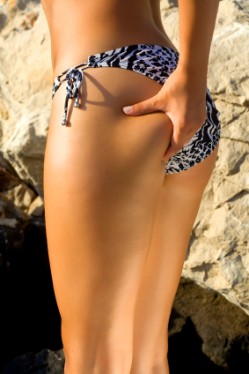 You all know I love to pontificate. I just cant resist sending my message into the world (hence the blog!) and today I decided to send my message of toned thighs to the world. Why thighs, you ask? Aside from the fact that mine scared the crap out of me yesterday, I have a few points to make on thighs. First off, I rarely ever see an offensive arm. And belly rolls are covered in most civilized societies (at the beach all bets are off). But thighs are out and about during summer, and sadly, most people dont own three way mirrors.
So rather than make shit up like I normally do, I actually interviewed my aunt, who is a personal trainer. (Not just a personal trainer, but a mother of 7, and an amazing woman with a body like a rock. My entire family is very athletic: weight lifters, skiers, marathon runners, surfers, people who give birth without epidural… I seem to be the only one who has to work really hard not to be fat!) Anyway, I asked her for some advice on how my readers, and I of course, can turn our legs and butt from cottage cheese to lean and mean. And dont get me wrong, I know I will never be Gisele. My goal is usually just to look inoffensive, and this work out routine is aimed exactly at that: How to have inoffensive, and maybe if you work at it, sexy legs.
So my aunt gave me this amazing routine. She recommends doing it a few times a week, along with cardio 3-5 times a week. She says that you should alternate these excersizes with abdominal excerzises, but let's just do one thing at a time here. Today its LEGS and BUTT. If you are interested, I will get her tips on ABS later on.
All of this is stuff you can do at home with no equipment. So now you have no excuses.
THE LUNGE:
Works the entire leg.
Beginner, use soda cans; intermediate- 5 pound weights; expert-8 pound weights.
1. Take 2 soda cans and hold them in each hand, tops facing up. Lunge forward with one leg, back leg is slightly bent and knee, never locked, the back heel comes off the floor.  Your Knee MUST NOT pass  your toe.
Lunge deeply until your chest is almost against your thigh, and touch bottom of soda cans to the floor. Push off floor and come back to standing.
(To make the exercise harder, touch the entire weight to the floor, not just the bottom of it.)
Repeat: 20 on each leg/ 3 sets.
You can alternate, by doing this out to the side of the body as well as to the back. The safest lunge on the knees is to the back.  One of my aunt's favorite death trap training moves is when she makes you do all three in a row in sets of 20, on each leg, 3 times. You will be so sore you cant squat to get on the toilet the next day. (I know from experience.)
*Tip: Dont cheat by lowering your upper body to the floor, use your legs to lower yourself into the deep lunge this exercise requires.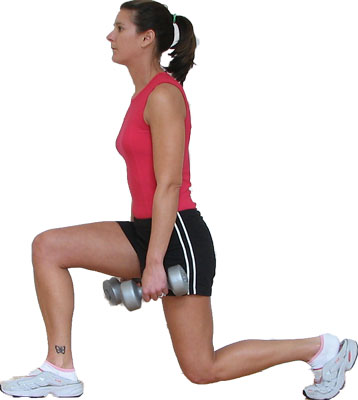 (Except when you are in the lunge, the bottoms of your weights will be on either side of your ankle. I couldn't find pictures of this on the web, but I think you get it.)
2. DEAD LIFTS -
Works: hamstring, butt , lower back.
You can use two weights, one weight or a bar and hold them any way you like.
1. Stand up straight holding your weights or bar. Keep the bar very close to your legs and a VERY flat back, lower your upper body down with legs locked or slightly bent. Keep the weights close to ur legs. Return to stand.
Repeat: 20/ 3 sets.
*Tip:  The heavier weight, the harder it is. You will get a good stretch at the bottom. Exhale when you come up, that is when you are doing the actual work.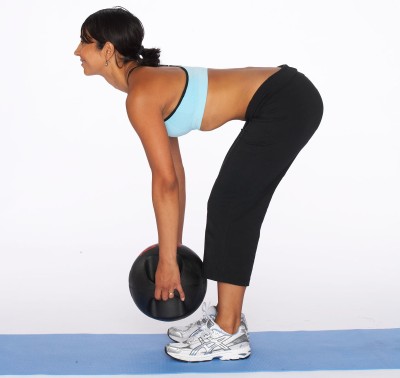 3. STANDING LEG LIFTS:
Works: The Butt
You can use your soda cans or weights.
1. Put them on the floor in front of you on either side of your right leg. Bend over and hold the cans with your hands. Slightly bend your right knee. Lift the left leg back. Return and repeat.
(Standing leg lifts are better than on your hands and knees. The opposite leg is working and the leg that is lifting behind you is working as well.)
Repeat: 20 full range, 20 slow, 20 fast at top. You can experiment with the tempo. You can use a straight leg, a kick back, or a  bent leg. You can alternate.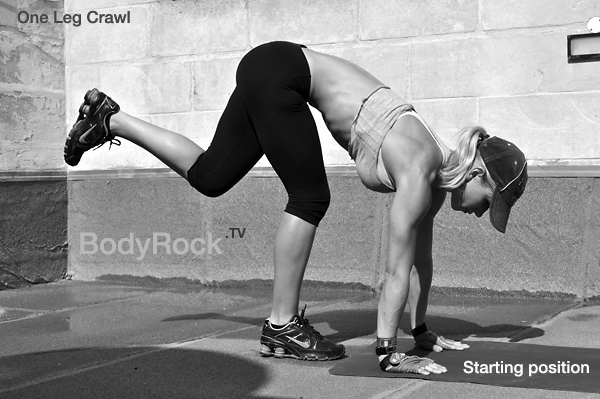 (Except you will be balancing on weights or soda cans, not your hands.)
4. STANDING SIDE LEG LIFTS:
Works: Thighs and Butt
Warning: This one is pretty hard.
1. Take one weight. Hold it in your right hand near your right thigh. Lift your right leg out sideways. Lift your leg as high as you can, ideally until it is hip level. Return.
Again, play with tempo. Playing with tempo changes the way your muscles are working and changes the exercise.
Repeat: 20 full range, 20 slow, 20 half range really slowly at top.
By holding yourself in this position, the opposite leg gets a KILLER workout on the butt and the leg you are lifting gets an amazing thigh work out.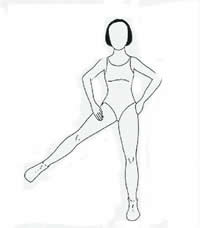 (You will be holding a weight on the thigh that is lifting.)
5. INNER THIGHS
1. Lay on your side. Your top leg is bent behind you. Bottom leg is striaght extended out beside your top leg. Your body is in  a stright line from toe to shoulder. Lift leg up from ankle to knee, lift as high as you can. Lower and repeat.
Repeat: Vary your tempo the same as above: 20 normal, 20 pulses at the top and 20 slow.
2. Next take leg diagonaly out 45 degrees in front of you, do the same thing as before. Lift and lower.
Repeat: 20 normal, 20 fast and 20 slow.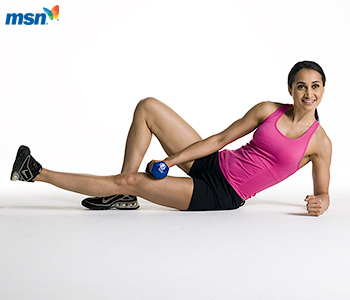 (Surprisingly, we arent using a weight here… Ha.)
OTHER TIPS: Everyone should be doing cardio. What is cardio? Well, in case you were confused (and I know some people that think walking around NYC is cardio), cardio should be a minimum 20 minutes of working your heart, 3 times a week at least, ideally 5, but definitely not 7. The secret is:  You MUST be sweating, you must raise your heartrate enough that you are slightly uncomfortable! A stroll in the park is not cardio. If you are speed walking and sweating profusely, I'll give it to you. I guess Zumba would count here too, much as I hate to admit it.
And very important: Don't forget to stretch!!!
I am going to do this today and I will let you know how it goes. I'm actually excited. Silly me.
3 Responses to "How to Get a Kick-Ass Ass."