I went to the farmer's market today…. Amazing.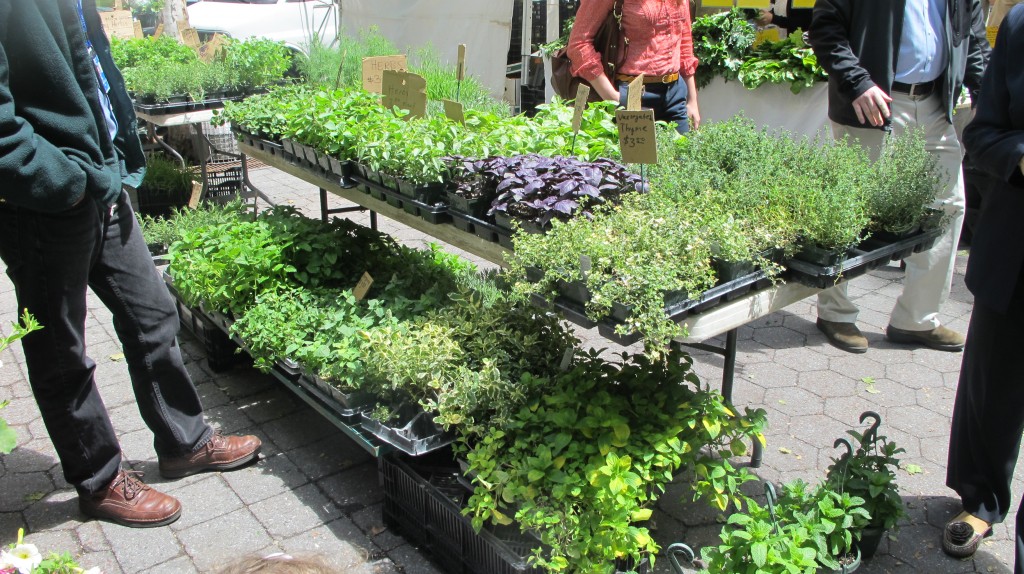 I bought all my herbs for the window herb garden a few weeks ago. They are doing amazingly well and we have been loving the fresh herbs!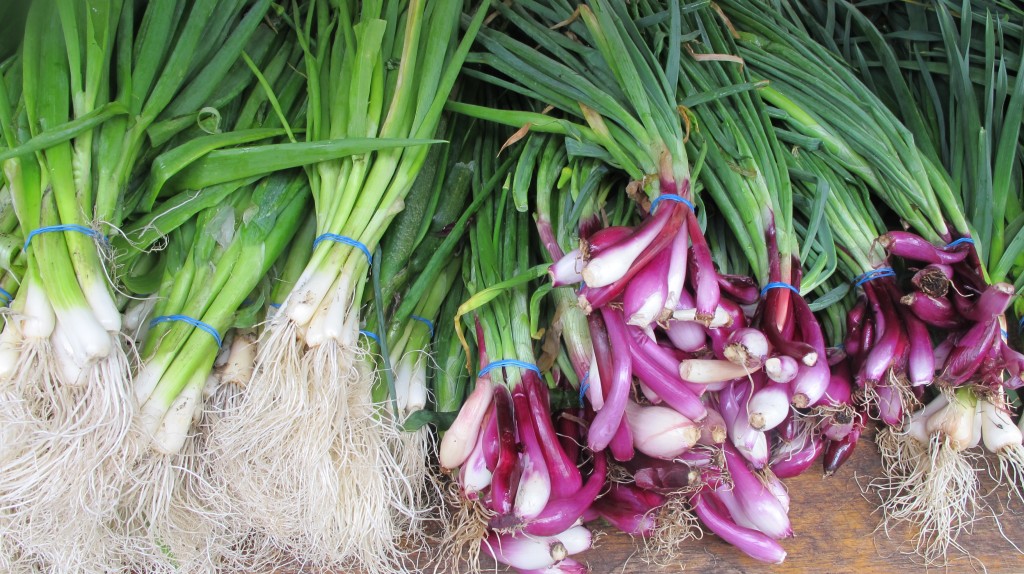 Scallions and onions… Yum.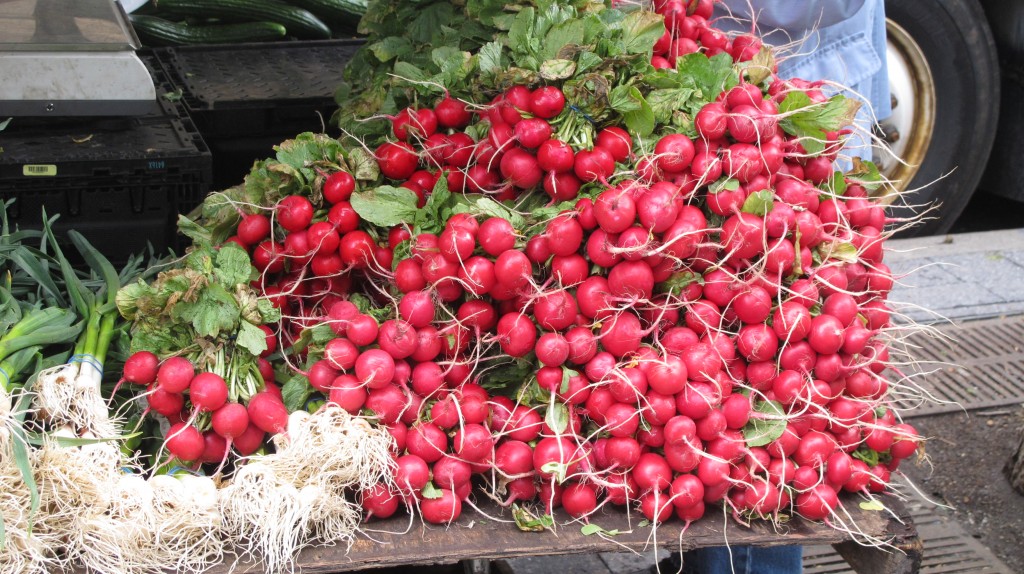 Heaps of radishes… Im going to have to look up a radish salad recipe.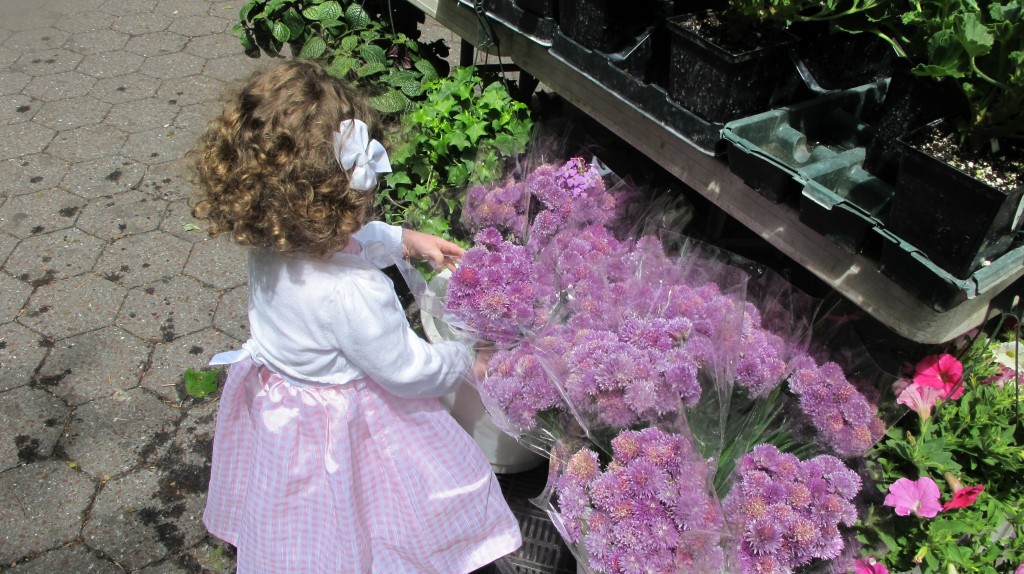 Cookie.
Asparagus was in every booth, both fat and skinny. My husband loves it (you know why and it has nothing to do with taste!) and its everywhere, so I decided to put together 4 different ways to use it: Soup,Salad, Main course or Side! I've tried them all except the soup and that's on my to do list!
Ingredients
1 pound fresh asparagus
3/4 cup chopped onion
1/2 cup vegetable broth
1 tablespoon butter
2 tablespoons all-purpose flour
1 teaspoon salt
1 pinch ground black pepper
1 1/4 cups vegetable broth
1 cup soy milk
1/2 cup yogurt
1 teaspoon lemon juice
1/4 cup grated Parmesan cheese
Directions
Place asparagus and onion in a saucepan with 1/2 cup vegetable broth. Bring the broth to a boil, reduce heat and let simmer until the vegetables are tender.
Reserve a few asparagus tips for garnish. Place remaining vegetable mixture in an electric blender and puree until smooth.
Melt butter in the pan that was used for simmering the asparagus and onions. Stir while sprinkling flour, salt, and pepper into the butter. Do not let the flour brown. Allow the mixture to cook only 2 minutes. Stir in remaining 1 1/4 cups vegetable broth and increase the heat. Continue stirring until the mixture comes to a boil.
Stir the vegetable puree and milk into the saucepan. Whisk yogurt into the mixture, followed by lemon juice. Stir until heated through, then ladle into bowls. Garnish with reserved asparagus tips. Sprinkle with Parmesan cheese if desired.
My Own Asparagus Quiche
Ingredients:
1-2 Bunches of Asparagus, trimmed.
4 Eggs
2 cups of grated Munster cheese
1/3 cup grated Cheddar cheese
1 tsp Cumin
Salt and Pepper to taste
1 unbaked pie shell (if desired).
Directions:
I make this asparagus quiche all the time, with and with out a pie shell… And its as easy as pie. It's so easy because there is barely any prep work, and it looks great too. The secret ingredient is the Cumin, which brings out the taste of the Asparagus.
Trim and Chop 2/3 of the asparagus. Leave some whole to place on top.
Mix eggs, Munster cheese, Cumin, Salt and Pepper with Asparagus.
Place inside pie crust.
Arrange the whole Asparagus on top.
Sprinkle Cheddar on top.
Bake on 350 for 25-30 minutes.
Asparagus & Tuna Salad
Ingredients
Directions
Cook the asparagus in a large pan of boiling water for 4-5 mins until tender. Drain well, cool under running water, then cut into finger-length pieces. Toss together the tuna, beans, onion, capers and asparagus in a large serving bowl.
Mix the oil, vinegar and tarragon together, then pour over the salad. Chill until ready to serve.
Ingredients
MARINADE
Directions
Put all marinade ingredients into a zip-lock bag shake and add asparagus and marinate for 1 hour.
Cook on a hot grill about 5 minutes just till lightly browned.
Turn often.
Enjoy!
3 Responses to "Farmer's Market Asparagus 4 Ways"