If you have been watching 9 by Design on Bravo,  which I am sure you all have, then you know that the husband wife self taught design team  Sixx Design comprised of Robert and Courtney Novogratz have 7 children and work together designing and flipping houses.  If you tuned in this week then you know that they moved out of the 2 bedroom apartment that they lived in for 3 months temporarily (Isnt there a law about how many people can stuff into a certain space? Like there is for pets?) and into this mansion on the West Side Highway.
Behold: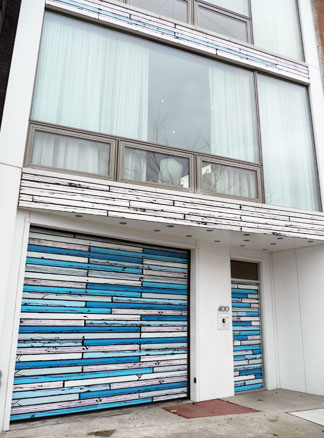 British artist Richard Woods created the eye catching 'faux bois' garage and front door. A tad cartoonish for my taste, but I do think thats the point now.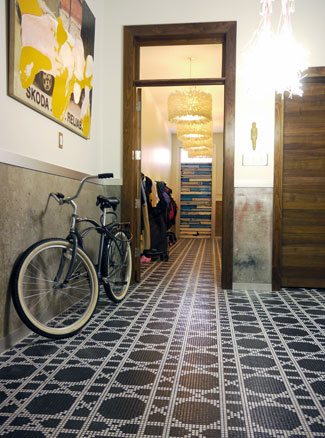 Is that bike staged? Or real? 
A chair by Frank Gehry (left) and Tom Dixon flank an oversized vintage mirror.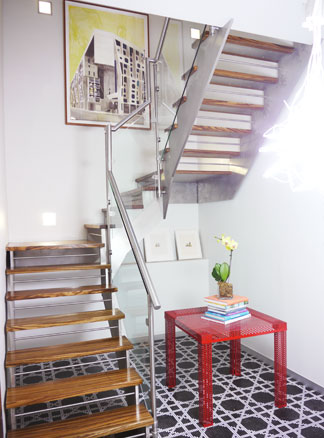 I love that floor.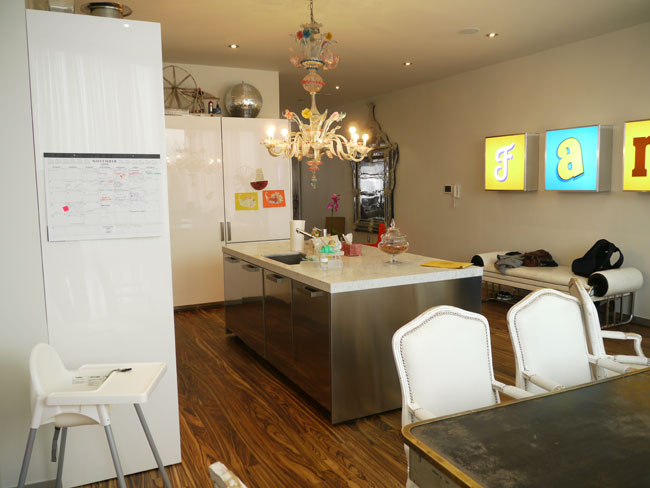 I like the chandelier hanging over the kitchen island. I also like the little ikea high chair. I have that baby at my mom's house and let me tell you, it is 10x better than the $200 Peg Perego I have at home. One reason: Cleanability.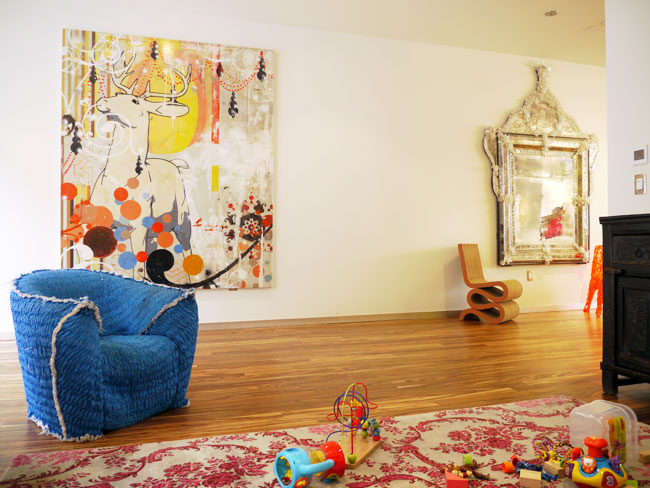 A painting of a reindeer by Francisco Larrios is a whimsical addition to the living room. I love that painting.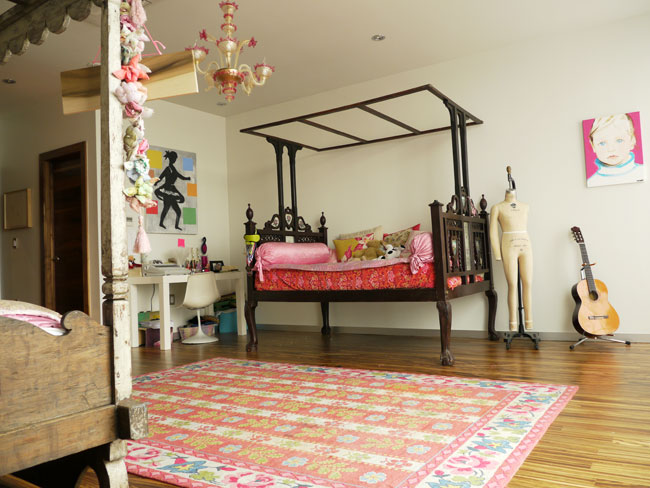 The girls room with antique daybeds. I like.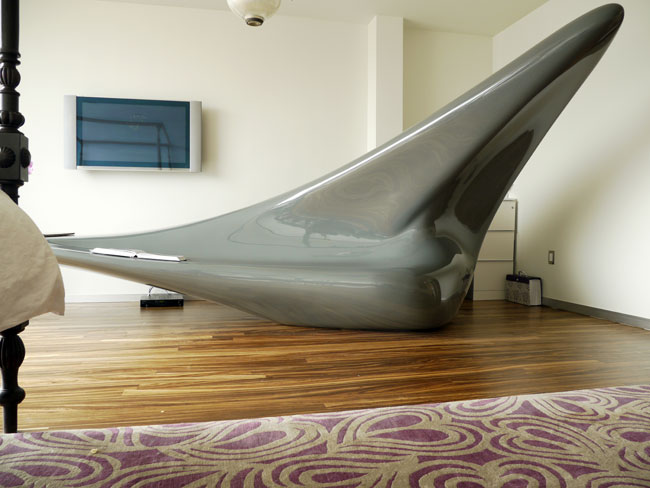 What do you think of "Jaws" ? Its a desk by Zaha Hadid. I think its Fug. With a capital F.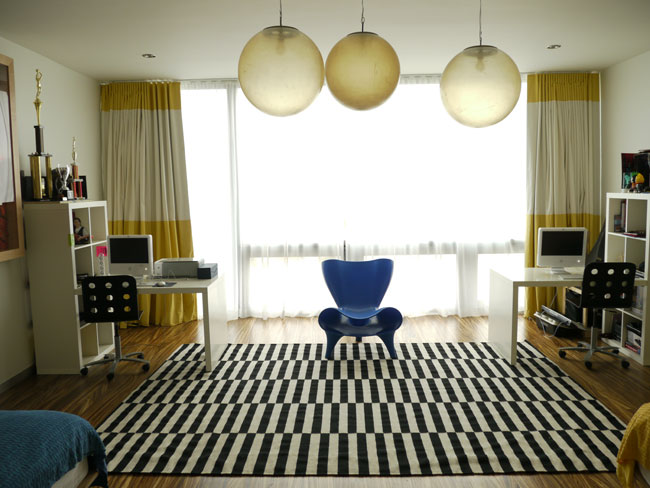 The boys room… I love the ikea rug, matching desks and the Marc Newson Chair.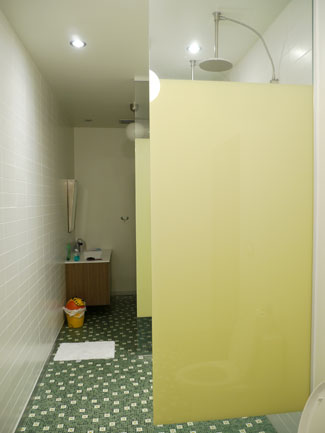 Oh no! What happened here? This is the stuff teenage boys nightmares are made of… High school locker room hell.
I cant be the only one who thinks this bathroom looks like its 30 years old, right?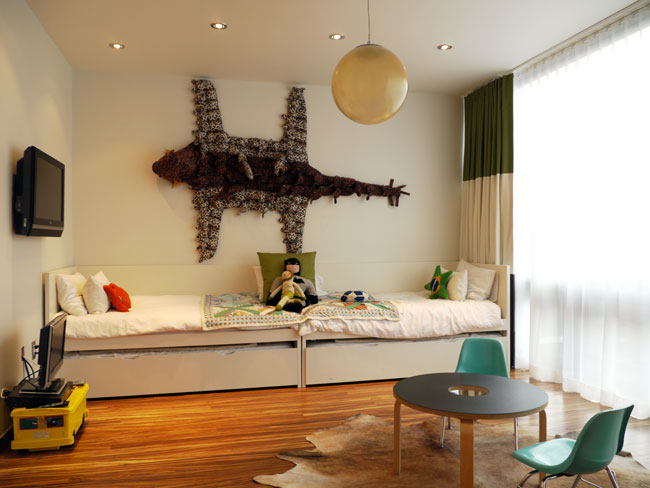 That wall sculpture in the boys room is made of dolls and is by Ann Carrington. Why do these twins have 2 TVs in their room? 
And as usual my favorite thing in the house, the wet bar!
So, I am kinda torn on the show. I love the wit and whimsy that this couple uses in their rooms, with their modern art, whimsical lighting and iconic modern furniture, BUT there is something I dont trust about this show.
1. I want to beat up Robert. Come on dude. If you were my husband you would be dead.
2. Where are the babysitters and nanny's and maids? If you tell me they dont have any, you are LYING. There is no possible way that they could ever get anything done, let alone building a series of mansions, without someone watching the kids.
Your reviews?
All Photos via New York Social Diary.
13 Responses to "Wit and Whimsy in Design"