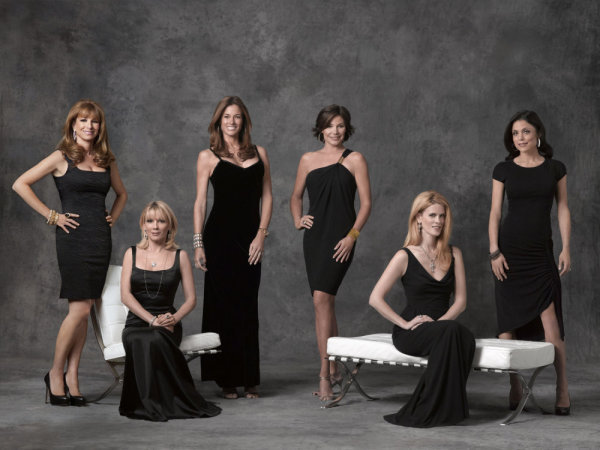 This week's Real Housewives of NYC stunk. Just a MEH of an episode all together. Even the climactic "message delivery" was kind of boring. Or maybe I am just bored.
Here's how it went down:
1. Perez outs Bethany on her pregnancy… NOT COOL. So not cool… Sadly, miscarriages are common, and most people dont want to tell others about their pregnancies until 3 months because that is when the chance of miscarriage drops dramatically.. So mean Perez.
2. Jill has  google alert's on Bethany. (Now thats really "creepy", Kelly!)
3.  Jill MUST always be the mother hen and feels she should tell Bethany to keep her pregnancy PRIVATE. Um, like no one ever thought of that, JILL.
4. Bethany blocked Luann from twitter. HA. DARLING.
5. Jill is having a skating party and she is "friendly with Donald Trump" so she can rent out the skating rink, just like every other six year old.
6. As much as I am truly OFFENDED by the fact that they just add housewives with no explanation mid season- I LOVE SONJA! First of all, she is the most typical Upper East Side woman out of all of the housewives. She looks EXACTLY like "real" women shopping on Madison Avenue. She dresses and acts like a real UESer.
I love that she admits that she has casual sex, wants to get plastic surgery on her tummy and that she is lonely. And yes, I too have a pooch.
7. Jill killed it on TV repping Zarin Fabrics… I want to hit that store this week for that $65/yd silk mohair. Yes.
8. Sonja has a bald psychic with no teeth. That she takes advice from.
9. Alex gets hives from attention and pressure and yet she signed up for a reality TV show.
10. "The Message" Alex delivers is that Bethany never wants to see Jill again. Kelly thinks its CREEPY. Ramona wants to know "Why she would say that" and Jill will NEVER forgive Alex. Kelly sadly tries to reference literature. "In literature, they always kill the messenger." Kelly just keep quiet, you almost made it through this whole episode with out sounding dumb!
(My opinion on who is right, Alex or Jill: Alex. Jill is a bitch. All she does is rip everything to shreds… Luann's Evite, Ramona's party, everything. It's horrible listening to her talk. And she can be mean to everyone in the world and no one can be mean to her? NO. Jill is mean. Alex fought back. GO ALEX.)
The show has turned into Team Jill which consists of Luann and Kelly vs Team Bethany who cohorts with Alex and Ramona is on the fence.
BLECH…. Im so sick of these chicks and going to their promotional parties with them. They are all about their brands and speaking engagements… So boring.
I cant wait for the Real Housewives of New Jersey who are gonna throw tables….. Ya Prostitution Whore!
Woohoo!!!
8 Responses to "Real Housewives of NYC Recap:"